Traders don't base their decisions on stock reports and financial statements. Their insights come from technical analysis. Like musicians visualizing a song through notes, the trader sees patterns in a performance graph. Those patterns dictate trade activity. In this article, we'll review exactly how, and why, technical analysis works.
Before getting into the patterns of technical analysis, it's important to understand exactly what you're looking for. Technical traders watch price movements to detect trend momentum. A brief spike or decline in prices is not necessarily an indicator to make a trade. It's better to watch the stock for a period of time or do a look-back to check for patterns.
Rather than base their decisions on a single price movement, traders analyze moving averages. There are two types: simple and exponential. They are exactly what they sound like. The simple moving average formula uses a standard average equation. Exponential moving averages weight recent prices more heavily. To read more on this click here.
Understanding Resistance and Support Levels
There's an imaginary barrier in technical analysis known as "level of resistance." Think of it as a glass ceiling that a stock price cannot seem to breakthrough. During a bull market, resistance levels tend to shift upward. During a bear market, they go down. That's not a hard and fast rule, but it is a good one to keep in mind when you start trading.
Newton's third law states, "For every action, there is an equal and opposite reaction." Sir Isaac wasn't a trader, but he did hit on one of the principles of technical analysis that we'll discuss further below. If there's a resistance barrier that functions as a ceiling, there must also be a support barrier that prevents the stock from dropping too low.
Resistance and support levels will clearly show up in technical analysis. If you look at any performance graph over a period of time, you'll see peaks and valleys. The highs are the resistance level. The lows are supporting. Expecting stock to move beyond those levels without technical evidence makes any trade into that territory a high-risk venture.
Of course, glass ceilings can be broken, and floors often have trap doors. If the technical analysis were that easy, everyone would do it and no one would make any money. Understand resistance and support levels as concepts, not constants. The most successful traders are those who predict when resistance levels will be broken. For that, you'll need to know a bit more.
Using Bollinger Bands as Trade Indicators
Traders don't need a finance degree to be successful. There are no licensing or SEC guidelines to follow. What you do need is an understanding of certain terminology. We've already spoken about moving averages and levels of resistance. The next terms you should learn are "Bollinger Bands" and "Standard Deviation." Both are integral pieces of technical analysis.
A Bollinger band is simply the space between two lines. The first line is drawn across the peaks of a pricing graph. The second traces the valleys, or lows. These bands are used to determine the range that a security is likely to trade in, usually two standard deviations from the moving average. You can see a visual presentation of this below: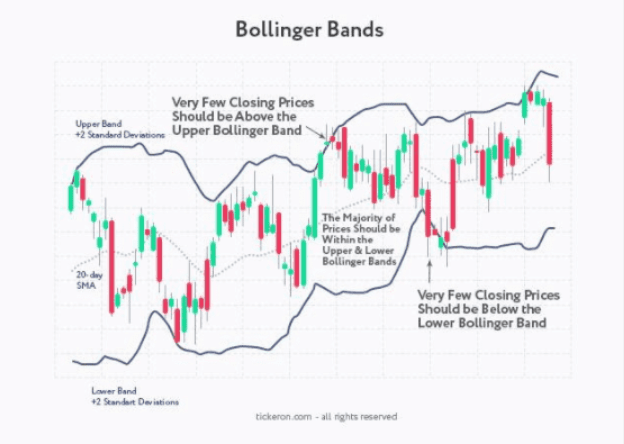 Bollinger bands can be used by a trader to indicate when a stock is overbought or oversold. When the price hits or exceeds the upper level of the Bollinger band, it's an indicator to sell. Lower level touches could be a good buy signal. This doesn't hold true 100% of the time, but the odds of trading with this knowledge are higher than they are without it.
Understanding how Bollinger bands work is a good first step in understanding technical indicators. For more advanced training on technical indicators, visit Tickeron's article database on the topic. We've covered various techniques on how to use moving averages, analyze cash-flows, and even apply Fibonacci numbers and the Golden Mean to your trading.
Reading and Analyzing Chart Patterns
Now that you have the basics down, it's time to get into the heart and soul of technical analysis. To a normal human being, chart patterns are just lines on a graph. Traders see investor behavior, corporate growth, and companies poised for success or failure. Your primary goal, from this point forward, should be learning how to read chart patterns.
Think of chart patterns as shapes. We use terms like cup and handle, triple bottoms, flags, pennants, and head and shoulders. The shapes are easily recognizable. We'll dedicate the next few sections to telling you exactly what each of them means. We'll also talk a bit about trading models and how to find the one that suits you best.
Behavioral Psychology of the Cup and Handle
The "cup and handle" is a common chart pattern seen during bull markets. After a price peak, investors will typically take some profits off the table, causing a decline in the price. When it reaches a certain point, they'll reinvest, bring the price back up again. This looks very much like a cup when you draw a line graph. See the example below: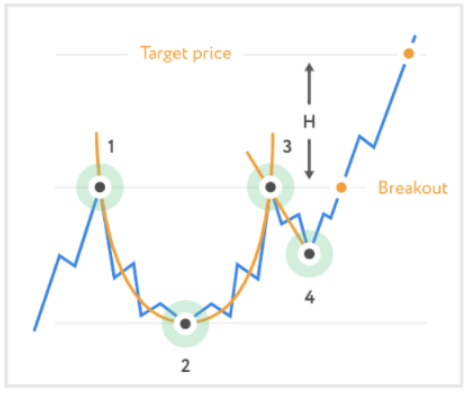 The handle forms after the price peaks again. Investors will again take some profits, but they'll reinvest sooner to try to catch a breakout over the upper resistance level. Once that happens, the price will rise even higher when investors pile back on, fearing they'll miss an opportunity. Those with short bets also scare easily at this point, adding more momentum to the uptrend.
Recognizing the cup and handle, and identifying where the handle begins to form, is an opportunity for a good trade. Success doesn't require a deep dive into the company's finances. The pattern is clear. If you look back, there should be previous "cups" in the data that show a clear growth pattern. Getting in at point #4 above should result in a nice return.
The Predictability of Triple Bottoms
The chart pattern known as the "triple bottom" is one of the more predictable trading patterns during a bull market. The three consecutive touch points on the Bollinger band show some durability in the support level. This can be an indicator of a solid financial outlook for the company and/or a dedicated investor base shedding and reinvesting in a timely manner.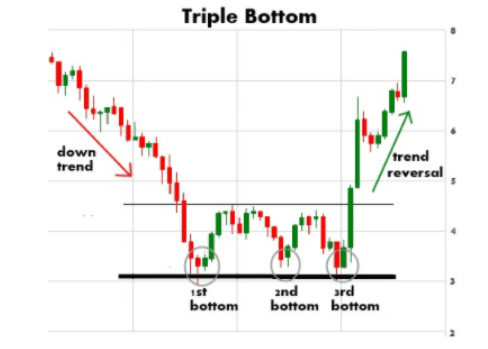 For a trader, knowing where a stock price bottoms out is a clear indicator of where exactly to buy the position. An uptrend, followed by a breakout above the resistance ceiling, is a strong possibility after the third bottom. For best results, buy at the beginning of the uptrend and set a stop-loss just at or below the breakout price. This pattern is usually a chance for easy money.
Reading Flags and Pennants
Flags and pennants form when prices consolidate and move within a narrow range. We call this a flag during an uptrend or bull market. On a downtrend, it's known as pennant. They are indicators that a stock price is about to move in one direction or the other. Flags are a buy signal. Pennants tell you to sell. There are also a number of options play in these scenarios.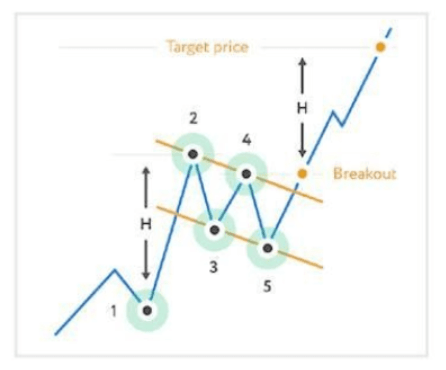 Head and Shoulders for Bears and Bulls
The chart pattern identified as "head and shoulders" can be either bear or bull. In the image below, we show it as it appears in a bullish scenario. Investors buy on the first low (shoulder), then shed profits when prices reach the neckline. At the head, when prices seem to be bottoming out, the buying resumes. This repeats until prices hit the neckline again.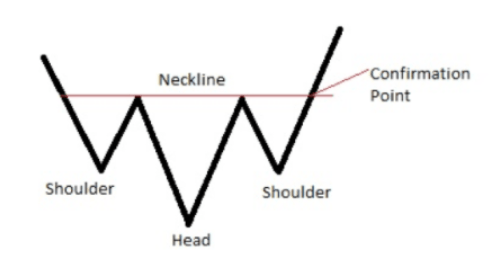 Typically, the next downtrend will stop at the second shoulder, and the ensuing uptrend should be the point where the price breaks out above the neckline. In the bear version of this scenario, the head and shoulders are above the neckline, with the ensuing result, after the second shoulder, being a downtrend. The patterns look similar, so be careful.
Select the Right Trading Model
It should be obvious by now that technical analysis works. Once you fully understand it, select a trading model that best suits your personality and financial goals. Each trading model requires knowledge of specific chart patterns and technical indicators, so don't just wade in blind. Tickeron offers numerous suggestions in the "Educational Courses" section of our application.
Trading is not conducted based on emotional, sociological, or political triggers. Unlike investing, stock trading is a mathematical science. Trading models are strategies for applying technical analysis to a market that is hampered by emotional inefficiencies. When someone embarks upon this journey, they must be prepared to leave emotions at the door.
Certain trading models, like the "random walk hypothesis," are based on the theory that no technical analysis can beat the market consistently over time. The "divergence analysis" model disagrees. It's based primarily on technical analysis, but with a foundation in fundamental analysis to track convergence and divergence between indexes.
If you choose to do intraday trading, which is the buying and selling of positions during a single day, you'll rely heavily on technical analysis. Intraday is by far the most exciting form of stock trading. It's also the most lucrative. If this article has helped you to better understand how to use technical analysis, your odds of success in intraday trading will be much higher.