Health Insurance Innovations (HIIQ) breaks through resistance
Health insurance broker Health Insurance Innovations (Nasdaq: HIIQ) experienced a tremendous run from the fourth quarter of 2016 through the third quarter of 2018. The stock rallied from the $5 range to an all-time high of $63.13 during this run. HIIQ fell in the fourth quarter and temporarily dipped below its 104-week moving average. It has since bounced back and has broken through several layers of resistance during the bounce.

The stock moved back above its 104-week and 52-week moving averages. It also moved back above the $35 level. That area served as resistance in 2017 and again in the first half of 2018 before finally breaking through in July.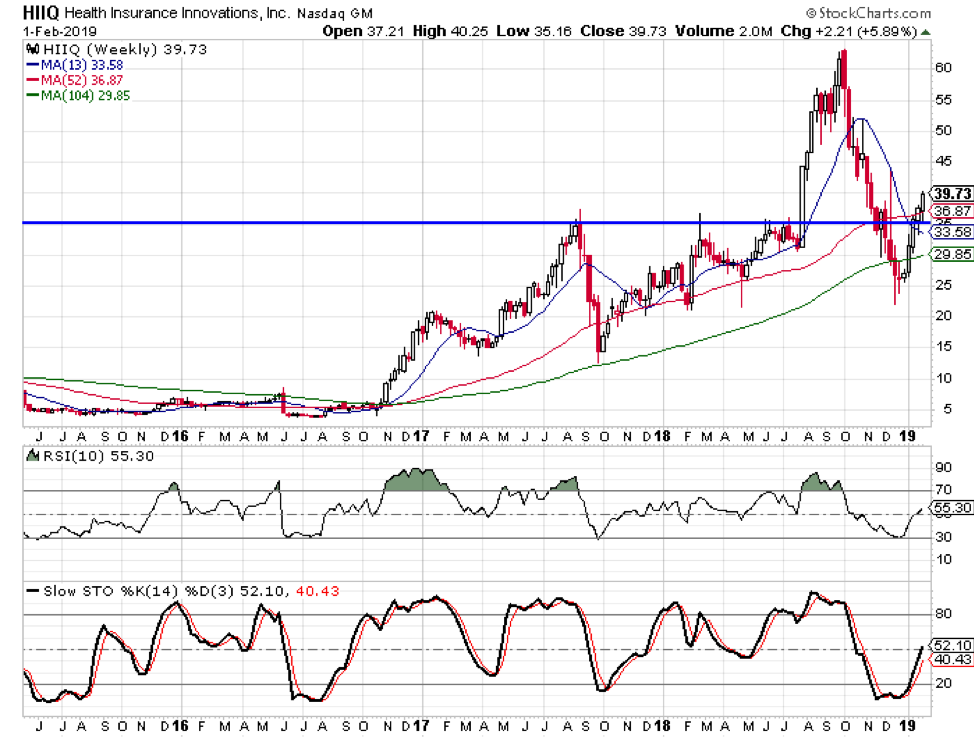 In addition to the technical picture, the company's fundamentals are strong. Earnings have grown at an annual rate of 187% per year over the last three years. Sales have grown at an annualized rate of 44% per year during that same time period. HIIQ also sports a return on equity of 41.1% and a profit margin of 17.5%. It's also worth noting that the company has zero long-term debt. HIIQ is set to release earnings on February 26.
The Tickeron AI Prediction tool generated a bullish signal on HIIQ a few days ago with a 68% confidence level of a 2% gain over the next week. Past predictions for the stock have been accurate 84% of the time.