Hedge funds and institutional investors have a distinct advantage when it comes to trading. With millions of dollars dedicated to research and technology, they're able to build elite trading platforms that are faster and more effective than any tool available to a retail investor.
Today, however, new artificial intelligence tools are coming online in the retail setting, leveling the playing field.
Tickeron's Screener is an example of an A.I.-powered tool available to retail investors. With just a few clicks, an investor can search for individual stocks, categories of stocks, sectors, or investment themes, and then he or she can conduct a full range of technical and fundamental analysis within seconds. All powered by Artificial Intelligence.
Below, we give you 5 tips for fast, effective stock analysis using Tickeron's Screener. Discovering hot trade ideas -- backed by an enormous amount of research -- has never been easier.
Tip #1: Analyze a Stock Category and Identify Trends
Let's say you're interested in trading "sustainably," and you're curious about alternative energy stocks. Here's how you could find stocks in the alternative energy space quickly and also see how they're trending right now.
From Tickeron's home page, click on "Trade Ideas" and search for the Category: Energy. As you can see in the dropdown of options, there is @AlternativePowerGeneration. Easy.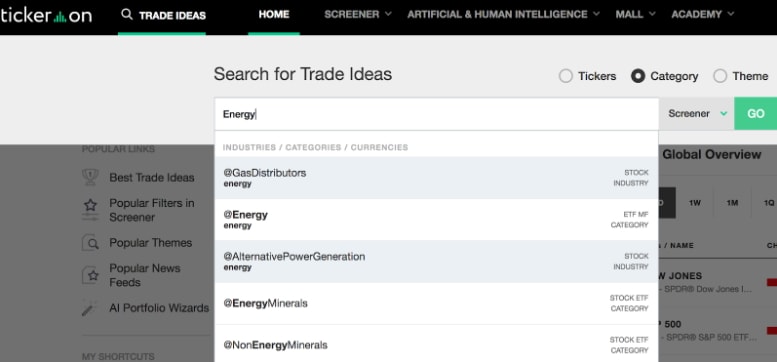 After you've selected @AlternativePowerGeneration and clicked Go, the Screener will instantly generate results for stocks found within the category. In the image below, there are 9 stocks that meet the alternative power criteria, and you'll notice an array of technical analysis indicators, charts, and information that is generated (we'll get to that later).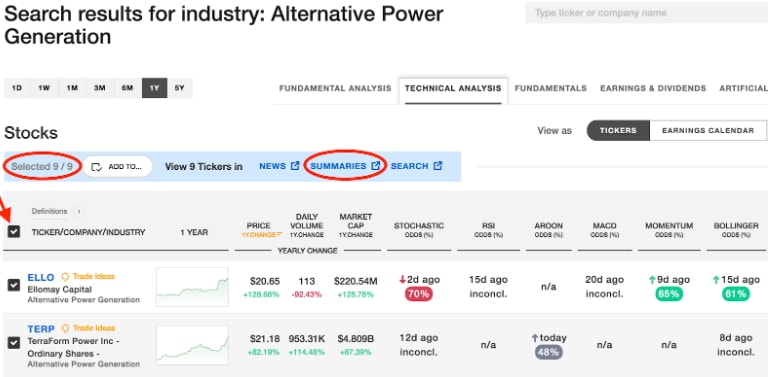 For now, we just want to "take the pulse" of this particular category, so we'll select-all then click Summaries.
After clicking on Summaries, the A.I. instantly analyzes the group to determine how the category is moving. Often times, stocks in the same sector or category tend to move with fairly tight correlation, so with Tickeron's Summaries feature, investors can get a sense of how the sector has been performing -- and is expected to perform.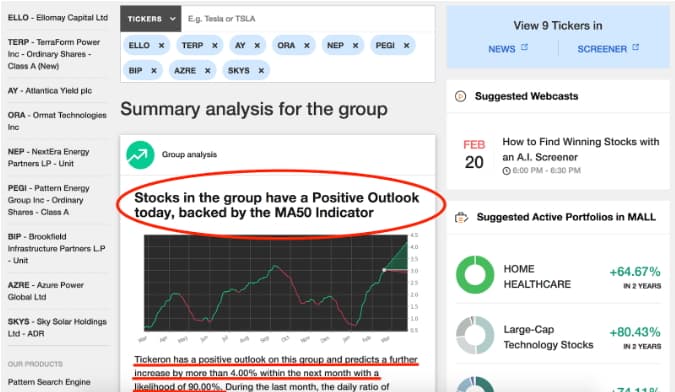 As you can see in the image above, Tickeron's A.I. lists-out each stock in the category in the left margin, then provides a quick and easy-to-understand group analysis. In this case, the A.I. is predicting this category of stocks will do well in the foreseeable future, forecasting a positive outlook with a 90% chance of a +4% bounce within the next month.
Now you've identified trends in the Alternative Power Industry within seconds. Next, an investor can scroll down further on this page to obtain a technical analysis of trade ideas. A quick scroll, in this case, produced a bullish trade idea for TerraForm Power Inc., a clean power generation assets operator: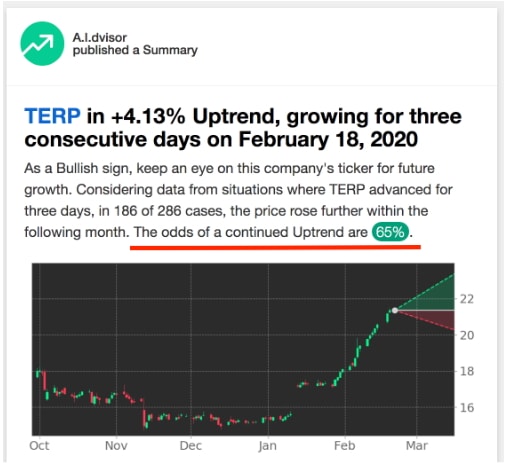 A.I. sees a 65% chance the stock will continue in a bullish uptrend, a potentially solid trade idea for an investor interested in the category.
Tip #2: Identify a Strong Trend, Then Analyze the Sector/Category
Many traders are interested in identifying strong trends, then digging deeper to see if there are investment opportunities from an investment category potentially being overbought or oversold.
For instance, you may identify a sector that has experienced a strong run-up over the last week, and after some additional research, you determine that the category is overbought. A trader, in this case, may look for opportunities to short stocks.
Tickeron's Artificial Intelligence can help you do all of this research -- from finding strong trends to researching the category -- in just a few minutes.
Here's how it works.
From Tickeron's homepage, click on Screener Home.

In this version of the Screener home page (chart below), we've selected "Stocks" as the security type we want to research, filtering by "Performance." The Screener automatically generates the page you see in the image below, where the user can toggle between performance results over day, week, month, quarter, year, and 5-year periods. For this example we've decided to look at top and bottom 3 monthly performers over the last month:

As you can see, the Screener gives us the top 3 and the bottom 3 monthly performers. For trend-traders, this is highly valuable information as you can trade with or against the trend. Let's say you're a trader who likes 'bargain hunting,' and is interested in buying dips where possible. In this case, you might consider the Coal Industry given it's dismal performance over the last month, where all 13 stocks (100%) in the category are exhibiting a downtrend.
Your next step is to analyze these 13 Coal stocks to look for opportunities. By simply scrolling down on the page, you can see all 13 stocks listed (image below). Now you have two options: 1) individually select the stocks you want to analyze, or 2) click select all to analyze the entire group as we've done below:
Finally, it's time to analyze the group and look for your trade opportunity. After clicking Summaries, you'll land on a page that has a succinct group summary of all 13 Coal Industry stocks, which in this case is pointing to more negative momentum ahead:
As you scroll down further, you can find technical indicators and trade ideas on individual stocks within the Coal industry. In this example, we find that SunCoke Energy (SXC) looks to be locked in a downtrend, with Tickeron's A.I. determining that the odds of a continued downtrend for the stock are 88%. For investors, this may be a sign that it's too early to buy the dip.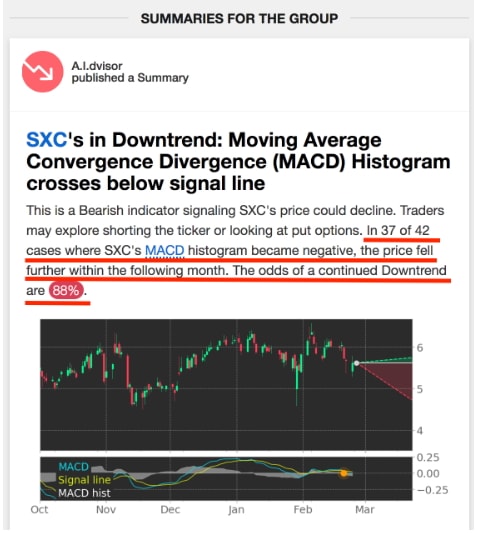 Tip #3: "Smart" Filter by Valuation, Trend, Price, and Industry
The Tickeron Screener's "Smart Filter" gives traders maximum ability to filter stocks in a variety of ways. From the Screener Home Page, click the "Smart" tab:
From here, users can experiment with the "preset" filters. Investors can choose to look for Undervalued, Fairly Valued, or Overvalued stocks, then can choose to look for specific trends (bullish week, bearish week, sideways month, etc..), for a specific price range, and within a particular industry. In other words, traders could play with this tool for hours.
In the example above, we've chosen to look for Undervalued Stocks having a Bearish Week for any price within the Pharmaceuticals Industry. In real-time, Tickeron's A.I. found 18 stocks meeting our specific criteria.
But let's say you're just interested in evaluating the top 5 most undervalued stocks of the group. To find these stocks, all you need to do is click on Valuation Rating to sort the pharmaceutical stocks from most undervalued to least undervalued, as we've done below. Then, just select the top 5 stocks and click Summaries to evaluate the group and find A.I.-generated trade ideas with odds of success.
Tip #4: Use the "Smart Filter" to Search by Technical or Fundamental Indicators
The "smart filter" tool becomes far more expansive in its capabilities once you search for stocks by technical analysis, fundamental analysis, or both.
Are you a technical trader who likes using the Stochastic indicator? This tool can work for you. Do you prefer trading using Aroon or Moving Averages? This tool can work for you. You're a momentum trader? This tool can work for you.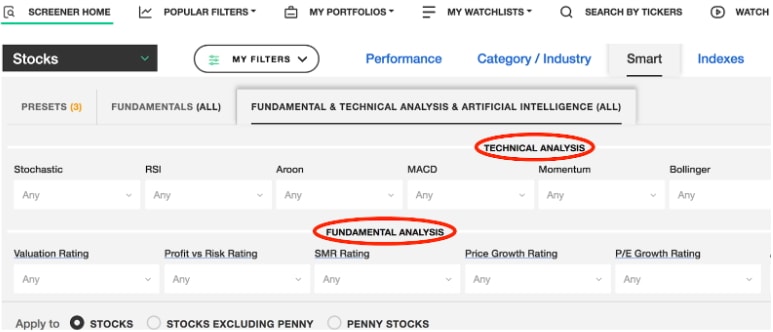 Or maybe you're the type of trader who prefers trading on fundamentals. Tickeron has taken fundamental analysis to an entirely new level, by developing proprietary fundamental indicators like Valuation Rating, Profit vs. Risk Rating, SMR Rating, and P/E Growth Rating...to name a few.
Tickeron's Valuation Rating takes into account a set of company fundamentals, and uses them to provide an estimate of the price per share for the company. This estimate is then compared with the current price per share of the stock to determine if it is over- or undervalued. A rating of 1 points to the most undervalued stocks in a given industry, while a rating of 100 points to the most overvalued stocks in that industry.
Tickeron's Profit vs. Risk Rating evaluates company performance by taking into account the interplay between profit, volatility, and drawdown. The more volatility a high stock price has, the bigger the potential drawdown. If a company has low volatility but middling profit, the tool would estimate smaller drawdowns. The tradeoff is as follows: high profit but high volatility (high drawdown) or low profit but low volatility (low drawdown).
Tickeron's Price Growth Strength Rating is based on a comparative analysis of stock price's increase over the last 12 months compared against S&P 500 index constituents. The short-term positions are determined by ranking price change over a period of 1 or 3 months. The long-term positions are determined by ranking price change over a period of 6 or 12 months. The short & long-term position reflects the combined aforementioned price changes. A rating of 1 points to highest price growth (largest percent return), while a rating of 100 points to lowest price growth (smallest percent return).
Tickeron's PE Growth Rating is based on a comparative analysis of a stock's PE ratio increase over the last 12 months compared against S&P 500 index constituents. A rating of 1 indicates highest PE growth while a rating of 100 indicates lowest PE growth.
Finally, Tickeron's SMR (Sales, Margin, Return on Equity) Rating is based on a comparative analysis of weighted Sales, Income Margin, and Return on Equity values compared against S&P 500 index constituents. The weighted SMR value is a proprietary formula developed by Tickeron and represents the overall profitability measure for a stock. It helps identify companies with strong (and profitable) business models. A rating of 1 indicates the highest weighted value, while a rating of 100 indicates the lowest weighted value.
Now, how to use the tool.
For argument's sake, let's say you're a trader who likes to combine fundamental and technical analysis, with your technical indicator of choice being the Aroon indicator. From Tickeron's Screener home page, you'll start by clicking the Smart filter and select the Fundamental & Technical Analysis & Artificial Intelligence tab:

Next, in this example we've filtered on three different levels:
Aroon indicator for BUY signals with A.I.-determined 90% odds of success

Valuation Rating that shows stocks that are undervalued

Positive SMR rating
Basically, we're looking for undervalued stocks that the Artificial Intelligence thinks have a good chance of going up from here. In short, we're looking for "good buys."
In seconds, Artificial Intelligence finds 5 stocks that meet the criteria:
Curious to see which of these 5 is the more undervalued? Simply click on the Fundamental Analysis tab and sort by Valuation Rating. The answer in this case: Delek Logistics Partners LP (ticker: DKL). You may have found your next trade idea.

The Bottom Line
As you can clearly see from reviewing these tips and trying them for yourself, there are dozens if not hundreds of different ways you can use Tickeron's Screener to find trade ideas. Whether you're a technical trader or an investor who prefers fundamental analysis, there are A.I.-driven tools available to you on Tickeron's platform.
The old days of spending hours, days, or even weeks performing research on a particular stock or sector are over. For years, hedge funds and institutional investors have been leveraging the power of technology and Artificial Intelligence to find trade ideas in real time -- putting retail investors at a distinct disadvantage.
Now, with Tickeron's Screener, everyday retail can easily find trends, use A.I. to analyze stocks, themes, or industries, and even filter stocks by fundamental and technical indicators -- all in a matter of minutes. Whatever your preferred style of investing, Tickeron's Screener is an A.I.-powered tool that can get you research-driven trade ideas quickly and effectively. Get started with the tool today!