I was talking with a fellow investor the other day and he asked me to explain my investment philosophy in an elevator pitch. I said, "I don't analyze companies, I analyze stocks. If you are going to buy a stock, you have to like the company, but you also have to like the price."
I went on to tell him how I believe that you have to look at the fundamentals because that tells you about the company. You also have to look at the technical analysis because that tells you a lot about how other investors have felt about the stock in the past. Me personally, I don't do deep-dive analysis on a company's financials—I'm not a forensic accountant.
Cisco Systems (CSCO) is a perfect example of a stock where the company looks better than the stock. If we look at the weekly chart, the stock has been trending lower for almost a year and a half now. From its high in July '19 through the end of October '20, the stock lost over 35% of its value.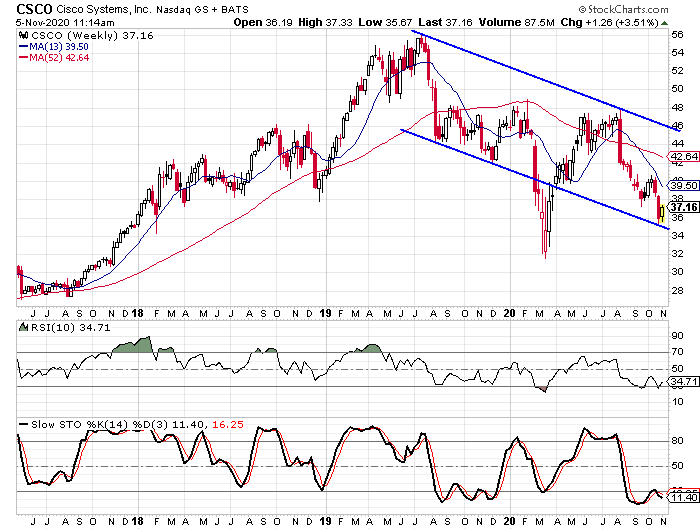 For the short term we might see the stock rally because the stock hit the lower rail of a downwardly sloped trend channel and it was oversold based on the weekly stochastic readings and the 10-week RSI. The stock could rally back up to the upper rail of the channel, but I would be very cautious at that point. The upper rail is currently just below the $46 level.
Cisco is set to report earnings again on November 12. The report will be for fiscal first quarter 2021. Analysts expect the company to report earnings of $0.69 per share and that is down 12.5% from last year.
Tickeron's Fundamental Analysis screener shows that Cisco scores very well in the Valuation Rating with a score of 6 where 1 is the best score possible. The company also scores well in the SMR Rating with a score of 19. Cisco does get a negative score for its P/E Growth Rating with a reading of 80.
Heading in to the report, the sentiment is somewhat neutral with analysts being skewed slightly to the bearish side and short sellers are somewhat bullish. There are 27 analysts following the company with 13 "buy" ratings and 14 "hold" ratings. This puts the buy percentage at 48.1% and that is below the average buy percentage between 65% and 75%. The short interest ratio is at 2.14 and that is below the average reading in the 3.0 range.
The short term outlook from Tickeron is negative with a 79% chance of the stock moving down another 4% over the next month.