Conquer the Market: Our Best Robot of the Week Outperforms S&P 500 by 1.5x with Over 60% Profitable Trades!
Tickeron is thrilled to showcase our star performer of the week, a cutting-edge trading algorithm that has outperformed the market in extraordinary ways. Over this period, it achieved a remarkable 1.5 times more returns than the S&P 500 index, while boasting an impressive accuracy rate of over 60% in its trading forecasts. But that's not all! This advanced robot has a history of consistent success, having surpassed the S&P 500 index not just once, but an astonishing five times in the last quarter. Furthermore, it managed to close 2/3 of the week with profits, a testament to its remarkable capabilities.
Swing Trader ($3.3K per position): Sector Rotation Strategy (TA&FA)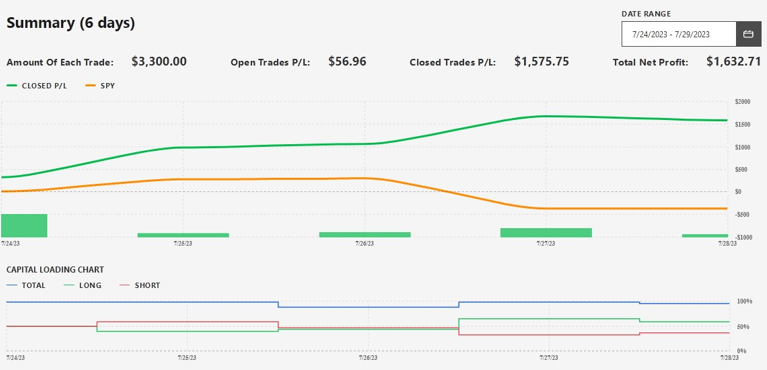 Click to view full description and closed trades for free!
The exceptional performance of this robot lies in its two-part algorithm:
Correlation Analysis: Our team of expert quants conducted comprehensive multi-level backtests on vast historical data to identify intricate correlation relationships between the movement direction of major stocks and other stocks within the same sector. This strategy, widely used by hedge funds, enables the robot to craft intelligent and effective trading strategies.
Optimal Diversification Model: Our robot goes above and beyond by implementing a quantitative analysis of the efficiency of various combinations of industries. With 22 sub-industries hailing from different sectors like Industrials, Energy, Consumer Services, Real Estate, and Finance, our algorithm ensures that users don't rely excessively on market cycles or external events that might negatively impact a specific industry's dynamics. This strategic approach empowers investors to navigate the markets with greater resilience and confidence.
Are you tired of uncertainty and volatility in the market? Our robot's exceptional track record offers a beacon of hope and potential to optimize your investment journey. By capitalizing on the power of correlation and diversification, it aims to safeguard your wealth and generate robust returns.
Don't miss this incredible opportunity to join the ranks of successful traders!