Discover the Winning Formula: The Best Robot of the Week Earns 63% Only on Long Trades!
Dear Traders,
Last week brought its fair share of challenges for the US stock market, with major indexes experiencing sharp declines and causing losses of one to three percent for many investors. But amidst these trying times, Tikeron is excited to introduce its best-performing robot of the week - a true game-changer that achieved an impressive 63% annualized profit by exclusively opening long positions.
Trend Trader, Long Only ($2.5K per position): Valuation & Seasonality Model (TA&FA)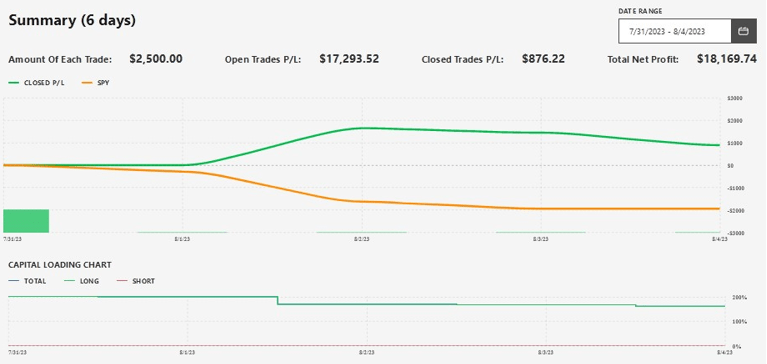 Click to view full description and closed trades for free!
Unveiling the Winning Secret: Two Unique Algorithms
The remarkable success of our Robot of the Week lies in the combination of two innovative algorithms meticulously crafted by Tickeron's quant team.
Fundamental Analysis at Its Finest: Our first algorithm utilizes a unique blend of classical and state-of-the-art value investing methods to evaluate companies based on their undervaluation. This sophisticated approach identifies promising opportunities with incredible growth potential.
Mastering Seasonality and Mathematical Analysis: The second algorithm takes a meticulous approach to evaluate price changes' seasonality. By employing a complex model of mathematical analysis, it accurately determines the current price cycle, be it ascending or descending, providing valuable insights into market trends.
Accessible and User-Friendly
We understand that not everyone is an experienced trader, and that's precisely why our Robot of the Week was designed with accessibility in mind. With positions held for extended periods, even novice traders can benefit from this powerful tool's signals. Say goodbye to confusion and embrace a seamless and user-friendly trading experience!
Ready to make your mark in the trading world?
Join Tikeron now and unlock the full potential of your investments!