Diversified Chemical Companies Set to Report Earnings Carrying "Strong Buy" Ratings
Since the market bottomed in March, we have seen a number of stocks jump sharply and they have come from a number of different industries. One industry that I haven't heard or seen covered very much is the chemical industry. According to Tickeron's group trends screener, the Major Diversified Chemicals group is up 52.14% in the last six months.
Another thing that jumped out from the screener was the fact that the group scored a "strong buy" rating overall. Of the eight stocks in the group, four carry the "strong buy" designation from Tickeron's Artificial Intelligence readings. Three of those companies will report earnings on October 29 and 30. DuPont De Nemours (DD) and Huntsman (HUN) are both set to report on October 29 and Eastman Chemical (EMN) is set to report on October 30.
All three of these stocks have gained more than 100% from their March lows. The strong rallies have put Eastman and Huntsman in overbought territory on the weekly charts. DuPont has been caught in a range over the last couple of months and its oscillators are just below the overbought threshold.
Looking at the details of the Tickeron scorecard, we see that the technical analysis scores for DuPont are better than its fundamental analysis scores, but Huntsman and Eastman show strong fundamental analysis totals. Huntsman actually scores really well on both sides of the equation. None of the three score poorly on the fundamental side and the same is true on the technical side.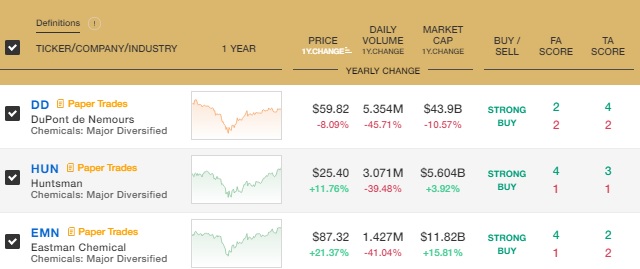 If we look at the comparison feature on Tickeron we get a comprehensive breakdown of the three companies.