Embrace the Future of Trading: AI Beats SP500 Weekly, Predicts 2/3 of Market Trends!
Dear Traders,
Last week was a rollercoaster ride for the US stock market, presenting challenges and opportunities for traders alike. As the S&P 500 Index, representing the stalwarts of 500 companies, inched up by a modest 0.69%, it grappled with a downtrend in the latter part of the week. Simultaneously, the NASDAQ 100 Index, home to the top 100 technology firms, experienced a 0.91% decline.
During the same challenging week, our Second Generation Tickeron Robot showcased its prowess by achieving an impressive 2.9% net profit, all while making accurate predictions in 63% of its trades. These results are no fluke; they are a testament to the efficiency of its advanced algorithm.
Swing Trader ($4K per position): High Volatility Stocks for Active Trading (TA&FA)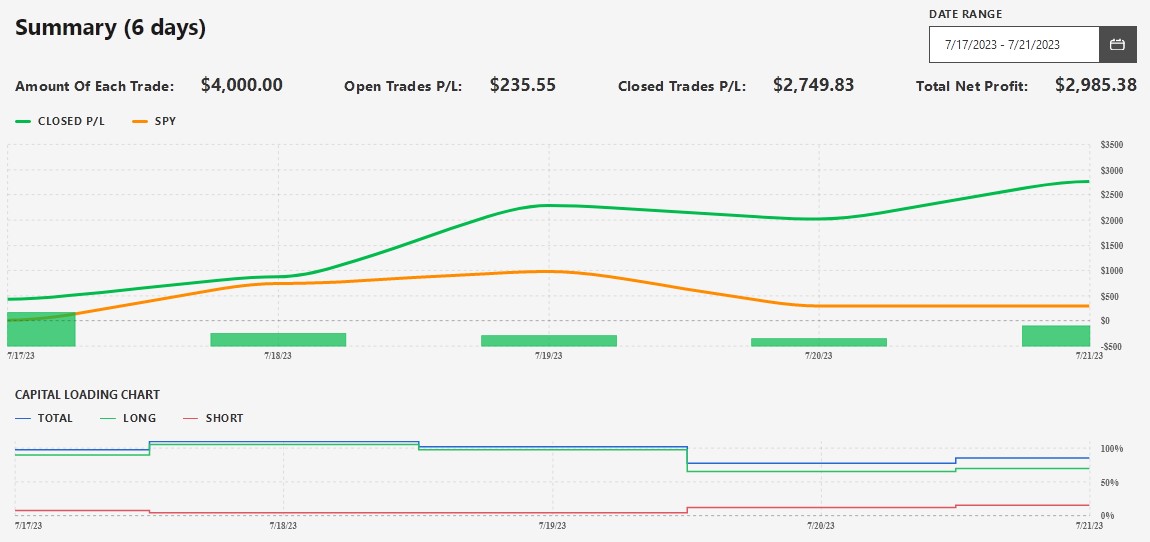 Click to view full description and closed trades for free!
Why should you pay attention to the Second Generation Tickeron Robot?
Sophisticated Algorithm: This new generation robot is powered by an intelligent and refined algorithm that leverages cutting-edge technology to analyze market trends and make data-driven decisions.
Consistent Profitability: The 3% net profit achieved during the turbulent week highlights its ability to identify lucrative opportunities even in uncertain market conditions.
High Accuracy: With a 63% success rate in trading predictions, the Second Generation Tickeron Robot proves its reliability and efficacy, giving you the confidence to make informed trading choices.
Time-Saving: Eliminate the need for manual analysis and constant monitoring. Let the Tickeron Robot handle the heavy lifting, providing you with more time to focus on strategic decisions.
Risk Management: The robot's algorithm incorporates risk management principles, helping to mitigate potential losses and safeguard your investments.
Join the ranks of successful traders who have embraced the power of automation with the Second Generation Tickeron Robot. Experience the benefits of a reliable and efficient trading companion that transforms market volatility into opportunity.
Don't miss out on this chance to elevate your trading game. Embrace the future of trading today!