A task is always easier when you use the right tools. In years gone by, stock traders spent countless hours going over charts and graphs. They read financial reports and put together spreadsheets to try to predict market movement. This painstaking process was required for every trade, putting enormous pressure on the trader.
Times have changed. Technology innovations put reporting and analytics at your fingertips. Artificial intelligence analyzes the data and tells you when and what to trade. Does that sound like science fiction? It's not. AI is being utilized by traders around the world and they are making more money and conducting a higher volume of trades every day.
In 1951, Isaac Asimov, in his science fiction classic "Foundation," introduced us to a fictional science called psychohistory. The premise of it was that history, sociology, and mathematics could be used to predict behavior patterns of large groups. Sound familiar? He applied it to humans, but his description sounds a lot like the algorithms used by today's AI programs.
The Mathematics of Modern-Day Trading
Outsiders look at the stock market as a game of chance. Traders know better. Sure, some factors can't be predicted. No one could have foreseen that a worldwide pandemic would close down national economies. That's a black swan event. On average, we see about one of those a decade. Investors suffered over this last one. Traders are still thriving from it.
Economic behavior and financial trends can be predicted, but a human mind will get overwhelmed if you have to do it consistently. That's why the burnout rate is so high for day traders. Staring at charts and graphs all day, knowing that you'll have more losses than wins, will wear anyone down. Leave emotion out of it? That's easier said than done.
Scalpers and momentum traders need to make dozens of decisions during the course of an eight-hour trading day. Doing that effectively without the aid of modern technology is virtually impossible. That's why the success rate is only about ten percent. How do you improve those odds? The answer is artificial intelligence. Science fiction has become reality.
Introducing Tickeron Screener
Remember Asimov's theory of psychohistory? Tickeron offers a product called Screener that combines technical and fundamental analysis to predict movement in the market. In other words, they look at the mathematical trends to understand which stocks have been overbought or oversold and combine that data with historical financial reports and behavioral analysis.
Think about the benefits of having this information at your fingertips. You'll be able to make better trade decisions without spending hours on tiresome research. The application does it for you. With AI, every data point is a variable that's plugged into an algorithm. That algorithm "thinks" thousands of times faster than you can. Speed is a trader's best friend.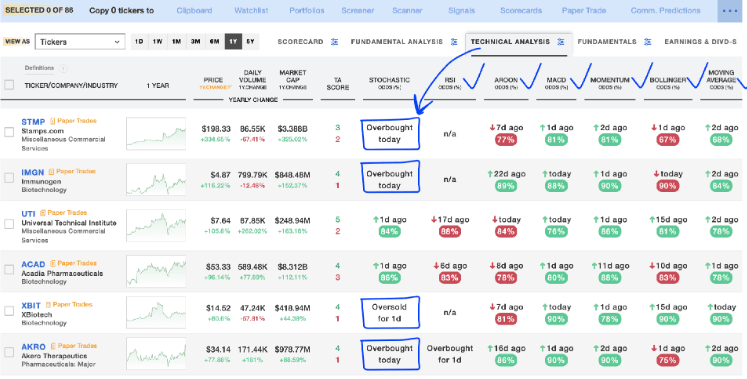 Another advantage that Screener offers is the ability to see where you can add value to your portfolio. Improve your diversification score by adding additional sectors. Track market trends in areas you haven't previously delved into. There are opportunities beyond forex, tech, and energy stocks. Screener can ferret those out and make you a more complete trader.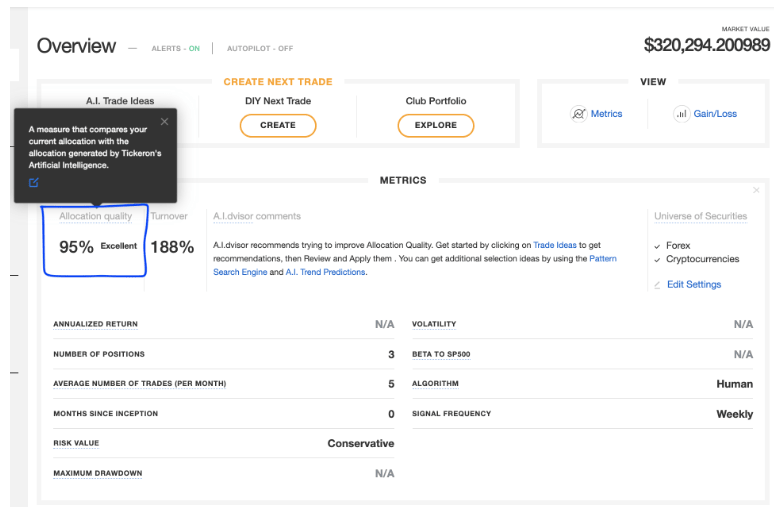 Beat the Benchmark with Active Portfolios
There's a modern science fiction tale titled "Rise of the Machines." It's not the classic that "Foundation" was, but it does provide a poignant reminder. We never want the machines to be fully in control. That's why Tickeron also offers a product called "Active Portfolios," combining human portfolio construction with AI trading to beat the benchmark.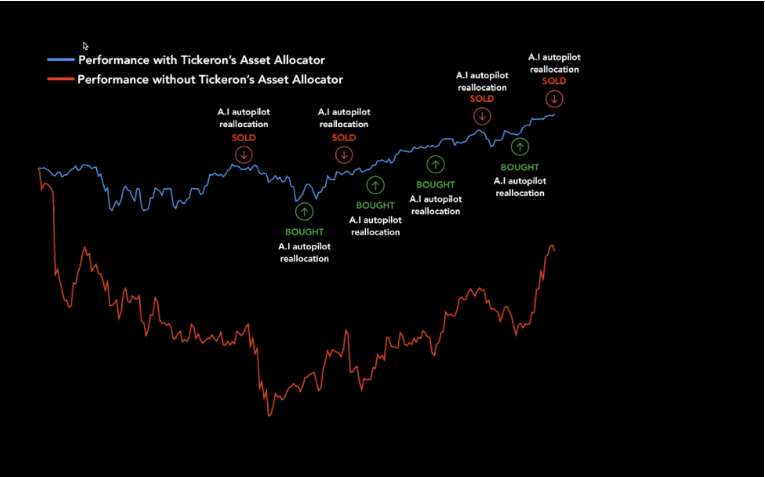 Active Portfolios (AP) is a game-changer. Screener saves you time once you have a strategy in place. AP does all the setup for you. Simply select a portfolio based on your trading goals and preferences. You can choose only stocks and ETFs, only forex and crypto, or both. You can sort by annualized returns, number of positions, or number of monthly trades.
The portfolios inside AP, which are available for multiple sectors, have been constructed and managed by humans. The AI simply recommends when and what to trade. That's called tech-enabled software. Think about it like the autopilot on a plane. You can set it when you want the computer to do the work, but you can always take back control when you want to.