Penny stocks have long been marginalized within the professional investment community, oftentimes being painted with a broad brush of simply being "too risky." Leonardo DiCaprio's depiction of the penny stock peddling conman, Jordan Belfort, in the Wolf of Wall Street certainly didn't help. Over the years, penny stocks have gotten a bad rap.
But maybe it's time for a change. Not all penny stocks are bad investments, and in fact, many of them can generate massive profits at little cost. Trading penny stocks effectively requires diligent research, savvy trading skills, and plenty of practice. Here are four reasons to start trading them now.
Reason #1: Let's State the Obvious -- Penny Stocks are Cheap
A single share of Apple Inc. costs over $350. Google trades at over $1,000 per share. Tesla is also higher than $1,000. Since a trader makes profits on a per share basis, you would need tens of thousands of dollars to make large profits quickly. With penny stocks, you have substantially higher risk, but also the possibility of substantially higher returns.
The napkin math tells us that with $1,000, you could basically buy a single share of Tesla. In order to make a 50% profit ($500), you need Tesla to climb to $1,500. While that is possible, it will likely take a long time.
If you use the same $1,000 to buy over 600 shares of penny stock that trades for $1.50 per share, however, all you need is for the penny stock to jump to $2 per share to make the same $500 profit. A 50 cent move can happen in a single day.
Reason #2: You Can Do the Research
A common dig on penny stocks is that they represent small-capitalization companies with very short histories of financial information and management tenure. This is a fair point, and for this reason, it can be challenging for traders to conduct their due diligence on penny stock companies.
But Tickeron has developed a range of fundamental analysis metrics for evaluating any kind of stock, including penny stocks. The best part: Artificial Intelligence is programmed to conduct this fundamental analysis for you.
From Tickeron's home page, head to Screener Home, select Penny Stocks and scroll down to review an array of fundamental analysis driven by A.I.
Tickeron's fundamental analysis goes beyond simple P/E ratios or price to sales ratios. Algorithms are used to conduct deeper, more insightful analysis.
The Outlook Rating is generated based on analyzing the ratio of advancing to declining daily volume from the last month.
The Valuation Rating is based on a proprietary formula taking into account a set of traditional fundamentals and generating an A.I.-estimated price per share for the company. The estimate is then compared to the current price of the stock, determining whether the stock is over- or undervalued. A rating of 1 means A.I. thinks the stock is very undervalued.
The Profit vs Risk Rating evaluates a company's performance by taking into account the balance between profit, volatility, and drawdown.
The SMR (Sales, Margin, Return on Equity) Rating is based on a comparative analysis of weighted sales, income margin, and return on equity values compared to S&P 500 index constituents. The weighted SMR value is a proprietary formula developed by Tickeron and helps to identify companies with strong (and profitable business models).
The Price Growth Strength Rating is based on a comparative analysis of stock price increases (or decreases) over the last twelve months compared to S&P 500 index constituents. Short-term positions are determined by ranking price change over a period of 1 or 3 months, while long-term positions track price changes over 6 or 12 months. A rating of 1 points to highest price growth (largest percent return), while a rating of 100 indicates the lowest price growth (smallest percent return).
Finally, there is the P/E Growth Rating. This metric is based on a comparative analysis of a stock's P/E ratio increase over the last twelve months compared to S&P 500 index constituents. A rating of 1 indicates the highest P/E growth while a rating of 100 indicates lowest P/E growth.
Tickeron's A.I. runs an entire range of technical analysis indicators as well, from patterns to common indicators like Bollinger Bands, Moving Averages, and Stochastics. Traders can use all of these tools on Tickeron's Screener, to evaluate stocks and/or sort them by your go-to fundamental or technical analysis indicator.
Researching penny stocks no longer has to be that hard.
Reason #3: Volatility is Your Friend
Penny stocks can be highly volatile, there's no doubt about it. But volatility is oftentimes a trader's best friend.
To offer an example, from Screener Home we selected Penny Stocks and sorted by daily volume, in order to find penny stocks with high volume over the last month. Here is a snapshot of what Tickeron's A.I. pulled up: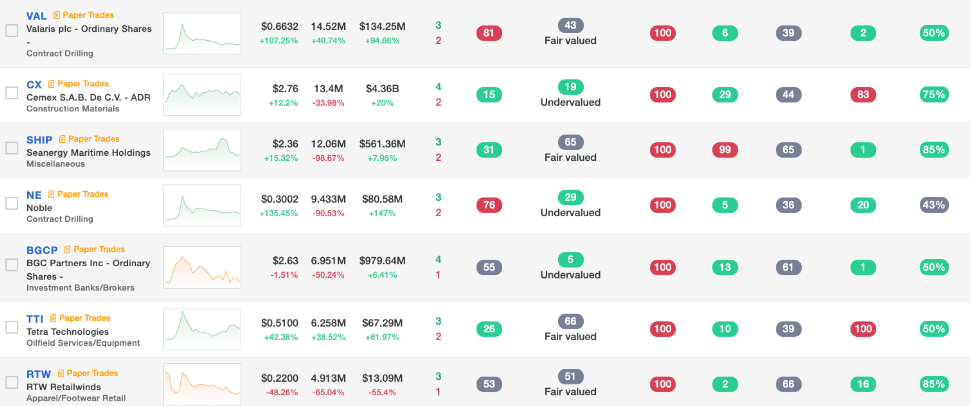 As you can see, over the last month many of these penny stocks have posted huge price swings, ranging from -90.9% to +135.45%. By virtue of having a low price, it does not take much to deliver a major gain or loss on the long or the short side of a penny stock. A trader's job is to analyze as many different data points as possible, to cross-reference with different indicators (fundamental and technical), and to use volatility to his/her advantage. Tickeron provides the tools to make this possible.
Reason #4: You Can Get Practice Trading Penny Stocks Without Real Money
Tickeron is introducing a way for new and experienced traders to practice trading penny stocks without real money. Called "Paper Trading," this method allows traders to test-out Tickeron's proprietary indicators and Artificial Intelligence, and to develop a strategy that best suits your style.
From Tickeron's Home Page, click on My Paper Trades to build a portfolio of stocks, ETFs or mutual funds and monitor your performance over time:

If you're just getting started, Tickeron has created a 2-minute VIDEO TUTORIAL for how to build and manage a 'virtual portfolio' in just a few easy steps.
As you're using Tickeron's Screener to search for trade ideas and evaluate different penny stocks, you will also notice that beside each ticker name is a "Paper Trades" icon, which will allow you to add that ticker to your online portfolio easily.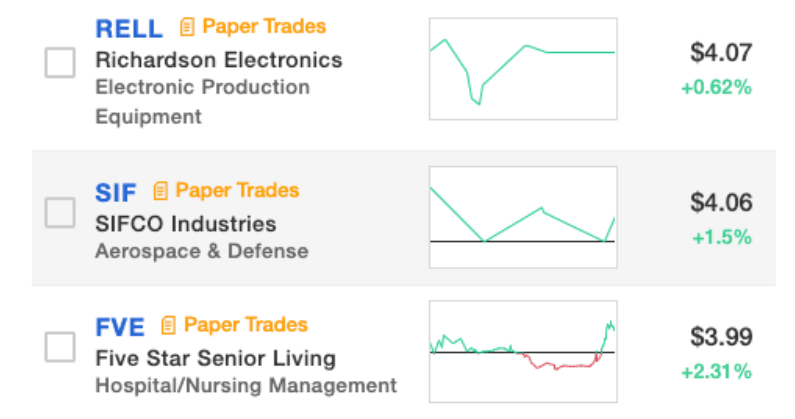 Penny Stocks are Risky, But Now You Have Trading Tools
Penny stocks are riskier than major stocks traded on the big exchanges, like the Nasdaq and NYSE. But that does not mean penny stocks should necessarily be avoided at all costs -- with the right kind of research, due diligence, and trading tools, an investor can navigate the world of penny stocks and potentially drive big profits in the process.
But before you dive head first into the markets for penny stocks, it could make sense to build up your trading strategy and get plenty of practice. With Tickeron's Paper Trading feature, investors and traders can build hypothetical portfolios and make trades using Tickeron's fundamental and technical analysis indicators. Over time, you can fine-tune your strategy, figure out which indicators you like to use, and maybe even identify a few penny stocks that you want to target for trading.
Trading penny stocks is not for everyone, and as we've said many times, they are high risk investments that have the potential to generate big gains or big losses. But if you know you want to trade them and you're willing to take the risks, then it is arguably important to use as many tools as you can to inform your trades. You can find those tools on Tickeron.