The US stock market has been experiencing a downturn over the past week, with several index ETFs showing declines. For example, the SPY ETF, which tracks the performance of the S&P 500, has dropped by -4.52%. The QQQ ETF, which tracks the NASDAQ 100, has experienced an even steeper decline, falling by -3.71%. Similarly, the DIA ETF, which tracks the Dow Jones Industrial Average, has also fallen by -5.26%.
In contrast to the stock market downturn, some of our AI robots demonstrated exceptional performance during the same period. One particular robot stood out with an annualized profit/loss (P/L) of 75.86%, suggesting a high potential return on investment if it maintained this level of performance over a year. Furthermore, this robot displayed a notable success rate with 62.50% profitable trades.
Swing Trader: Medium Volatility Stocks for Active Trading (TA&FA)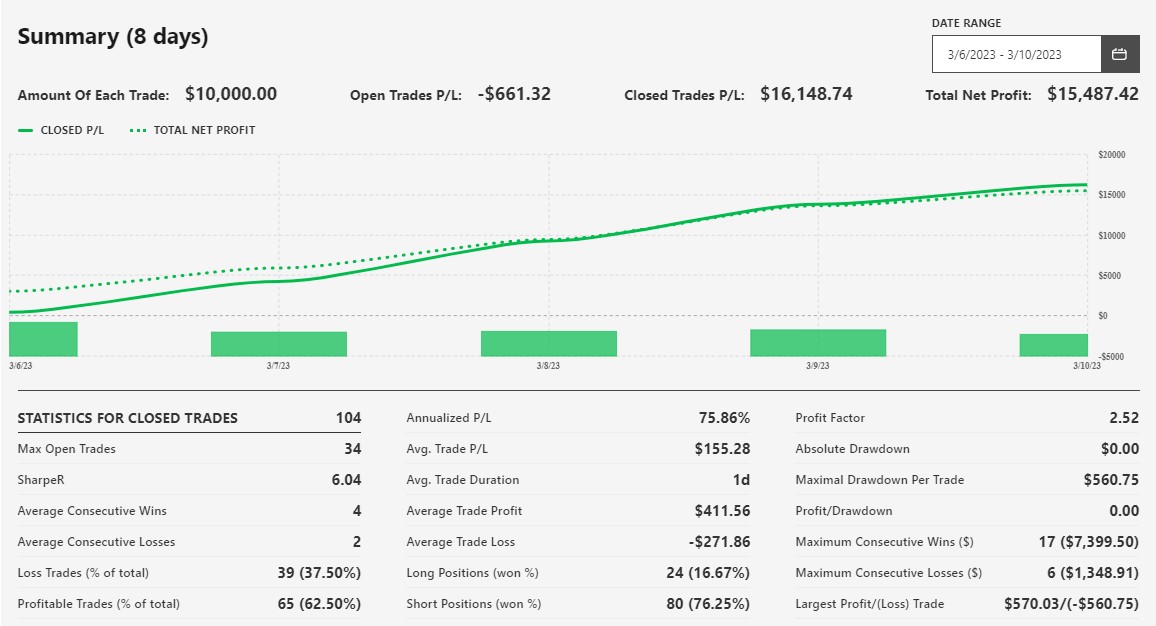 This particular AI robot is well-suited for traders who prefer to trade stocks with medium volatility but want to avoid significant drawdowns during downtrends. To achieve this, the robot employs a pool of technical indicators focused on identifying uptrend reversal points, which allows for a balanced approach to short and long positions and helps to prevent prolonged drawdowns.
Active traders who have enough time to monitor multiple trades simultaneously will find this robot most suitable. The average duration of a trade is 2 days, which enables efficient use of capital and prevents being tied up in a trade for an extended period.
The robot uses a proprietary method developed by our team of quants to evaluate the strength and quality of momentum of the most active stocks in the US stock market to select stocks. A complex algorithm, including a pool of technical indicators processed using neural networks, determines the entry points to positions.
Upon entering a trade, the robot places a fixed order "Take profit" at a level of 4-5% of the position opening price. To exit a position, the robot employs two options: a fixed stop-loss at 3% of the position opening price and a flexible trailing stop, which helps to retain most of the profits if the market reverses.
The robot's trading results are displayed without using margin. For a complete trading statistics and equity chart, users can click on the "show more" button on the robot page. The "Open Trades" tab shows how the AI robot selects equities, enters, and exits paper trades in real-time. In the "Closed Trades" tab, users can review all previous trades made by the robot.