Will there be a second wave? Scientists around the world are evaluating that question out of concern for public health. Investors want to know what it means for their portfolios. Which stocks will do well if Coronavirus spikes again? Tickeron can give you some insight on that. By analyzing market trends from the first wave, you can predict behavior for the second.
Technology stocks have performed at historic levels this year, but the market is severely overbought. Third quarter earnings reports may bring some of those numbers back to earth. To compensate for that, look at performance during Q1 and Q2, the height of global Covid shutdowns. You should also evaluate twelve-month trends and sales projections for Q3.
Netflix will Continue to Climb
On January 1st, Netflix (NFLX) was trading at $323.57 a share. It bottomed out on March 16th, when it hit a 2020 low of $298.84. The virus was just beginning to impact the US economy. By mid-April, the US and all other affected countries were completely shut down. Netflix stock benefitted from the stay-at-home orders. It's currently selling for over $500 per share. 
Tickeron Screener has Netflix listed as a strong buy, with a projection of bullish behavior in both the one-week and one-month categories. The one-year historical analysis shows a market cap gain of 33.05%. Yahoo Finance predicts that sales growth for the third quarter will be 21.60%. That's pretty good, but another Coronavirus wave could make that number climb even higher.
Technical analysis shows that Netflix is definitely a buy, but does fundamental analysis agree? Some might argue that Amazon Prime is gobbling up all the market share, but Netflix is producing original content at a faster rate. Viewers need fresh content. Movie theatres aren't re-opening any time soon, if ever. Netflix is a definite buy if we see a second wave.   
Amazon is the 300-Pound Gorilla in 2020
Sure, Tesla (TSLA) has made a lot of noise this year, but we're not betting on them to thrive during a second wave. It's possible that they are the most overbought stock of 2020. Amazon (AMZN), on the other hand, is a beast. After an annual low of $1849.09 on March 20th, Jeff Bezos' brainchild has skyrocketed to over $3000 per share, an all-time high. 
Needless to say, Tickeron has Amazon listed as a strong buy as 3 major fundamental metrics are signaling for a bullish momentum: Profit VS Risk rating, Price Growth rating, P/E Growth rating. 

Yahoo Finance predicts Q3 sales growth at 22.20%. The one-year market cap growth is an astounding 58.42%. Those are King Kong sized numbers. They also make Amazon an unstoppable force, even if Covid-19 strikes again. That second wave may actually turn their growth rate into a tsunami. 
You don't have to be a financial analyst to see this one. Between Amazon Prime Video and their online shopping platform, the FAANG giant holds all the cards if the world goes into shut-down mode again. Even if that doesn't happen, the way people shop and live their lives has changed forever after the first wave. Amazon is in the best position to take advantage of that.  
Zoom has Outpaced Google Meet
It's rare to see Google lose a fight, but they can throw in the towel on this one. Zoom (ZM) has outperformed them this year in every way. Surprisingly, the area that Google Meet fell short was user experience. They were simply unprepared for the sheer volume of users that descended upon them when the world went virtual. Zoom was ready for it.  
In the past six months, Zoom's stock has shown a gain of 267%. Q2 earnings actually exceeded expectations, which were fairly high. Tickeron has it listed as a buy, not a strong buy, but the 200% annual increase in market cap suggests it may be undervalued. Increased usage in the corporate and government sectors also indicate a spike will happen if a second wave hits.
Zoom's movement in the past few weeks has been somewhat volatile, so if you're trading, go long. Or buy some call options. The Aroon Indicator entered an uptrend on July 7th, so neither strategy will hurt you. Video conferencing is the preferred method of communication going forward and Zoom is the clear leader in the field. This stock will thrive in Q3.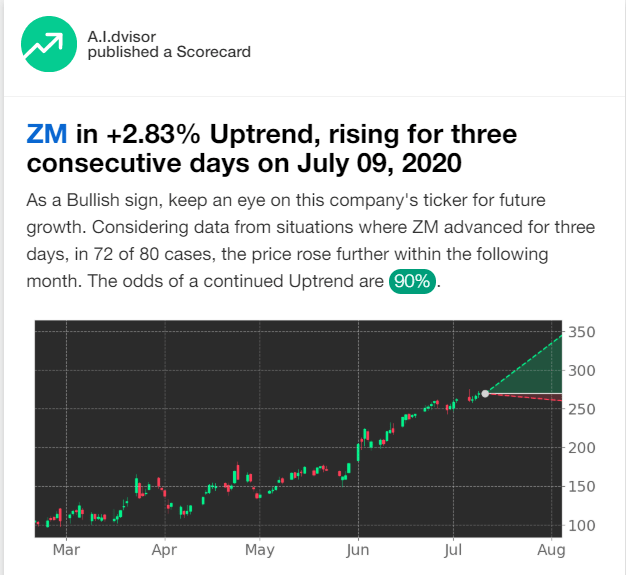 Current price $269.52 is above $255.90 the highest resistance line found by A.I. Throughout the month of 06/07/20 - 07/08/20, the price experienced a +28% Uptrend. During the week of 06/30/20 - 07/08/20, the stock enjoyed a +4% Uptrend growth.
Technical Analysis (Indicators)
Bullish Trend Analysis
The Aroon Indicator entered an Uptrend today. In 61 of 72 similar cases where ZM Aroon's Indicator entered an Uptrend, the price rose further within the following month. The odds of a continued Uptrend are 85%.
Use Tickeron Ticker for Additional Research
You can look up any publicly traded stock by going to the Tickeron Ticker page and entering the trading ticker for that security. Most of the information we've provided you here comes from those pages and Tickeron Screener. Check out both today to be a more informed trader or long-term investor. It's free to get started and there are training and practice tools for the newbie.