5 Golden Principles in Investing
The principle we all know in belief systems is the ethic of reciprocity. This is commonly known as the golden rule: "Treat others as you would like to be treated." In the world of investments, this rule can be redefined as the expectation of getting returns that are equal to or greater than the risk we take.
Let's take an example to explain this better. If you invest $500 in a stock, you want to make sure that you not only get your initial investment back but also a significant profit. You have confidence in the stock's potential returns based on your research, so you expect that the returns will be equal to or greater than the investment.
The concept of "Do unto others" is only practiced when people expect reciprocity in return. This applies to both positive and negative actions. In the world of stock trading, why not apply the same principle? If you believe in a stock, invest in it, and expect returns in the future.
Enough with the philosophical discussion. This article is about the "golden principles" of investing. We use the golden rule to remind traders and investors to expect profits when they invest in quality stocks. The principles that follow will help achieve that goal.
Principle #1: Diversification
Investors should not be one-dimensional when building a portfolio. Some sectors perform better than others, and diversification helps minimize the risk of losses in one sector by spreading investments across multiple sectors.
The Global Industry Classification Standard (GICS) is a system of eleven primary categories recognized by major indexes such as the S&P and MSCI. These categories include:
Energy
Materials
Industrials
Consumer Discretionary
Consumer Staples
Health Care
Financials
Information Technology
Telecommunication Services
Utilities
Real Estate
Professional analysts typically conduct deep dives into twenty-four industry groups, sixty-nine industries, and one hundred fifty-eight sub-industries. However, most investors stick to the eleven primary sectors.
It is crucial to consider all market sectors to succeed in the long term. Social movements, government changes, and market conditions affect all sectors, positively or negatively. To prepare for anything, diversify your portfolio.
Principle #2: Set Clear Financial Goals
Investors have a long-term view, and their goals are different from day traders who focus on executing several trades daily. Investment portfolio managers focus on three areas: Accumulation of Principle, Rate of Return, and Disbursement Strategies.
Accumulation of Principle involves consistently building your portfolio, even during down markets when stock prices are low. Allocate a specific amount of money every week to your portfolio regardless of market conditions.
Rate of Return could be a specific percentage or a comparison to market indexes. By monitoring return percentages, investors can decide when to reallocate their portfolio.
Disbursement Strategies are important because investors ultimately want to withdraw their gains. Ideally, withdrawals should be lower than gain dollars, ensuring the portfolio keeps growing.
Investors should consider their life goals too. Money-making is a goal for everyone, but what are your specific goals? A new home, a comfortable retirement, or the ability to travel? Define your goals to stay motivated.
Principle #3: Risk Tolerance
This principle applies to both investors and traders and encompasses various factors. Risk tolerance can refer to the amount of money you're willing to invest or how long you're willing to hold a position before selling. Setting goals in both these areas is critical to any investing or trading plan.
Firstly, it's important to consider the monetary value of your investments. Similar to advice given at a casino, don't invest money that you can't afford to lose, not because you're going to lose it, but because you cannot use that money elsewhere. Creating a budget can help you determine how much you can allocate towards investing, after covering living expenses, incidentals, and unexpected life occurrences.
Once you know how much you can afford to invest, evaluate your appetite for risk. Determine how much you're willing to lose or risk losing before pulling out of a trade or investment. This varies by individual and is influenced by life circumstances. To make informed investment decisions, learn to separate your emotions from stock trading. While there's an element of chance involved in the stock market, using tools like Tickeron to analyze trades and investments based on data and science can help you set goals that align with your risk tolerance levels.
Principle #4: Look for Undervalued Stocks
Undervalued stocks are stocks that are selling at a price significantly lower than their intrinsic value. Their value is based on predictable future cash-flows, which can be assessed through additional research on the company. Tickeron can assist you in this process. While there's a huge potential upside to finding the right undervalued stocks, not all of them will turn out to be winners for you. Some may have a low valuation for a reason, such as excessive debt or inefficient management. Additionally, market conditions can also impact the price of a stock. It's important to seek expert advice in this area to make informed investment decisions.
One useful indicator of whether a company is undervalued or overvalued is the price-to-earnings (P/E) ratio, which compares a company's earnings to its share price. Generally, undervalued stocks tend to have lower P/E ratios, with the average P/E on the S&P being 15.
Principle #5: Respect Market Capitalization and Profit
When evaluating stock potential, price-to-earnings ratios aren't the only consideration. Investors must also respect market capitalization and profits. Market capitalization represents the cumulative value of all outstanding shares on the market, while profits indicate the company's ability to pay off debt. Investors can calculate the debt-to-income ratio themselves from company financial reports, but market cap and P/E ratios are generally sufficient to make informed investment decisions.
When it comes to market capitalization, the significance of a share's price can be limited if the number of shares available for trading is restricted. This is particularly evident in an IPO (initial public offering), where the share price is predetermined before trading begins, and only a limited number of shares are sold.
For established companies, a higher market capitalization is typically observed. For instance, let's take eBay as an example. Currently, eBay's share price is $50.68, and its market capitalization is $35.47 billion. The trading volume is 6.343 million, which indicates that the company has a strong presence in the market.
A more in-depth analysis of eBay shows a P/E ratio of 7.85, and according to Tickeron, the probability of an uptrend is 73%. This presents a strong buy signal. As an investor, eBay seems like a good investment opportunity for me, given that it aligns with my risk tolerance and has the potential for long-term growth.
Patterns and Consistency Lead to Investing Success
Tickeron focuses primarily on providing insights for traders. Consistently following a trading plan is crucial for them, as neglecting it can lead to significant losses during the market's active hours. This harsh reality is well understood by traders.
On the other hand, investors operate with longer time horizons. Therefore, it may not be immediately evident whether a plan is effective or not. It is advisable to adhere to the plan until sufficient data is available for analysis. If necessary, modifications can be made at that point. Meanwhile, implementing these essential principles can increase your likelihood of success.
Tickeron's Products
The main idea behind technical analysis is the ability to find recurring price patterns and trends and use them to predict the direction of future market trends. We started with the creation of AI-based Engines (Pattern Search Engine, Real-Time Patterns, Trend Prediction Engine) that allow us to effectively analyze market trends. We then have explored almost all existing methods (price patterns, trend indicators, oscillators, and many others) using neural networks and deep historical backtests. As a result, it was possible to form a pool of trading algorithms that together allow our AI Robots to effectively determine the key points of change in market trends.
EBAY's RSI Indicator leaves overbought zone
The 10-day RSI Oscillator for EBAY moved out of overbought territory on May 01, 2023. This could be a sign that the stock is shifting from an upward trend to a downward trend. Traders may want to look at selling the stock or buying put options. Tickeron's A.I.dvisor looked at 31 instances where the indicator moved out of the overbought zone. In of the 31 cases the stock moved lower in the days that followed. This puts the odds of a move down at .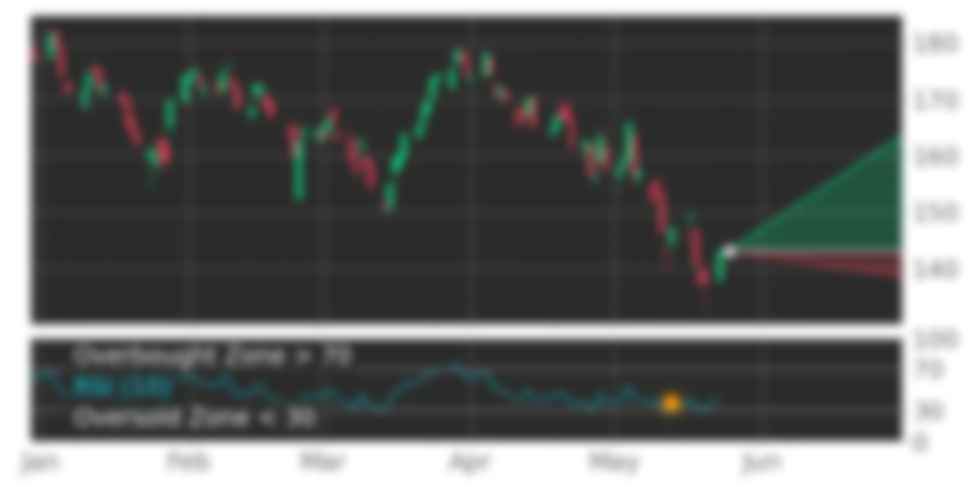 Technical Analysis (Indicators)
Bearish Trend Analysis
The Momentum Indicator moved below the 0 level on May 12, 2023. You may want to consider selling the stock, shorting the stock, or exploring put options on EBAY as a result. In of 80 cases where the Momentum Indicator fell below 0, the stock fell further within the subsequent month. The odds of a continued downward trend are .
The Moving Average Convergence Divergence Histogram (MACD) for EBAY turned negative on May 16, 2023. This could be a sign that the stock is set to turn lower in the coming weeks. Traders may want to sell the stock or buy put options. Tickeron's A.I.dvisor looked at 41 similar instances when the indicator turned negative. In of the 41 cases the stock turned lower in the days that followed. This puts the odds of success at .
EBAY moved below its 50-day moving average on May 30, 2023 date and that indicates a change from an upward trend to a downward trend.
The 10-day moving average for EBAY crossed bearishly below the 50-day moving average on May 25, 2023. This indicates that the trend has shifted lower and could be considered a sell signal. In of 17 past instances when the 10-day crossed below the 50-day, the stock continued to move higher over the following month. The odds of a continued downward trend are .
Following a 3-day decline, the stock is projected to fall further. Considering past instances where EBAY declined for three days, the price rose further in of 62 cases within the following month. The odds of a continued downward trend are .
Bullish Trend Analysis
The Stochastic Oscillator suggests the stock price trend may be in a reversal from a downward trend to an upward trend. of 60 cases where EBAY's Stochastic Oscillator exited the oversold zone resulted in an increase in price. Tickeron's analysis proposes that the odds of a continued upward trend are .
Following a 3-day Advance, the price is estimated to grow further. Considering data from situations where EBAY advanced for three days, in of 320 cases, the price rose further within the following month. The odds of a continued upward trend are .
EBAY may jump back above the lower band and head toward the middle band. Traders may consider buying the stock or exploring call options.
The Aroon Indicator entered an Uptrend today. In of 234 cases where EBAY Aroon's Indicator entered an Uptrend, the price rose further within the following month. The odds of a continued Uptrend are .
Fundamental Analysis (Ratings)
The Tickeron Seasonality Score of (best 1 - 100 worst) indicates that the company is slightly undervalued in the industry. The Tickeron Seasonality score describes the variance of predictable price changes around the same period every calendar year. These changes can be tied to a specific month, quarter, holiday or vacation period, as well as a meteorological or growing season.
The Tickeron Valuation Rating of (best 1 - 100 worst) indicates that the company is slightly undervalued in the industry. This rating compares market capitalization estimated by our proprietary formula with the current market capitalization. This rating is based on the following metrics, as compared to industry averages: P/B Ratio (4.329) is normal, around the industry mean (18.894). P/E Ratio (41.494) is within average values for comparable stocks, (72.605). Projected Growth (PEG Ratio) (2.515) is also within normal values, averaging (2.605). Dividend Yield (0.021) settles around the average of (0.039) among similar stocks. P/S Ratio (2.427) is also within normal values, averaging (8.407).
The Tickeron PE Growth Rating for this company is (best 1 - 100 worst), pointing to consistent earnings growth. The PE Growth rating is based on a comparative analysis of stock PE ratio increase over the last 12 months compared against S&P 500 index constituents.
The Tickeron Price Growth Rating for this company is (best 1 - 100 worst), indicating fairly steady price growth. EBAY's price grows at a lower rate over the last 12 months as compared to S&P 500 index constituents.
The Tickeron SMR rating for this company is (best 1 - 100 worst), indicating slightly better than average sales and a considerably profitable business model. SMR (Sales, Margin, Return on Equity) rating is based on comparative analysis of weighted Sales, Income Margin and Return on Equity values compared against S&P 500 index constituents. The weighted SMR value is a proprietary formula developed by Tickeron and represents an overall profitability measure for a stock.
The Tickeron Profit vs. Risk Rating rating for this company is (best 1 - 100 worst), indicating that the returns do not compensate for the risks. EBAY's unstable profits reported over time resulted in significant Drawdowns within these last five years. A stable profit reduces stock drawdown and volatility. The average Profit vs. Risk Rating rating for the industry is 95, placing this stock better than average.
Notable companies
The most notable companies in this group are Amazon.com (NASDAQ:AMZN), Alibaba Group Holding Limited (NYSE:BABA), JD.com (NASDAQ:JD), PDD Holdings (NASDAQ:PDD), eBay (NASDAQ:EBAY), Chewy (NYSE:CHWY), Vipshop Holdings Limited (NYSE:VIPS), Wayfair (NYSE:W), Just Eat Takeaway.com N.V. (OTC:JTKWY), Revolve Group (NYSE:RVLV).
Industry description
The internet retail industry includes companies that sell products and services through the Internet. With more and more consumers using online retailers, the companies have seen a big increase in the use of their services. Some of the companies in the group are focused on selling business-to-business products and services. Others sell business-to-consumer products and services. Internet retailers offer a wide variety of products like books, apparel, and electronics. Some companies even specialize in only one or two categories. One potentially critical factor for players to thrive in this space is the quality and speed of product delivery. This requires an investment in efficient distribution networks. Things like logistics are important factors in the success in the extremely competitive industry. For a company to stay relevant in the industry it must have effective pricing strategies and upgraded websites. The websites must be easy to navigate and engaging for customers. In addition to the revenues generated from straight sales, internet retailers can generate revenue from subscription fees and advertising. Amazon.com, Inc., Alibaba Group, and JD.com are some of the global leaders.
Market Cap
The average market capitalization across the Internet Retail Industry is 23.83B. The market cap for tickers in the group ranges from 30 to 1.25T. AMZN holds the highest valuation in this group at 1.25T. The lowest valued company is YUKA at 30.
High and low price notable news
The average weekly price growth across all stocks in the Internet Retail Industry was -2%. For the same Industry, the average monthly price growth was -2%, and the average quarterly price growth was -14%. OCG experienced the highest price growth at 24%, while TDUP experienced the biggest fall at -25%.
Volume
The average weekly volume growth across all stocks in the Internet Retail Industry was -1%. For the same stocks of the Industry, the average monthly volume growth was -14% and the average quarterly volume growth was -27%
Fundamental Analysis Ratings
The average fundamental analysis ratings, where 1 is best and 100 is worst, are as follows
Valuation Rating: 63
P/E Growth Rating: 70
Price Growth Rating: 55
SMR Rating: 77
Profit Risk Rating: 94
Seasonality Score: 15 (-100 ... +100)