Statistics for the Cup-and-Handle (Bullish) Pattern
Using sophisticated AI algorithms to find patterns in the securities markets used to be something only hedge funds and large financial institutions did. 
Not anymore. 
Today, retail investors of all levels can access Artificial Intelligence (A.I.) investment tools with just a few clicks. On Tickeron's platform, investors can use A.I. to generate investment allocation ideas, to see how well a portfolio is diversified, and even to generate trade ideas based on patterns and trends the A.I. discovers. 
One such pattern is the "Cup-and-Handle Bullish" formation. Here's what it looks like on a stock chart: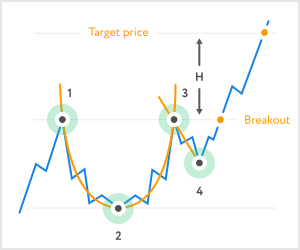 Once the security's price hits the "breakout", an investor would make a trade in anticipation of the price rising further to the "target price". The question is: how can investor possibly spot this pattern when there are literally thousands upon thousands of securities being traded?
The answer: Artificial Intelligence! Tickeron's A.I. has discovered more than 13,000 Cup-and-Handle Bullish patterns, and more than half of them reached the target price as predicted by the A.I. Here are some statistics for the Cup-and-Handle Bullish pattern:

As you can see, for the patterns where the A.I. was correct, the average gain for the trader was +14.75% -- which is much higher than the loss incurred if the A.I. was wrong (which was less than half the time). The average return from all 13,398 discovered patterns was 4.25%.
In short, the Artificial Intelligence is right more often that it's wrong, which is arguably a noteworthy accomplishment in the trading and investment world. 

Here is a real-world example of Tickeron's Artificial Intelligence in action, and it's for a company everyone knows: Alphabet (Google).
This pattern emerged late last year, on December 20, 2017. Take a look at the chart closely. You can see how the A.I. monitored Google's price movements through early January, and how Google's share price traced a cup (points 1 to 3) and a holder (points 3 to 4). As soon as the A.I. noticed that Google hit it's "breakout price", the A.I. made a prediction that the stock would rise to $1,145. The A.I. was right: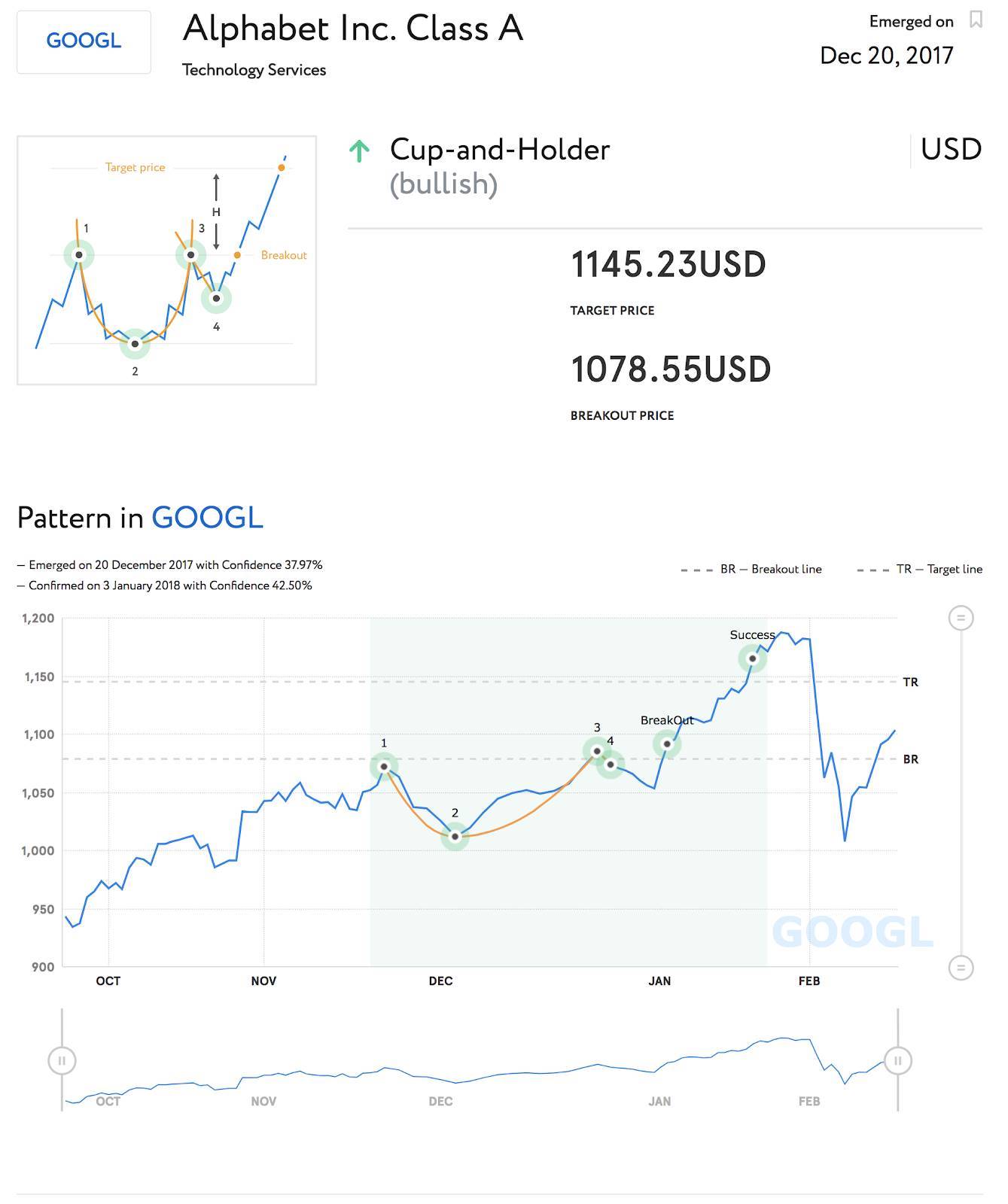 For retail investors reading this, who want to learn more about how this tool works and perhaps even give it a try, it is called the Pattern Search Engine and you can try it free for 45 days. The A.I. will deliver trade ideas right to your inbox. 
Here is another opportunity that the A.I. discovered recently. Tickeron pattern subscribers would have seen this pattern in their inboxes sometime just before November of last year. The A.I. started tracing a cup formation from early October through the middle of the month, and the holder formed quickly as you can see on the chart below. Once Twitter hit its breakout price, the A.I. predicted it would bump higher to $19.87. The A.I. was correct in this case as well: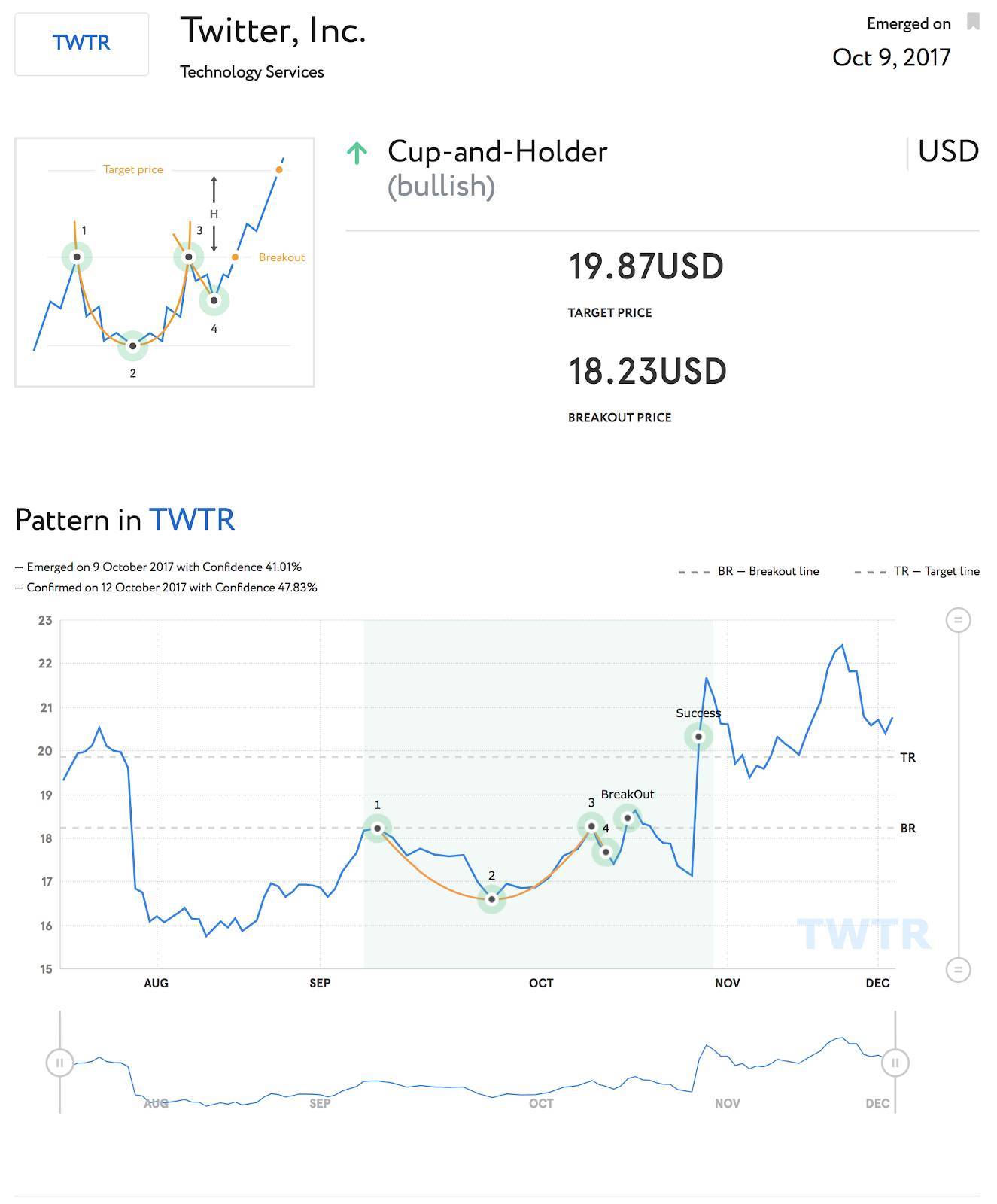 For investors who enjoy trading the markets and looking for unique opportunities, it could make sense to add a new, Artificial Intelligence-powered tool to your investment toolbox. Humans do not have the time or the ability to scan the markets day-in and day-out looking for patterns in stocks, ETFs, mutual funds, and cryptocurrencies. It is simply not possible -- unless you get help from algorithms and A.I. Give Tickeron's new platform a try to enhance your trading by using hard data to trade patterns and make investment decisions. A 45-day trial is free, and you might be surprised at just how effective Artificial Intelligence can be when applied to trading.