Statistics for the Three Rising Valleys Pattern
If you're a trader who likes bullish patterns, the "Three Rising Valleys" pattern is built for you. Take a look at the chart below for Goldman Sachs (ticker GS). Last summer, Tickeron's A.I. discovered a Three Rising Valleys bullish pattern and accurately predicted the stock price surge from the Breakout Price of $231.54 to the Target Price of $247.18 — a nearly +7% gain.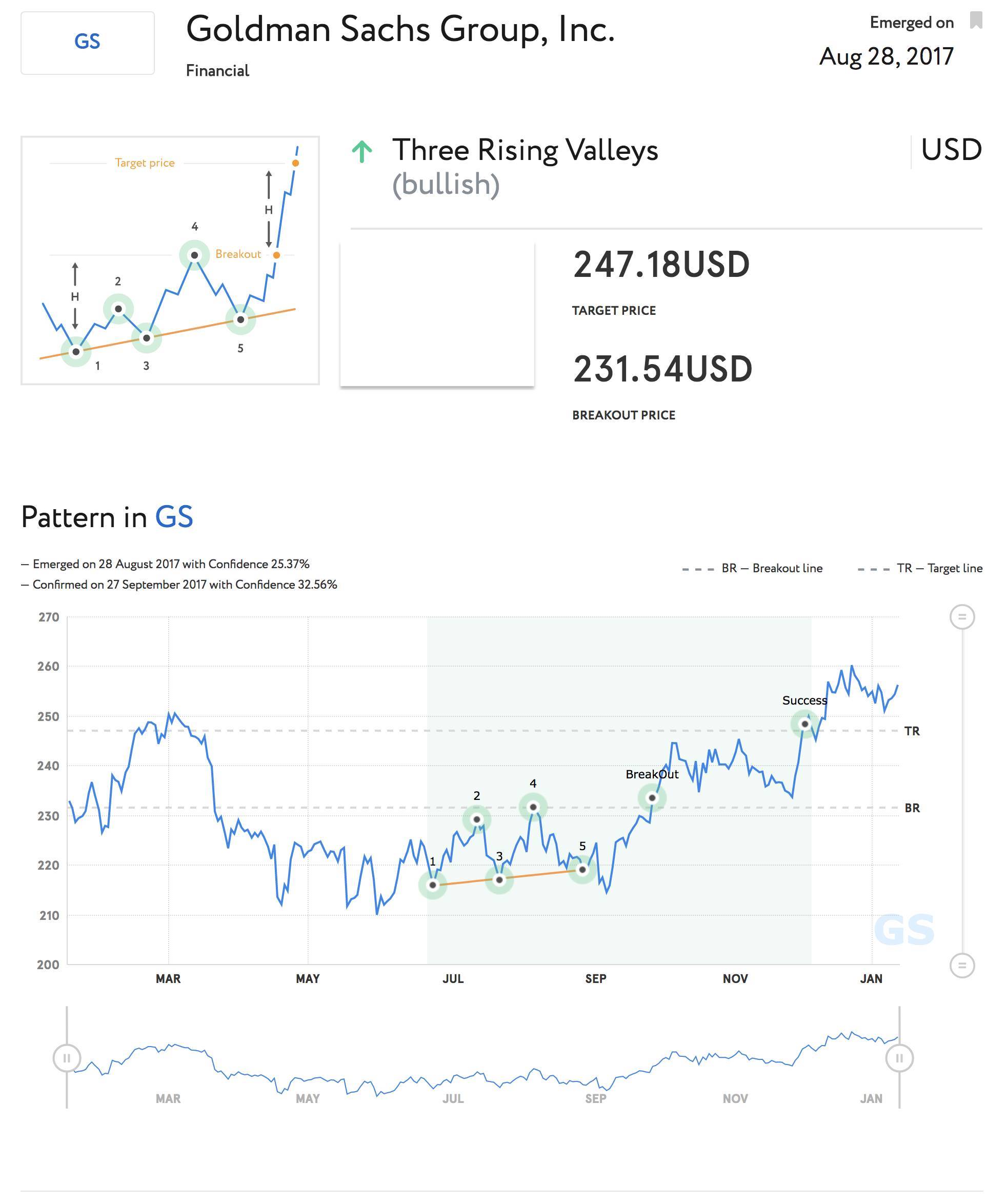 The Three Rising Valleys pattern forms when three minor Lows (1, 3, 5 on the chart) arrange along an upward sloping trend line. The pattern often appears at the end of a declining trend, as you can clearly see from March to June in the chart above. The Rising Valleys indicate that buyers are overtaking sellers, which ultimately pushes the price higher.
Goldman Sachs followed the pattern almost perfectly, with the stock progressively hitting higher lows last summer after a declining trend. Tickeron's algorithms spotted the trend, and as soon as GS hit its Breakout Price of $231.54, the A.I. called for a Target Price of $247.18. Goldman Sachs hit it before the end of the year.
Microsoft was another stock that Tickeron's A.I. confirmed in a Three Rising Valleys pattern. Check out the chart below, which was produced by the A.I. late last year: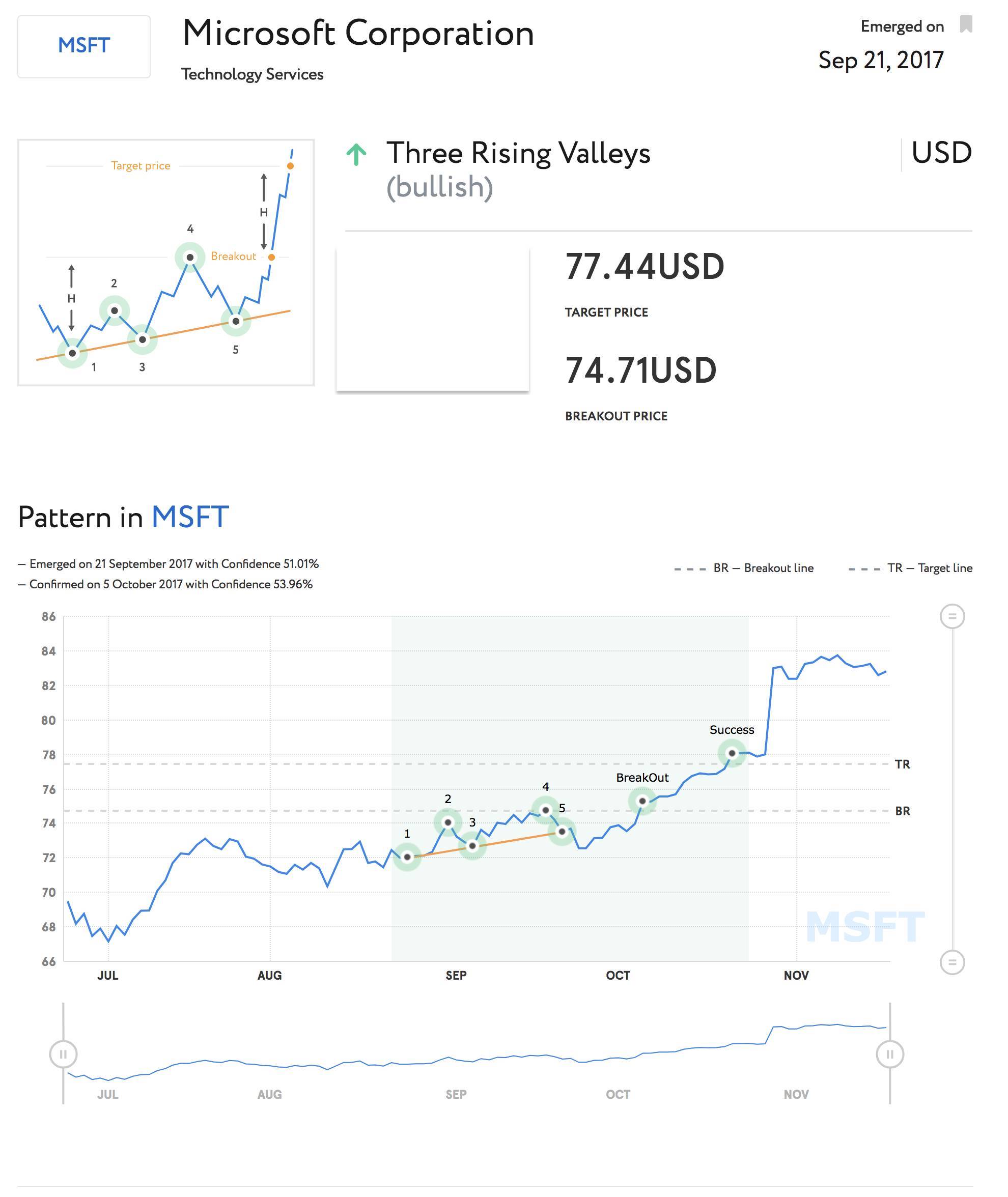 The A.I. found the Three Rising Valleys (1,3,5) on September 21, 2017, and then waited for the stock to hit the Breakout Price of $74.71. When MSFT reached $74.71, Tickeron's A.I. projected it would hit a Target Price of $77.44. For traders who were subscribed to this pattern, you would have received a notification in your inbox of a potential trade. Had the investor bought MSFT or a call option at the Breakout Price, there would have been a potential profit on the table.
How Effective is Tickeron's A.I.?
Any reasonable investor or trader would say, "Ok, this looks great on paper. But how effective is Tickeron's A.I. at making these predictions? Where are the statistics?"
See for yourself below. In instances where the A.I. was more than 40% confident that the price of the stock would move at least 7% higher to its target price, the A.I. was right more than 54.56% of the time. That's a solid metric. 
Another solid metric? When Tickeron's A.I. was right, the average return on the trade was +14.13%

Ready to Start Trading?
For investors who enjoy trading the markets and looking for unique opportunities, it could make sense to add a new, Artificial Intelligence-powered tool to your investment toolbox. You can find this tool on tickeron.com.
Humans do not have the time or the ability to scan the markets day-in and day-out looking for patterns in stocks, ETFs, mutual funds, and cryptocurrencies. It is simply not possible — unless you get help from algorithms and A.I. Give Tickeron's new platform a try to enhance your trading, by using hard data to trade patterns and make investment decisions. A 45-day trial is free, and you might be surprised at just how effective Artificial Intelligence can be when applied to trading.