A New Survey from Deloitte: Blockchain is Getting Closer to its Breakout Moment Every Day
The researchers at Deloitte surveyed 1,053 senior executives at companies with $500 million or more in annual revenue in seven countries: USA, Canada, China, France, Germany, Mexico, UK. 
More than one-third of respondents survey say they've already brought a blockchain implementation to production; another 41% plan to bring blockchain to production in the next year.
2018 global blockchain survey from Deloitte reveals that 84% of respondents are strongly bullish on blockchain's potential, because of its ability to broadly scale and reach mainstream adoption. A majority also agreed that blockchain technology will disrupt their industry. 

In addition, 84% think that blockchain is more secure than conventional IT systems. 
According to the survey: "the most common answer when asked about blockchain's advantages over existing systems was greater speed. This suggests companies are interested in leveraging blockchain's real-time information exchange capabilities to speed up business processes and gain operational efficiencies. Additionally, 28% of respondents believe that blockchain can help them unlock new revenue sources and business models, underscoring the technology's disruptive potential."
Overall, 60% believe that they will lose a competitive advantage if they don't adopt blockchain.

BLOK sees its 50-day moving average cross bullishly above its 200-day moving average
The 50-day moving average for BLOK moved above the 200-day moving average on May 08, 2023. This could be a long-term bullish signal for the stock as the stock shifts to an upward trend.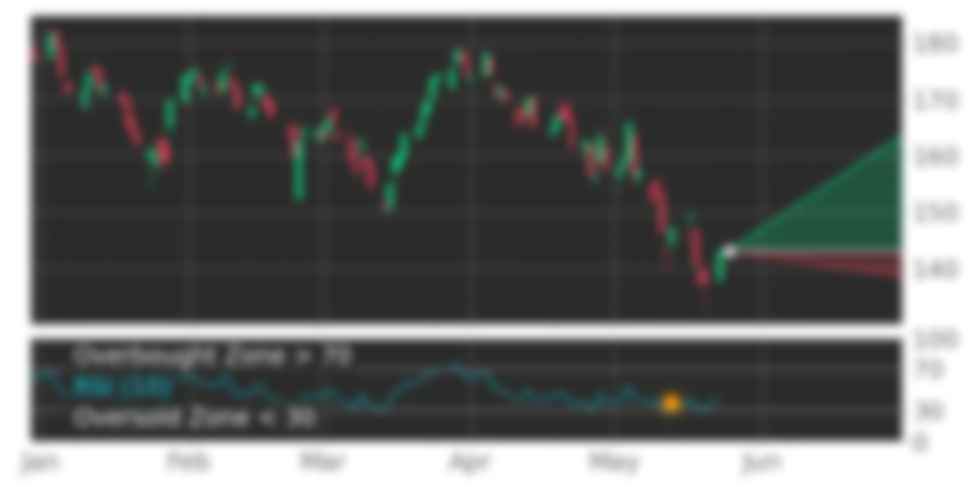 Technical Analysis (Indicators)
Bullish Trend Analysis
The Momentum Indicator moved above the 0 level on May 25, 2023. You may want to consider a long position or call options on BLOK as a result. In of 72 past instances where the momentum indicator moved above 0, the stock continued to climb. The odds of a continued upward trend are .
Following a 3-day Advance, the price is estimated to grow further. Considering data from situations where BLOK advanced for three days, in of 355 cases, the price rose further within the following month. The odds of a continued upward trend are .
The Aroon Indicator entered an Uptrend today. In of 341 cases where BLOK Aroon's Indicator entered an Uptrend, the price rose further within the following month. The odds of a continued Uptrend are .
Bearish Trend Analysis
The Stochastic Oscillator may be shifting from an upward trend to a downward trend. In of 63 cases where BLOK's Stochastic Oscillator exited the overbought zone, the price fell further within the following month. The odds of a continued downward trend are .
The Moving Average Convergence Divergence Histogram (MACD) for BLOK turned negative on May 24, 2023. This could be a sign that the stock is set to turn lower in the coming weeks. Traders may want to sell the stock or buy put options. Tickeron's A.I.dvisor looked at 47 similar instances when the indicator turned negative. In of the 47 cases the stock turned lower in the days that followed. This puts the odds of success at .
Following a 3-day decline, the stock is projected to fall further. Considering past instances where BLOK declined for three days, the price rose further in of 62 cases within the following month. The odds of a continued downward trend are .
Fundamental Analysis (Ratings)
Notable companies
The most notable companies in this group are Taiwan Semiconductor Manufacturing Company Ltd (NYSE:TSM), VISA (NYSE:V), Walmart (NYSE:WMT), Mastercard (NYSE:MA), Oracle Corp (NYSE:ORCL), Advanced Micro Devices (NASDAQ:AMD), Cisco Systems (NASDAQ:CSCO), Accenture PLC (NYSE:ACN), International Business Machines Corp (NYSE:IBM), PayPal Holdings (NASDAQ:PYPL).
Industry description
The investment seeks to provide investors with total return. The fund is an actively managed ETF that seeks to provide total return by investing at least 80% of its net assets in the equity securities of companies actively involved in the development and utilization of "transformational data sharing technologies". It may invest in non-U.S. equity securities, including depositary receipts.
Market Cap
The average market capitalization across the Amplify Transformational Data Shrg ETF ETF is 129.98B. The market cap for tickers in the group ranges from 49.79M to 476.7B. TSM holds the highest valuation in this group at 476.7B. The lowest valued company is MOGO at 49.79M.
High and low price notable news
The average weekly price growth across all stocks in the Amplify Transformational Data Shrg ETF ETF was -0%. For the same ETF, the average monthly price growth was 3%, and the average quarterly price growth was 18%. AMD experienced the highest price growth at 20%, while CAN experienced the biggest fall at -24%.
Volume
The average weekly volume growth across all stocks in the Amplify Transformational Data Shrg ETF ETF was 16%. For the same stocks of the ETF, the average monthly volume growth was 3% and the average quarterly volume growth was 199%
Fundamental Analysis Ratings
The average fundamental analysis ratings, where 1 is best and 100 is worst, are as follows
Valuation Rating: 62
P/E Growth Rating: 60
Price Growth Rating: 50
SMR Rating: 69
Profit Risk Rating: 74
Seasonality Score: 14 (-100 ... +100)