A Promising Week for AI Trading: 20% Gain on BNGO Stocks.
Last week proved to be the most successful one in the last quarter for our AI trading robots, with some of them achieving over 4% returns in this short period. Among these impressive performers, the AI robot on Swing-Trader-4K-per-position-High-Volatility-Stocks-for-Active-Trading-TA-FA stands out as a top contender. Let's delve into the features and performance of this remarkable AI robot.
High Volatility Stock Trading: Designed for traders who prefer high volatility stocks but want to minimize potential losses during downtrends, this AI robot employs a pool of technical indicators to identify uptrend reversal points. By effectively balancing short and long positions, the robot ensures reduced drawdowns and optimized performance.
Risk Management and Flexibility: Equipped with a basic risk management strategy suitable for a trading balance of $100,000 and a position size of $4000 per trade, traders can easily customize their balance as per their requirements, with the position size proportionally adjusting accordingly. For instance, if the trading balance is modified to $50,000, the position size will automatically adjust to $2000.
Ideal for Active Traders: This AI robot caters to active traders who can monitor 30-40 trades simultaneously. With an average transaction duration of 1 day, traders can efficiently utilize their capital without getting trapped in prolonged trades.
Proprietary Stock Selection Method: The robot's stock selection process utilizes a novel proprietary method developed by our team of quants, assessing the strength and momentum quality of the most active stocks in the US market. The entry points to the positions are determined through a sophisticated algorithm that includes a pool of technical indicators processed using neural networks.
Profit-Taking and Exit Strategies: Upon entering a trade, the AI robot places a fixed "Take profit" order set at 3.5% of the position opening price. To exit a position, the robot utilizes two options: a fixed stop loss set at 3% of the position opening price and a flexible trailing stop, which allows traders to retain most of their profits in case of a market reversal.
Impressive Performance on BNGO Stocks: During the previous week, this AI robot demonstrated its prowess by achieving an outstanding 20% gain on BNGO stocks. This remarkable feat reflects the robot's ability to capitalize on opportunities presented by high volatility stocks.
Transparent Trading Statistics: The robot's trading results are presented without using a margin, ensuring transparency and accuracy. For a comprehensive view of the trading statistics and equity chart, users can click on the "show more" button on the robot page. The "Open Trades" tab provides insights into the AI Robot's equity selection, entry, and exit in paper trades, while the "Closed Trades" tab allows users to review all past trades made by the AI Robot.
Conclusion: In conclusion, the previous week witnessed exceptional performance by our AI trading robots, with the featured AI robot achieving an impressive 20% gain on BNGO stocks. Tailored for active traders who seek opportunities in high volatility stocks, this AI robot's proprietary methodology, risk management, and flexible exit strategies make it a compelling option for traders looking to optimize their profits and minimize potential losses. For those interested in exploring the robot's capabilities further, we encourage you to review the comprehensive trading statistics and equity chart available on the robot page.
BNGO's Indicator enters downward trend
The Aroon Indicator for BNGO entered a downward trend on August 30, 2023. Tickeron's A.I.dvisor identified a pattern where the AroonDown red line was above 70 while the AroonUp green line was below 30 for three straight days. This could indicate a strong downward move is ahead for the stock. Traders may want to consider selling the stock or buying put options. A.I.dvisor looked at 226 similar instances where the Aroon Indicator formed such a pattern. In of the 226 cases the stock moved lower. This puts the odds of a downward move at .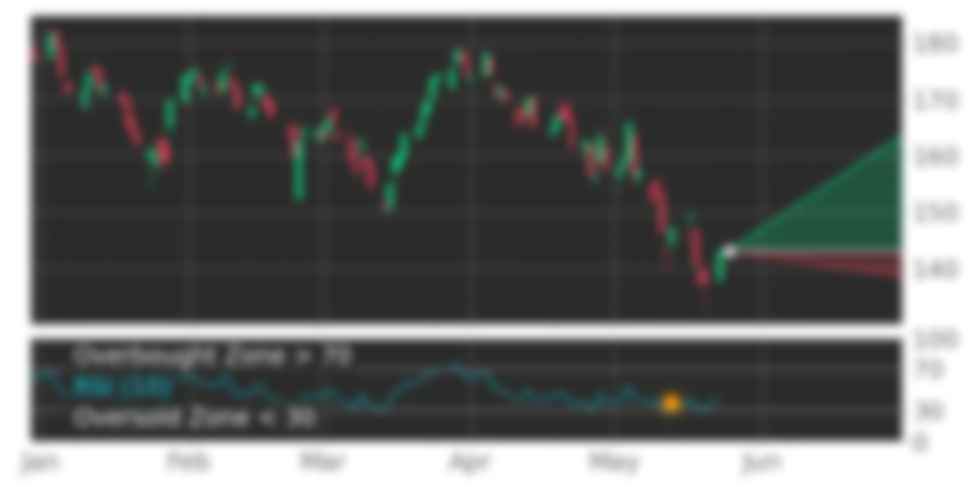 Technical Analysis (Indicators)
Bearish Trend Analysis
The Momentum Indicator moved below the 0 level on September 14, 2023. You may want to consider selling the stock, shorting the stock, or exploring put options on BNGO as a result. In of 86 cases where the Momentum Indicator fell below 0, the stock fell further within the subsequent month. The odds of a continued downward trend are .
Following a 3-day decline, the stock is projected to fall further. Considering past instances where BNGO declined for three days, the price rose further in of 62 cases within the following month. The odds of a continued downward trend are .
Bullish Trend Analysis
The RSI Indicator entered the oversold zone -- be on the watch for BNGO's price rising or consolidating in the future. That's also the time to consider buying the stock or exploring call options.
The Stochastic Oscillator shows that the ticker has stayed in the oversold zone for 8 days. The price of this ticker is presumed to bounce back soon, since the longer the ticker stays in the oversold zone, the more promptly an upward trend is expected.
The Moving Average Convergence Divergence (MACD) for BNGO just turned positive on August 28, 2023. Looking at past instances where BNGO's MACD turned positive, the stock continued to rise in of 42 cases over the following month. The odds of a continued upward trend are .
Following a 3-day Advance, the price is estimated to grow further. Considering data from situations where BNGO advanced for three days, in of 211 cases, the price rose further within the following month. The odds of a continued upward trend are .
BNGO may jump back above the lower band and head toward the middle band. Traders may consider buying the stock or exploring call options.
Fundamental Analysis (Ratings)
The Tickeron Valuation Rating of (best 1 - 100 worst) indicates that the company is slightly undervalued in the industry. This rating compares market capitalization estimated by our proprietary formula with the current market capitalization. This rating is based on the following metrics, as compared to industry averages: P/B Ratio (0.491) is normal, around the industry mean (24.932). P/E Ratio (0.000) is within average values for comparable stocks, (79.196). Projected Growth (PEG Ratio) (0.000) is also within normal values, averaging (6.230). Dividend Yield (0.000) settles around the average of (0.019) among similar stocks. P/S Ratio (2.746) is also within normal values, averaging (58.009).
The Tickeron Price Growth Rating for this company is (best 1 - 100 worst), indicating slightly worse than average price growth. BNGO's price grows at a lower rate over the last 12 months as compared to S&P 500 index constituents.
The Tickeron SMR rating for this company is (best 1 - 100 worst), indicating weak sales and an unprofitable business model. SMR (Sales, Margin, Return on Equity) rating is based on comparative analysis of weighted Sales, Income Margin and Return on Equity values compared against S&P 500 index constituents. The weighted SMR value is a proprietary formula developed by Tickeron and represents an overall profitability measure for a stock.
The Tickeron PE Growth Rating for this company is (best 1 - 100 worst), pointing to worse than average earnings growth. The PE Growth rating is based on a comparative analysis of stock PE ratio increase over the last 12 months compared against S&P 500 index constituents.
The Tickeron Profit vs. Risk Rating rating for this company is (best 1 - 100 worst), indicating that the returns do not compensate for the risks. BNGO's unstable profits reported over time resulted in significant Drawdowns within these last five years. A stable profit reduces stock drawdown and volatility. The average Profit vs. Risk Rating rating for the industry is 89, placing this stock worse than average.
Notable companies
The most notable companies in this group are Abbott Laboratories (NYSE:ABT), Medtronic plc (NYSE:MDT), Intuitive Surgical (NASDAQ:ISRG), Boston Scientific Corp (NYSE:BSX), Edwards Lifesciences Corp (NYSE:EW), IQVIA Holdings (NYSE:IQV), Align Technology (NASDAQ:ALGN), Illumina (NASDAQ:ILMN), Exact Sciences Corp (NASDAQ:EXAS), Guardant Health (NASDAQ:GH).
Industry description
Medical specialties are companies that make equipment used by the health care industry. Equipment manufactured and distributed by these companies include dialysis machines, blood analysis equipment, surgical equipment, dental instruments, and diagnostic tools, among other items. Large companies typically aim to produce and distribute high-quality products across a broad market spectrum. Smaller firms are more likely to specialize in a particular market segment. Due to the industry's close association with medical treatments, they typically have low sensitivity to macroeconomic fluctuations. Within this industry, Abbott Laboratories, Medtronic Plc and Thermo Fisher Scientific Inc. are some of the companies with multi-billion market capitalizations in the U.S. stock markets.
Market Cap
The average market capitalization across the Medical Specialties Industry is 6.32B. The market cap for tickers in the group ranges from 27 to 3.82T. MKYSF holds the highest valuation in this group at 3.82T. The lowest valued company is FOGCF at 27.
High and low price notable news
The average weekly price growth across all stocks in the Medical Specialties Industry was -3%. For the same Industry, the average monthly price growth was -6%, and the average quarterly price growth was -8%. FEMY experienced the highest price growth at 363%, while RHNMF experienced the biggest fall at -54%.
Volume
The average weekly volume growth across all stocks in the Medical Specialties Industry was 14%. For the same stocks of the Industry, the average monthly volume growth was 62% and the average quarterly volume growth was 174%
Fundamental Analysis Ratings
The average fundamental analysis ratings, where 1 is best and 100 is worst, are as follows
Valuation Rating: 50
P/E Growth Rating: 72
Price Growth Rating: 66
SMR Rating: 84
Profit Risk Rating: 88
Seasonality Score: -21 (-100 ... +100)