Over the last few weeks I have found myself looking for possible bearish investments. The rallies off the March lows and then after the little hiccups we saw in September and October have put the four main U.S. indices in overbought territory based on the weekly RSI and weekly stochastic indicators. The S&P, Nasdaq, and Russell are all showing overbought readings on their monthly RSI and stochastic indicators as well. The Dow's stochastic indicators are in overbought territory, but the RSI isn't there just yet.
If we use the Sector Select SPDRs as a proxy for each of the sectors and we look at the overbought/oversold indicators for them, we see a number of overbought readings. All but the utilities sector and real estate sectors are in overbought territory based on their weekly stochastic indicators. Only five of the 11 have 10-week RSI readings in overbought territory. That's using the 70 level as the threshold for overbought. Eight of the 11 have RSI readings above 65, so several of the ones that aren't overbought are close.
Because of the current situation, I have been looking for specific stocks that I think are ripe for downturns. Stocks that don't have the best fundamentals, but have gone up with the overall market and have elevated overbought/oversold indicators.
Something that stood out in my search was a trio of software stocks with poor fundamental indicators and high readings on their weekly OB/OS indicators. I found these stocks when I searched for ones that have seen their weekly stochastic indicators make bearish crossovers in the last few weeks. Box, Inc. (BOX), Dropbox, Inc. (DBX), and Twilio (TWLO) all three showed up on that search.
Once I saw the stocks on the search, I pulled them up on Tickeron's Fundamental Analysis screener and found that Twilio was rated as a "strong sell". Box and Dropbox both have "sell" ratings.
Looking at the fundamental indicators, Twilio has zero positive signals and five negative readings. Dropbox and Box both have one positive signal and four negative ones. For Dropbox, its SMR rating is the only one that is positive. For Box, the seasonality score is positive, but even that isn't a real strong reading.
There are three areas where all three stocks get poor ratings. All three have really bad scores in the P/E Growth ratings and bad scores on their Profit vs. Risk and Outlook Ratings. Twilio and Dropbox both get 100 on the Profit vs. Risk rating and that is the worst score a stock can get.
Looking at their charts, the trend on Box stood out to me. The stock has been trending lower since peaking in 2018. A trend channel has formed that defines the various cycles within the overall downward trend and the stock hit the upper rail a few weeks ago. We also see how the stochastic indicators made a bearish crossover this week.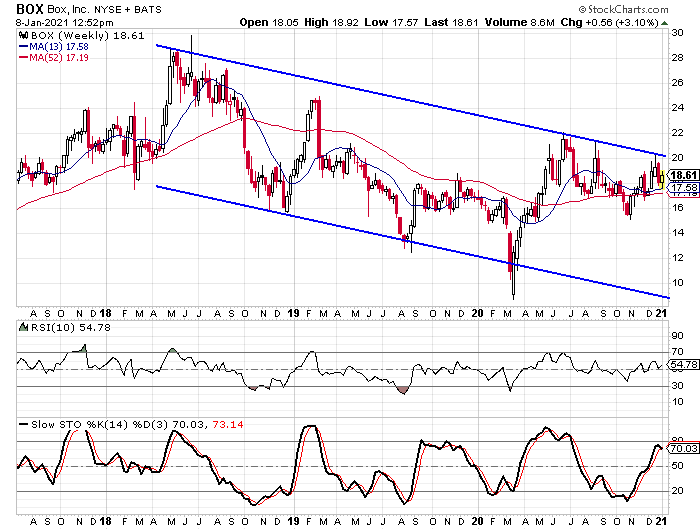 The complete analysis from Tickeron appears below. It shows how the stocks compare to one another and how they stack up against other companies.