Abandon-Baby Top on Goldman Sachs could be a bad sign
Investment banking giant Goldman Sachs (NYSE: GS) reported first-quarter earnings results on Monday and the results were a disappointment to investors. The company posted earnings of $5.71 per share on revenue of $8.81 billion. Analysts were expecting the company to earn $4.74 per share on revenue of $8.97 billion.

The stock fell 3.82% on the day as investors processed the information. What was really interesting is what the gap lower did to Goldman's chart. The stock gapped higher on Friday after JPMorgan beat on earnings and revenues as investors expected similar results for Goldman. Instead, the stock gapped lower on Monday and that left Friday's candle alone—it didn't touch Thursday's candle or Monday's candle.
This pattern is known as an abandon-baby top and it is viewed as a sign of more bearish action going forward.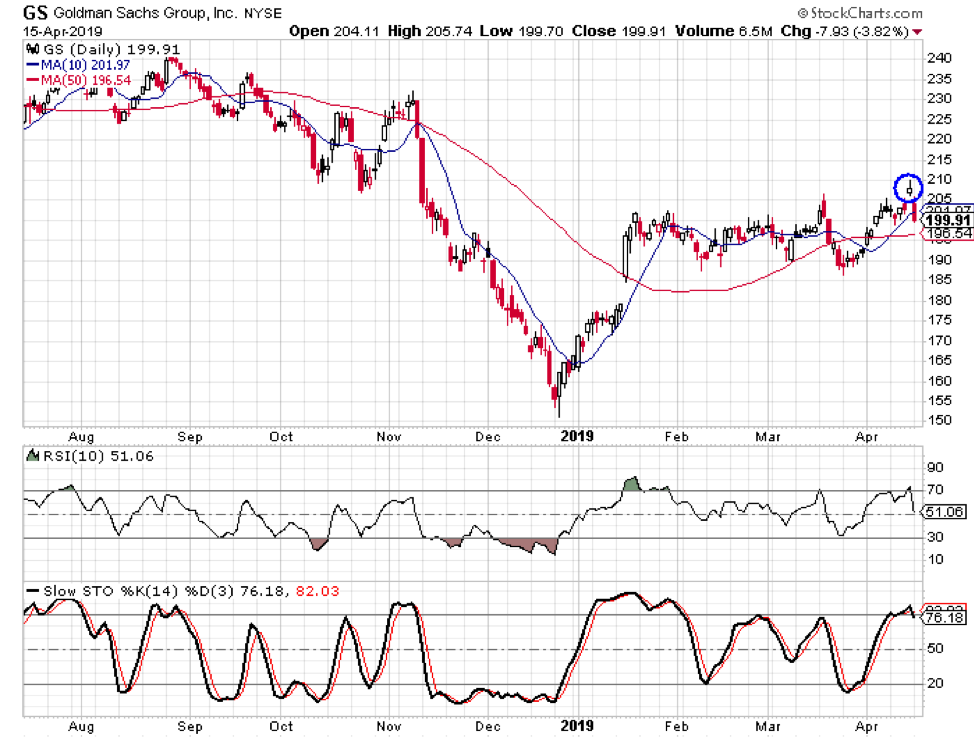 The overall fundamentals for Goldman are below average in several aspects. The earnings fell by 18% in the first quarter compared to last year's results and sales were down 2%. Both of those figures are below average.

The company's return on equity is at 11.6% and that is average to slightly below average. One area where Goldman is above average is its profit margin of 23.8%.
Goldman is also below average on its price performance over the past year. The Relative Price Strength Price Index from Investor's Business Daily is a 28. This means that 72% of stocks in IBD's database have outperformed Goldman in the past year.