AbbVie's Chart Shows a Downward-Sloped Trend Despite Strong Fundamentals
AbbVie's Chart Shows a Downward-Sloped Trend Despite Strong Fundamentals
Over the last six months, drug manufacturer AbbVie (NYSE: ABBV) has been confined to a downward trend with a channel defining the different cycles of the trend. The stock is near the upper rail of the channel at this point in time and the daily stochastic readings are in overbought territory.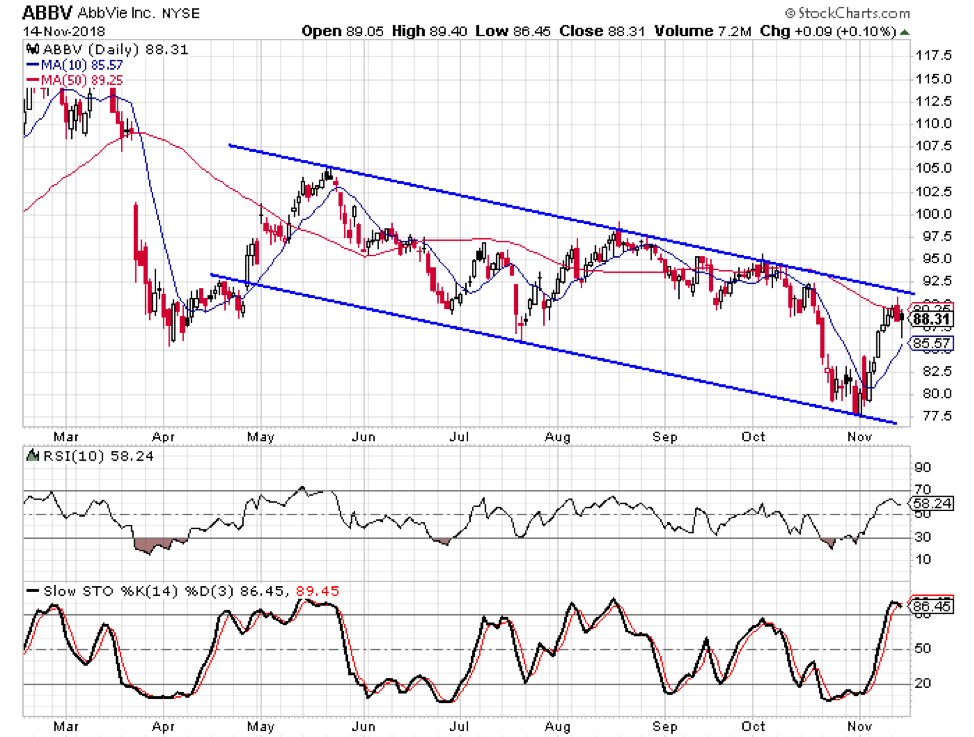 As the channel has formed, the upper rail has developed from when the stochastic readings were in or near overbought territory. Given the current situation is showing such a scenario, it could be a sign that the stock is getting ready to get hit with another downswing.
From a fundamental perspective, AbbVie as a company has been performing far better than its stock would indicate. The company has averaged earnings growth of 19% per year over the last three years. The most recent quarter was even better with EPS growth of 52% over last year. Analysts expect overall earnings growth of 42% for this year as a whole.

In addition to the earnings growth, AbbVie has grown sales at a rate of 12% per year over the last three years and they grew by 18% in the most recent quarterly report.
The company has phenomenal profitability measurements with a return on equity of 185% currently and a profit margin of 39.4%.
This is a situation where the technical performance and the fundamental performance don't match. If the stock can get through the resistance it faces, the fundamentals could help lift the stock over the next few quarters.