Advanced Micro Devices Bounces After Flirting With Key Support Level
Semiconductor stocks have been among the hardest hit in the most recent selloff. During the month of October, the iShares PHLX Semiconductor ETF (Nasdaq: SOXX) fell 11.94% and was down over 16.5% before it rallied in the final two days of the month. For comparative purposes, the Invesco QQQ Trust (Nasdaq: QQQ) fell 8.6% in October and was down 12.14% before the bounce.
One chip stock that got hit extremely hard during the month was Advanced Micro Devices (Nasdaq: AMD). The stock fell over 41% in the month of October and it saw six straight weeks of losses from mid-September through last week. The stock is bouncing back this week.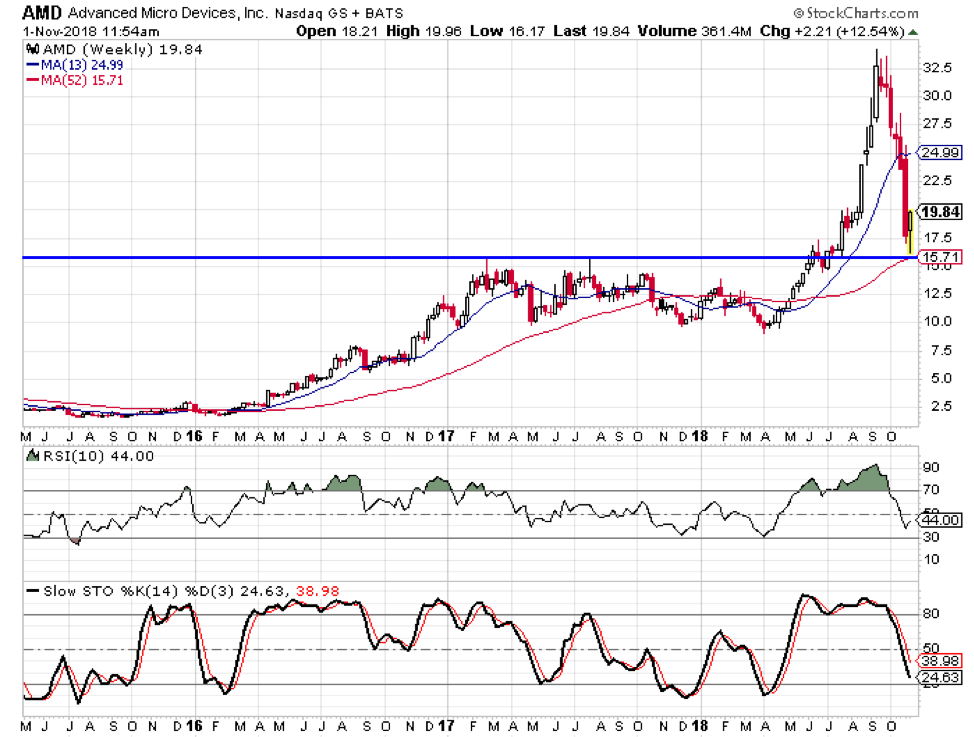 Looking at the weekly chart we can see that the stock peaked at $15.55 in February 2017 and at $15.65 in July 2017. Those two highs are represented by the blue line on the chart. We also see that the 52-week moving average is at $15.71, providing a second layer of support in the area.
AMD dipped to a low of $16.17 earlier this week and has since bounced back sharply. As I write this, the stock has jumped almost 22% from its low on Tuesday. The proximity to the two support levels could be helping the stock bounce back.

AMD has decent fundamental numbers, but there are other chip companies with better fundamentals that haven't bounced nearly as much. AMD could be getting a boost from a sentiment shift, as analysts were somewhat bearish toward the stock with only 11 of the 31 analysts following the company rating it as a "buy".
In addition to pessimism from analysts, option traders are showing a certain degree of pessimism as well. The put/call ratio is at 0.904, which is above the normal range, and it has been trending higher over the last few months. The unwinding of the negative sentiment could be adding to the buying pressure.