AI Bot & Aroon Indicator: GME's 6.35% Rise Forecasted
Artificial Intelligence (AI) continues to disrupt various sectors, including finance, where it is redefining trading and investment strategies. A recent application of this is the AI trading bot, which has remarkably generated gains of 6.35% for GameStop Corp. (GME). This innovative trading algorithm uses deep learning techniques to analyze market trends, predict price movements, and execute trades at optimal times.
The AI trading bot for GME evaluates vast amounts of market data in real time and uses complex algorithms to identify trading opportunities. It is designed to make independent decisions based on price predictions and market patterns, bringing a new level of sophistication to investment strategy. The recent gain of 6.35% demonstrates the potential of this technology to outperform traditional investment strategies and suggests a promising future for AI in finance.
Interestingly, the Aroon Indicator, a widely-used technical indicator that helps traders identify trend changes and potential new trends in the price of an asset, is also suggesting an upward move for GME. The Aroon Indicator consists of two lines, Aroon Up and Aroon Down, which fluctuate between zero and 100. An upward move is likely when the Aroon Up line crosses above the Aroon Down line, especially when this movement occurs near the 100 lines.
For GME, the Aroon Indicator shows that the Aroon Up line has crossed over the Aroon Down line, implying that GME is entering a bullish phase. Coupled with the AI trading bot's recent performance, these two signs hint at potential opportunities for investors.
The combination of AI and technical analysis is creating a dynamic financial landscape. On the one hand, we have AI trading bots, capable of analyzing huge amounts of data and predicting market patterns, proving to be a powerful tool for investors. On the other hand, we have traditional technical indicators like the Aroon Indicator, which still provide valuable insights into market trends.
In the grand scheme of things, this goes beyond GME. The real takeaway here is the exciting synergy between AI and traditional market indicators. By bringing together the best of both worlds, investors have a potent toolkit at their disposal, increasing the possibility of achieving more consistent gains in an ever-changing market environment. This is the dawn of a new era in finance, where artificial intelligence and sophisticated analytics pave the way to more informed and lucrative trading decisions.
GME sees its 50-day moving average cross bearishly below its 200-day moving average
The 50-day moving average for GME moved below the 200-day moving average on August 30, 2023. This could be a long-term bearish signal for the stock as the stock shifts to an downward trend.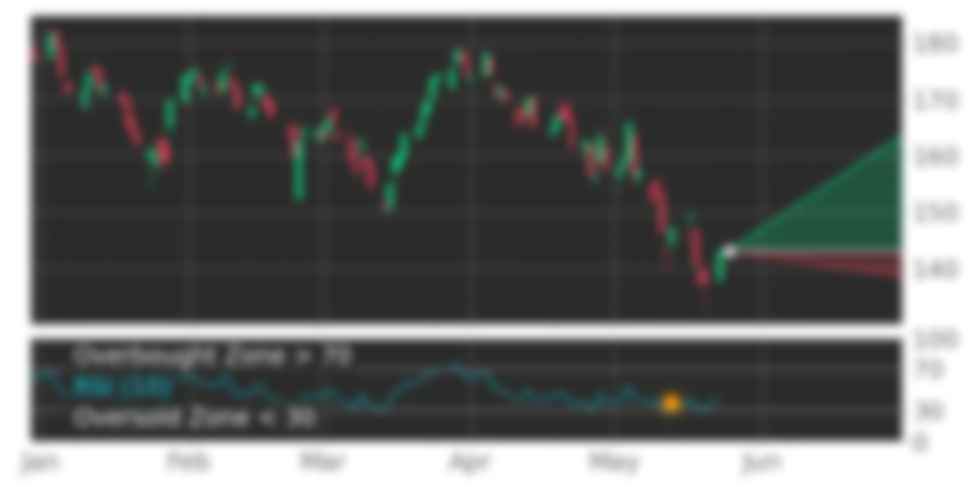 Technical Analysis (Indicators)
Bearish Trend Analysis
The Momentum Indicator moved below the 0 level on September 11, 2023. You may want to consider selling the stock, shorting the stock, or exploring put options on GME as a result. In of 81 cases where the Momentum Indicator fell below 0, the stock fell further within the subsequent month. The odds of a continued downward trend are .
Following a 3-day decline, the stock is projected to fall further. Considering past instances where GME declined for three days, the price rose further in of 62 cases within the following month. The odds of a continued downward trend are .
The Aroon Indicator for GME entered a downward trend on September 05, 2023. This could indicate a strong downward move is ahead for the stock. Traders may want to consider selling the stock or buying put options.
Bullish Trend Analysis
The RSI Indicator points to a transition from a downward trend to an upward trend -- in cases where GME's RSI Indicator exited the oversold zone, of 42 resulted in an increase in price. Tickeron's analysis proposes that the odds of a continued upward trend are .
The Stochastic Oscillator demonstrated that the ticker has stayed in the oversold zone for 2 days, which means it's wise to expect a price bounce in the near future.
The Moving Average Convergence Divergence (MACD) for GME just turned positive on August 30, 2023. Looking at past instances where GME's MACD turned positive, the stock continued to rise in of 43 cases over the following month. The odds of a continued upward trend are .
Following a 3-day Advance, the price is estimated to grow further. Considering data from situations where GME advanced for three days, in of 264 cases, the price rose further within the following month. The odds of a continued upward trend are .
GME may jump back above the lower band and head toward the middle band. Traders may consider buying the stock or exploring call options.
Fundamental Analysis (Ratings)
The Tickeron PE Growth Rating for this company is (best 1 - 100 worst), pointing to outstanding earnings growth. The PE Growth rating is based on a comparative analysis of stock PE ratio increase over the last 12 months compared against S&P 500 index constituents.
The Tickeron Seasonality Score of (best 1 - 100 worst) indicates that the company is fair valued in the industry. The Tickeron Seasonality score describes the variance of predictable price changes around the same period every calendar year. These changes can be tied to a specific month, quarter, holiday or vacation period, as well as a meteorological or growing season.
The Tickeron Price Growth Rating for this company is (best 1 - 100 worst), indicating fairly steady price growth. GME's price grows at a lower rate over the last 12 months as compared to S&P 500 index constituents.
The Tickeron Profit vs. Risk Rating rating for this company is (best 1 - 100 worst), indicating that the returns do not compensate for the risks. GME's unstable profits reported over time resulted in significant Drawdowns within these last five years. A stable profit reduces stock drawdown and volatility. The average Profit vs. Risk Rating rating for the industry is 78, placing this stock better than average.
The Tickeron SMR rating for this company is (best 1 - 100 worst), indicating weak sales and an unprofitable business model. SMR (Sales, Margin, Return on Equity) rating is based on comparative analysis of weighted Sales, Income Margin and Return on Equity values compared against S&P 500 index constituents. The weighted SMR value is a proprietary formula developed by Tickeron and represents an overall profitability measure for a stock.
The Tickeron Valuation Rating of (best 1 - 100 worst) indicates that the company is significantly overvalued in the industry. This rating compares market capitalization estimated by our proprietary formula with the current market capitalization. This rating is based on the following metrics, as compared to industry averages: P/B Ratio (4.139) is normal, around the industry mean (12.170). P/E Ratio (0.000) is within average values for comparable stocks, (24.639). Projected Growth (PEG Ratio) (0.000) is also within normal values, averaging (2.668). GME has a moderately low Dividend Yield (0.000) as compared to the industry average of (0.036). P/S Ratio (0.900) is also within normal values, averaging (82.429).
Notable companies
The most notable companies in this group are Home Depot (NYSE:HD), Lowe's Companies (NYSE:LOW), AutoZone (NYSE:AZO), Tractor Supply Company (NASDAQ:TSCO), Ulta Beauty (NASDAQ:ULTA), Best Buy Company (NYSE:BBY), Five Below (NASDAQ:FIVE), Bath & Body Works (NYSE:BBWI), GameStop Corp (NYSE:GME), RH (NYSE:RH).
Industry description
The specialty stores sector includes companies dedicated to the sale of retail products focused on a single product category, such as clothing, carpet, books, or office supplies. A specialty store could face intense competition from big-box departmental chains, and therefore offering an adequate collection of the product type it specializes in is key in maintaining/growing its market.
Market Cap
The average market capitalization across the Specialty Stores Industry is 6.56B. The market cap for tickers in the group ranges from 48 to 305.75B. HD holds the highest valuation in this group at 305.75B. The lowest valued company is CALI at 48.
High and low price notable news
The average weekly price growth across all stocks in the Specialty Stores Industry was -3%. For the same Industry, the average monthly price growth was -4%, and the average quarterly price growth was -1%. RWGI experienced the highest price growth at 33%, while BBBYQ experienced the biggest fall at -43%.
Volume
The average weekly volume growth across all stocks in the Specialty Stores Industry was -48%. For the same stocks of the Industry, the average monthly volume growth was -16% and the average quarterly volume growth was -33%
Fundamental Analysis Ratings
The average fundamental analysis ratings, where 1 is best and 100 is worst, are as follows
Valuation Rating: 49
P/E Growth Rating: 55
Price Growth Rating: 63
SMR Rating: 66
Profit Risk Rating: 77
Seasonality Score: -9 (-100 ... +100)