AI-Driven Trading Strategy Yields a 12.31% Profit for $CSCO: A Comprehensive Review
The best AI trading robot in our robot factory, Swing Trader: Medium Volatility Stocks for Active Trading (TA&FA generated a return of 12.31% for CSCO during the past 6 months.
The impact of artificial intelligence on the financial market is undoubtedly immense. The growth of AI trading robots, which use algorithms and machine learning to predict and execute trades, has been a game-changer. A vivid example of this transformative influence is the impressive 12.31% profit generated for Cisco Systems, Inc. (CSCO) over the previous six months by an AI trading robot.
This remarkable outcome is testament to the power of AI in making accurate predictions, not just about market trends, but also about individual stock performances. It's worth noting that the market, at large, has been increasingly volatile, posing challenges to traditional trading models. Yet, despite these headwinds, the AI trading robot posted a gain of 12.31% for CSCO, underscoring the potential of AI in navigating volatile markets.
The success of this AI trading strategy largely hinges on a sophisticated understanding of Bollinger Bands. Bollinger Bands are a technical analysis tool designed to define high and low on a relative basis. They consist of a middle band, which is a simple moving average, flanked by two standard deviation lines that adjust to price volatility.
On April 19, 2023, CSCO was identified as breaking its lower Bollinger Band, which traditionally signifies an oversold condition. The AI trading robot, capitalizing on this market signal, predicted that CSCO would rebound above the lower band and trend towards the middle band.
Historical data reinforces the validity of this prediction strategy. In 29 of the 36 cases where CSCO's price broke its lower Bollinger Band, its price rose further in the following month. This translates to an 81% success rate for this particular trading strategy when applied to CSCO, a compelling figure that provides a solid basis for the AI robot's prediction and subsequent action.
In the case of CSCO, traders are now being advised to consider buying the stock or exploring call options based on the AI robot's predictions. Given the high probability of a continued upward trend, the outlook for CSCO is promising.
While this AI robot's performance is impressive, potential investors should not overlook the fact that no single strategy guarantees success. Nevertheless, the integration of AI into trading strategies offers a new avenue to navigate the complexities of the financial markets.
The AI's successful prediction and action on CSCO's Bollinger Band break is one more affirmation of the power of AI in the trading arena. The result—a 12.31% profit over six months—is a testament to the potential of AI to revolutionize trading strategies and provide tangible financial returns.
This experience with CSCO is a compelling case study in the successful application of AI technology to financial trading. It underscores the critical role AI is playing in shaping financial decision-making processes and reiterates the potential for machine learning algorithms to drive future trading strategies. As the financial sector continues to embrace AI technology, we can expect to see even more sophisticated trading strategies and, hopefully, similar success stories in the future.
CSCO in upward trend: price rose above 50-day moving average on May 25, 2023
CSCO moved above its 50-day moving average on May 25, 2023 date and that indicates a change from a downward trend to an upward trend. In of 30 similar past instances, the stock price increased further within the following month. The odds of a continued upward trend are .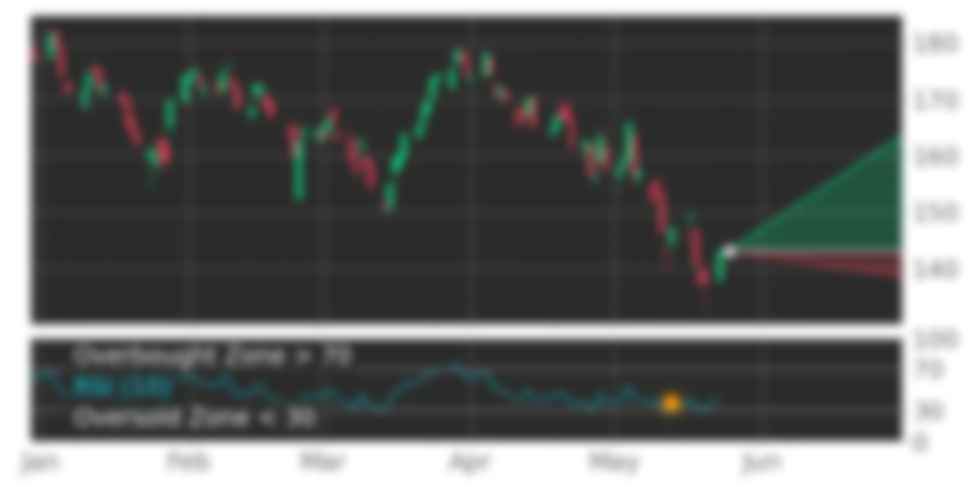 Technical Analysis (Indicators)
Bullish Trend Analysis
The Momentum Indicator moved above the 0 level on May 16, 2023. You may want to consider a long position or call options on CSCO as a result. In of 84 past instances where the momentum indicator moved above 0, the stock continued to climb. The odds of a continued upward trend are .
The Moving Average Convergence Divergence (MACD) for CSCO just turned positive on May 11, 2023. Looking at past instances where CSCO's MACD turned positive, the stock continued to rise in of 49 cases over the following month. The odds of a continued upward trend are .
Following a 3-day Advance, the price is estimated to grow further. Considering data from situations where CSCO advanced for three days, in of 319 cases, the price rose further within the following month. The odds of a continued upward trend are .
Bearish Trend Analysis
The RSI Indicator demonstrated that the stock has entered the overbought zone. This may point to a price pull-back soon.
The Stochastic Oscillator demonstrated that the ticker has stayed in the overbought zone for 9 days. The longer the ticker stays in the overbought zone, the sooner a price pull-back is expected.
Following a 3-day decline, the stock is projected to fall further. Considering past instances where CSCO declined for three days, the price rose further in of 62 cases within the following month. The odds of a continued downward trend are .
CSCO broke above its upper Bollinger Band on May 18, 2023. This could be a sign that the stock is set to drop as the stock moves back below the upper band and toward the middle band. You may want to consider selling the stock or exploring put options.
The Aroon Indicator for CSCO entered a downward trend on May 15, 2023. This could indicate a strong downward move is ahead for the stock. Traders may want to consider selling the stock or buying put options.
Fundamental Analysis (Ratings)
The Tickeron Valuation Rating of (best 1 - 100 worst) indicates that the company is seriously undervalued in the industry. This rating compares market capitalization estimated by our proprietary formula with the current market capitalization. This rating is based on the following metrics, as compared to industry averages: P/B Ratio (4.833) is normal, around the industry mean (8.930). P/E Ratio (17.986) is within average values for comparable stocks, (57.099). Projected Growth (PEG Ratio) (2.039) is also within normal values, averaging (2.141). Dividend Yield (0.031) settles around the average of (0.043) among similar stocks. P/S Ratio (3.768) is also within normal values, averaging (22.936).
The Tickeron PE Growth Rating for this company is (best 1 - 100 worst), pointing to consistent earnings growth. The PE Growth rating is based on a comparative analysis of stock PE ratio increase over the last 12 months compared against S&P 500 index constituents.
The Tickeron SMR rating for this company is (best 1 - 100 worst), indicating strong sales and a profitable business model. SMR (Sales, Margin, Return on Equity) rating is based on comparative analysis of weighted Sales, Income Margin and Return on Equity values compared against S&P 500 index constituents. The weighted SMR value is a proprietary formula developed by Tickeron and represents an overall profitability measure for a stock.
The Tickeron Profit vs. Risk Rating rating for this company is (best 1 - 100 worst), indicating well-balanced risk and returns. The average Profit vs. Risk Rating rating for the industry is 87, placing this stock slightly better than average.
The Tickeron Price Growth Rating for this company is (best 1 - 100 worst), indicating steady price growth. CSCO's price grows at a higher rate over the last 12 months as compared to S&P 500 index constituents.
Notable companies
The most notable companies in this group are Cisco Systems (NASDAQ:CSCO), Nokia Corp (NYSE:NOK), Hewlett Packard Enterprise Company (NYSE:HPE), Ericsson (NASDAQ:ERIC), Juniper Networks (NYSE:JNPR), Ciena Corp (NYSE:CIEN), Maxar Technologies (NASDAQ:MAXR), Lumentum Holdings (NASDAQ:LITE), CommScope Holding Company (NASDAQ:COMM), Casa Systems (NASDAQ:CASA).
Industry description
The Telecommunications Equipment industry produces voice and data communications equipment, which includes fiber optic delivery products, digital signal processors, high-speed voice, data and video delivery. Additionally, satellite systems, global positioning systems, wireless data systems, personal communications equipment, telephone handsets and payload equipment for satellites also fall into this category. Apple Inc., QUALCOMM Incorporated and Nokia are major global players in this segment.
Market Cap
The average market capitalization across the Telecommunications Equipment Industry is 3.94B. The market cap for tickers in the group ranges from 1.59K to 204.45B. CSCO holds the highest valuation in this group at 204.45B. The lowest valued company is ABILF at 1.59K.
High and low price notable news
The average weekly price growth across all stocks in the Telecommunications Equipment Industry was 1%. For the same Industry, the average monthly price growth was 5%, and the average quarterly price growth was -2%. AAOI experienced the highest price growth at 34%, while SYTA experienced the biggest fall at -29%.
Volume
The average weekly volume growth across all stocks in the Telecommunications Equipment Industry was 17%. For the same stocks of the Industry, the average monthly volume growth was 10% and the average quarterly volume growth was -3%
Fundamental Analysis Ratings
The average fundamental analysis ratings, where 1 is best and 100 is worst, are as follows
Valuation Rating: 51
P/E Growth Rating: 64
Price Growth Rating: 54
SMR Rating: 77
Profit Risk Rating: 87
Seasonality Score: 14 (-100 ... +100)