AI Robot Achieves Impressive 5.22% Gain Trading RIOT
One such AI trading robot, developed by Swing Trader, Popular Stocks: Short Bias Strategy (TA&FA), recently emerged as a top performer in Tickeron's robot factory. Over the course of a week, this advanced algorithmic system generated a remarkable 5.22% return for RIOT, a popular stock in the market. In this article, we delve into the technical indicators and earnings analysis that contributed to the success of this AI trading robot.
Analyzing Technical Indicators: On April 27, 2023, RIOT's Aroon Indicator, as detected by Tickeron's A.I.dvisor, triggered a bullish signal. The Aroon Indicator gauges the strength of a trend and its potential for a reversal. In this case, the AroonUp green line stood above 70, indicating a strong upward trend, while the AroonDown red line remained below 30, suggesting a weakening downward trend. This combination of conditions indicated a favorable setup for a bullish move in the stock.
To validate this pattern, Tickeron's A.I.dvisor analyzed historical data and found 196 similar instances where the Aroon Indicator exhibited this particular configuration. Remarkably, in 176 out of these 196 cases, the stock price experienced an upward movement in the following days. This statistical analysis suggests a 90% probability of a bullish move occurring after this pattern emerges. Consequently, traders were encouraged to consider buying the stock or exploring call options, leveraging the AI trading robot's insights.
Earnings Analysis: Examining RIOT's latest earnings report, which was released on May 10, sheds light on the fundamental aspect of the stock's performance. The report revealed an impressive earnings per share (EPS) of 3 cents, surpassing the market estimate of -15 cents. This positive surprise indicates the company's robust financial health and its ability to generate profits in a challenging market environment.
With 7.66 million shares outstanding, the current market capitalization for RIOT stands at approximately 2.14 billion dollars. This figure reflects the overall value of the company's outstanding shares in the market and is an essential metric for evaluating its size and investment potential.
The success of the AI trading robot developed by Swing Trader, Popular Stocks: Short Bias Strategy (TA&FA) in generating a 5.22% return on RIOT showcases the power of incorporating AI algorithms into trading strategies. By utilizing technical analysis indicators such as the Aroon Indicator, traders can identify favorable market conditions and seize profitable opportunities.
Furthermore, the positive earnings results reported by RIOT, with an EPS of 3 cents beating estimates, demonstrate the company's financial strength and its ability to deliver value to its shareholders.
RIOT sees MACD Histogram crosses below signal line
RIOT saw its Moving Average Convergence Divergence Histogram (MACD) turn negative on April 21, 2023. This is a bearish signal that suggests the stock could decline going forward. Tickeron's A.I.dvisor looked at 44 instances where the indicator turned negative. In of the 44 cases the stock moved lower in the days that followed. This puts the odds of a downward move at .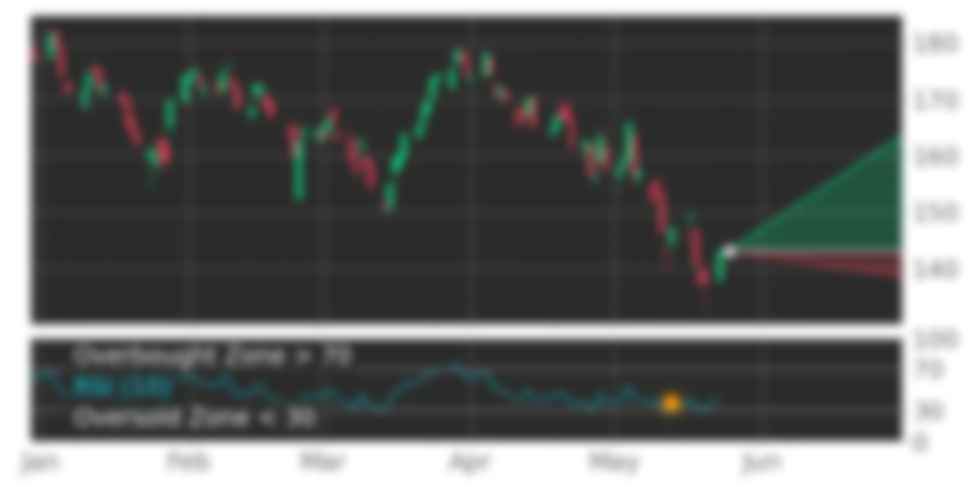 Technical Analysis (Indicators)
Bearish Trend Analysis
Following a 3-day decline, the stock is projected to fall further. Considering past instances where RIOT declined for three days, the price rose further in of 62 cases within the following month. The odds of a continued downward trend are .
Bullish Trend Analysis
The Stochastic Oscillator suggests the stock price trend may be in a reversal from a downward trend to an upward trend. of 62 cases where RIOT's Stochastic Oscillator exited the oversold zone resulted in an increase in price. Tickeron's analysis proposes that the odds of a continued upward trend are .
The Momentum Indicator moved above the 0 level on May 25, 2023. You may want to consider a long position or call options on RIOT as a result. In of 71 past instances where the momentum indicator moved above 0, the stock continued to climb. The odds of a continued upward trend are .
Following a +1 3-day Advance, the price is estimated to grow further. Considering data from situations where RIOT advanced for three days, in of 242 cases, the price rose further within the following month. The odds of a continued upward trend are .
The Aroon Indicator entered an Uptrend today. In of 196 cases where RIOT Aroon's Indicator entered an Uptrend, the price rose further within the following month. The odds of a continued Uptrend are .
Fundamental Analysis (Ratings)
The Tickeron Price Growth Rating for this company is (best 1 - 100 worst), indicating steady price growth. RIOT's price grows at a higher rate over the last 12 months as compared to S&P 500 index constituents.
The Tickeron PE Growth Rating for this company is (best 1 - 100 worst), pointing to worse than average earnings growth. The PE Growth rating is based on a comparative analysis of stock PE ratio increase over the last 12 months compared against S&P 500 index constituents.
The Tickeron Valuation Rating of (best 1 - 100 worst) indicates that the company is significantly overvalued in the industry. This rating compares market capitalization estimated by our proprietary formula with the current market capitalization. This rating is based on the following metrics, as compared to industry averages: P/B Ratio (1.751) is normal, around the industry mean (3.566). P/E Ratio (75.188) is within average values for comparable stocks, (36.150). RIOT's Projected Growth (PEG Ratio) (0.000) is very low in comparison to the industry average of (2.242). RIOT has a moderately low Dividend Yield (0.000) as compared to the industry average of (0.038). P/S Ratio (6.570) is also within normal values, averaging (105.288).
The Tickeron Profit vs. Risk Rating rating for this company is (best 1 - 100 worst), indicating that the returns do not compensate for the risks. RIOT's unstable profits reported over time resulted in significant Drawdowns within these last five years. A stable profit reduces stock drawdown and volatility. The average Profit vs. Risk Rating rating for the industry is 78, placing this stock worse than average.
The Tickeron SMR rating for this company is (best 1 - 100 worst), indicating weak sales and an unprofitable business model. SMR (Sales, Margin, Return on Equity) rating is based on comparative analysis of weighted Sales, Income Margin and Return on Equity values compared against S&P 500 index constituents. The weighted SMR value is a proprietary formula developed by Tickeron and represents an overall profitability measure for a stock.
Notable companies
The most notable companies in this group are Morgan Stanley (NYSE:MS), Goldman Sachs Group (NYSE:GS), Charles Schwab Corp (The) (NYSE:SCHW), CME Group (NASDAQ:CME).
Industry description
These banks specialize in underwriting (helping companies with debt financing or equity issuances), IPOs, facilitating mergers and other corporate reorganizations and acting as a broker or financial advisor for institutions. They might also trade securities on their own accounts. Investment banks potentially thrive on expanding its network of clients, since that could help them increase profits. Goldman Sachs, Morgan Stanley and CME Group Inc are some of the largest investment banking companies.
Market Cap
The average market capitalization across the Investment Banks/Brokers Industry is 8.89B. The market cap for tickers in the group ranges from 13 to 928.5B. PKRSF holds the highest valuation in this group at 928.5B. The lowest valued company is BFCH at 13.
High and low price notable news
The average weekly price growth across all stocks in the Investment Banks/Brokers Industry was 0%. For the same Industry, the average monthly price growth was -2%, and the average quarterly price growth was 7%. GHL experienced the highest price growth at 114%, while GMPW experienced the biggest fall at -31%.
Volume
The average weekly volume growth across all stocks in the Investment Banks/Brokers Industry was -1%. For the same stocks of the Industry, the average monthly volume growth was -52% and the average quarterly volume growth was 175%
Fundamental Analysis Ratings
The average fundamental analysis ratings, where 1 is best and 100 is worst, are as follows
Valuation Rating: 52
P/E Growth Rating: 59
Price Growth Rating: 59
SMR Rating: 69
Profit Risk Rating: 78
Seasonality Score: 8 (-100 ... +100)