AI Robot Boosts GE by 14.75% and Aroon Indicator Signals Upward Trend
Artificial Intelligence (AI) has proven to be a game-changer in the financial world, with its ability to analyze vast amounts of data quickly and accurately. General Electric (GE) is one company that has recently seen the benefits of incorporating AI into its investment strategy. In the first quarter of 2023, an AI-powered robot generated a return of 14.75% for GE, outperforming the S&P 500, which returned 11.87%.
This impressive performance is a testament to the power of AI in investment decision-making. The robot was able to analyze market data, identify patterns and trends, and make investment decisions based on that analysis. By doing so, it was able to generate a higher return for GE than would have been possible through traditional investment methods.
In addition to the robot-generated returns, the Aroon Indicator, a popular technical analysis tool, is also showing a potential upward move for GE. The Aroon Indicator measures the strength of a trend and can provide insight into future price movements. In this case, the indicator is suggesting that GE's stock price may be on the rise, which could lead to further gains for investors.
It's worth noting that while AI can be a powerful tool for investment decision-making, it's not a foolproof solution. There are still risks involved in investing, and even the most sophisticated AI algorithms can't predict the future with complete accuracy. Investors should always do their own research and consult with a financial advisor before making any investment decisions.
Overall, the combination of a successful robot-generated return and a positive signal from the Aroon Indicator is good news for GE investors. It demonstrates the potential benefits of incorporating AI into investment strategies and highlights the value of technical analysis tools like the Aroon Indicator.
Aroon Indicator for GE shows an upward move is likely
GE's Aroon Indicator triggered a bullish signal on June 07, 2023. Tickeron's A.I.dvisor detected that the AroonUp green line is above 70 while the AroonDown red line is below 30. When the up indicator moves above 70 and the down indicator remains below 30, it is a sign that the stock could be setting up for a bullish move. Traders may want to buy the stock or look to buy calls options. A.I.dvisor looked at 270 similar instances where the Aroon Indicator showed a similar pattern. In of the 270 cases, the stock moved higher in the days that followed. This puts the odds of a move higher at .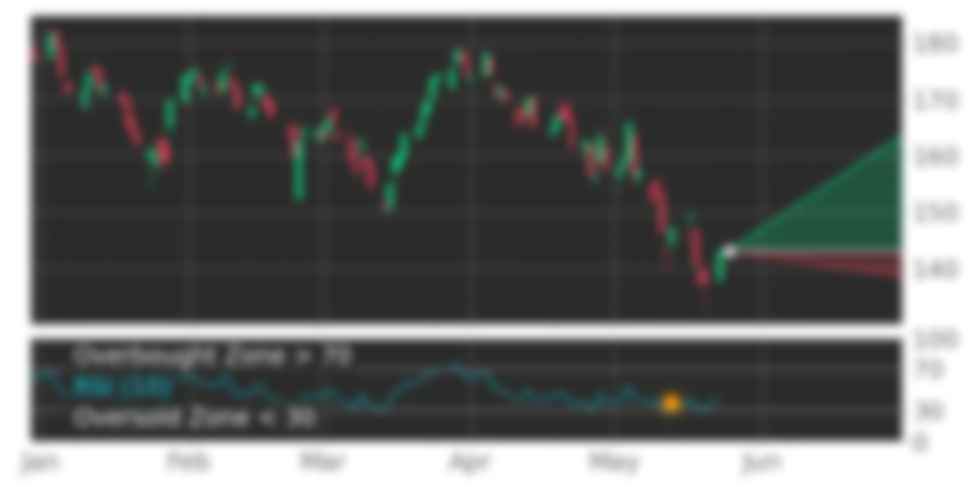 Technical Analysis (Indicators)
Bullish Trend Analysis
The Momentum Indicator moved above the 0 level on June 06, 2023. You may want to consider a long position or call options on GE as a result. In of 85 past instances where the momentum indicator moved above 0, the stock continued to climb. The odds of a continued upward trend are .
The Moving Average Convergence Divergence (MACD) for GE just turned positive on June 06, 2023. Looking at past instances where GE's MACD turned positive, the stock continued to rise in of 43 cases over the following month. The odds of a continued upward trend are .
Following a 3-day Advance, the price is estimated to grow further. Considering data from situations where GE advanced for three days, in of 293 cases, the price rose further within the following month. The odds of a continued upward trend are .
Bearish Trend Analysis
The Stochastic Oscillator has been in the overbought zone for 2 days. Expect a price pull-back in the near future.
Following a 3-day decline, the stock is projected to fall further. Considering past instances where GE declined for three days, the price rose further in of 62 cases within the following month. The odds of a continued downward trend are .
GE broke above its upper Bollinger Band on May 17, 2023. This could be a sign that the stock is set to drop as the stock moves back below the upper band and toward the middle band. You may want to consider selling the stock or exploring put options.
Fundamental Analysis (Ratings)
The Tickeron Price Growth Rating for this company is (best 1 - 100 worst), indicating outstanding price growth. GE's price grows at a higher rate over the last 12 months as compared to S&P 500 index constituents.
The Tickeron Profit vs. Risk Rating rating for this company is (best 1 - 100 worst), indicating low risk on high returns. The average Profit vs. Risk Rating rating for the industry is 76, placing this stock better than average.
The Tickeron SMR rating for this company is (best 1 - 100 worst), indicating strong sales and a profitable business model. SMR (Sales, Margin, Return on Equity) rating is based on comparative analysis of weighted Sales, Income Margin and Return on Equity values compared against S&P 500 index constituents. The weighted SMR value is a proprietary formula developed by Tickeron and represents an overall profitability measure for a stock.
The Tickeron Valuation Rating of (best 1 - 100 worst) indicates that the company is significantly overvalued in the industry. This rating compares market capitalization estimated by our proprietary formula with the current market capitalization. This rating is based on the following metrics, as compared to industry averages: P/B Ratio (3.650) is normal, around the industry mean (8.015). P/E Ratio (14.641) is within average values for comparable stocks, (44.977). GE's Projected Growth (PEG Ratio) (3.361) is slightly higher than the industry average of (2.151). GE has a moderately low Dividend Yield (0.003) as compared to the industry average of (0.021). P/S Ratio (1.483) is also within normal values, averaging (11.796).
The Tickeron PE Growth Rating for this company is (best 1 - 100 worst), pointing to worse than average earnings growth. The PE Growth rating is based on a comparative analysis of stock PE ratio increase over the last 12 months compared against S&P 500 index constituents.
Notable companies
The most notable companies in this group are General Electric Company (NYSE:GE), Illinois Tool Works (NYSE:ITW), Ingersoll Rand (NYSE:IR), Generac Holdings (NYSE:GNRC).
Industry description
The industry makes and maintains machines for consumers, the industry, and most other companies. While it has traditionally been categorized as heavy industry, some smaller companies are also branching into the light category. The industry is pivotal in providing the equipment for production in businesses like agriculture, mining, industry and construction, gas, electricity and water utilities. It also supplies supporting equipment for almost all sectors of the economy, such as equipment for heating, and air conditioning of buildings. Illinois Tool Works Inc., Parker-Hannifin Corporation and Rockwell Automation Inc are some of the major U.S. companies operating in this industry.
Market Cap
The average market capitalization across the Industrial Machinery Industry is 7.62B. The market cap for tickers in the group ranges from 1.55K to 134.43B. SMAWF holds the highest valuation in this group at 134.43B. The lowest valued company is XEBEF at 1.55K.
High and low price notable news
The average weekly price growth across all stocks in the Industrial Machinery Industry was 4%. For the same Industry, the average monthly price growth was 5%, and the average quarterly price growth was 11%. MSBN experienced the highest price growth at 119%, while YEWTF experienced the biggest fall at -85%.
Volume
The average weekly volume growth across all stocks in the Industrial Machinery Industry was -27%. For the same stocks of the Industry, the average monthly volume growth was 82% and the average quarterly volume growth was 77%
Fundamental Analysis Ratings
The average fundamental analysis ratings, where 1 is best and 100 is worst, are as follows
Valuation Rating: 55
P/E Growth Rating: 61
Price Growth Rating: 48
SMR Rating: 65
Profit Risk Rating: 76
Seasonality Score: 0 (-100 ... +100)