AI Trading Bot Generates 41.54% Gains for SDC
AI Trading Bot Generates Gains of 41.54% for SDC
In the ever-evolving sphere of finance, the role of artificial intelligence (AI) has become undeniably transformative. The recent success story in this sphere is that of an AI Trading Bot that generated a remarkable 41.54% gain for SmileDirectClub (SDC), underscoring the transformative potential of AI in finance and trading.
SDC, a teledentistry company, has been a beneficiary of the machine learning algorithms of this AI Trading Bot. By analyzing vast amounts of historical and real-time market data, these sophisticated algorithms were able to make predictive decisions, driving up the gains for SDC by 41.54%.
These gains significantly outpaced the returns of the Swing Trader: Top High-Volatility Stocks v.2 (TA), which reported an increase of 16.80%. The impressive gain realized by SDC, attributed to the AI Trading Bot, reflects the evolving trend of incorporating AI in decision-making in the finance sector.
The AI Trading Bot's algorithms analyze a plethora of factors to predict stock behavior. They consider elements such as past trading history, price trends, and various technical indicators. By crunching vast amounts of data at unprecedented speed, they offer insights that even experienced human traders might overlook, thereby enhancing investment decisions and profitability.
Moreover, the AI Trading Bot operates around the clock, devoid of human emotional bias, able to capitalize on opportunities that arise in different markets at any time. This attribute has undoubtedly contributed to the significant 41.54% gain for SDC.
Looking ahead, SDC is expected to report earnings on Aug 07, 2023. Investors, bolstered by the recent gains driven by the AI Trading Bot, will be watching with heightened interest. While it's impossible to predict with certainty, the enhanced analytical capabilities of AI bots could indicate a favorable earnings report.
As we venture further into the realm of AI integration, success stories like that of the AI Trading Bot and SDC continue to highlight the transformative power of artificial intelligence in the finance industry. AI-driven trading is not merely a speculative trend; it is rapidly becoming a central player in the stock market trading arena. It is imperative to acknowledge and understand this evolving paradigm, as it appears to be an integral part of the financial future.
SDC in downward trend: 10-day moving average crossed below 50-day moving average on August 21, 2023
The 10-day moving average for SDC crossed bearishly below the 50-day moving average on August 21, 2023. This indicates that the trend has shifted lower and could be considered a sell signal. In of 11 past instances when the 10-day crossed below the 50-day, the stock continued to move higher over the following month. The odds of a continued downward trend are .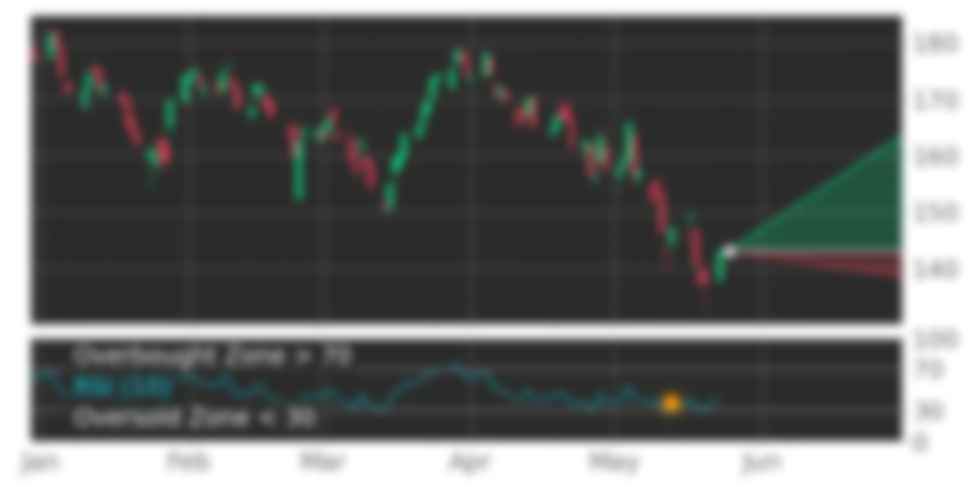 Technical Analysis (Indicators)
Bearish Trend Analysis
SDC moved below its 50-day moving average on August 15, 2023 date and that indicates a change from an upward trend to a downward trend.
Following a 3-day decline, the stock is projected to fall further. Considering past instances where SDC declined for three days, the price rose further in of 62 cases within the following month. The odds of a continued downward trend are .
The Aroon Indicator for SDC entered a downward trend on September 20, 2023. This could indicate a strong downward move is ahead for the stock. Traders may want to consider selling the stock or buying put options.
Bullish Trend Analysis
The Stochastic Oscillator suggests the stock price trend may be in a reversal from a downward trend to an upward trend. of 59 cases where SDC's Stochastic Oscillator exited the oversold zone resulted in an increase in price. Tickeron's analysis proposes that the odds of a continued upward trend are .
The Moving Average Convergence Divergence (MACD) for SDC just turned positive on September 18, 2023. Looking at past instances where SDC's MACD turned positive, the stock continued to rise in of 33 cases over the following month. The odds of a continued upward trend are .
Following a +1 3-day Advance, the price is estimated to grow further. Considering data from situations where SDC advanced for three days, in of 190 cases, the price rose further within the following month. The odds of a continued upward trend are .
SDC may jump back above the lower band and head toward the middle band. Traders may consider buying the stock or exploring call options.
Fundamental Analysis (Ratings)
The Tickeron Valuation Rating of (best 1 - 100 worst) indicates that the company is slightly undervalued in the industry. This rating compares market capitalization estimated by our proprietary formula with the current market capitalization. This rating is based on the following metrics, as compared to industry averages: P/B Ratio (0.635) is normal, around the industry mean (24.999). P/E Ratio (0.000) is within average values for comparable stocks, (80.409). Projected Growth (PEG Ratio) (0.000) is also within normal values, averaging (6.287). Dividend Yield (0.000) settles around the average of (0.018) among similar stocks. P/S Ratio (0.391) is also within normal values, averaging (59.144).
The Tickeron Price Growth Rating for this company is (best 1 - 100 worst), indicating slightly worse than average price growth. SDC's price grows at a lower rate over the last 12 months as compared to S&P 500 index constituents.
The Tickeron SMR rating for this company is (best 1 - 100 worst), indicating weak sales and an unprofitable business model. SMR (Sales, Margin, Return on Equity) rating is based on comparative analysis of weighted Sales, Income Margin and Return on Equity values compared against S&P 500 index constituents. The weighted SMR value is a proprietary formula developed by Tickeron and represents an overall profitability measure for a stock.
The Tickeron PE Growth Rating for this company is (best 1 - 100 worst), pointing to worse than average earnings growth. The PE Growth rating is based on a comparative analysis of stock PE ratio increase over the last 12 months compared against S&P 500 index constituents.
The Tickeron Profit vs. Risk Rating rating for this company is (best 1 - 100 worst), indicating that the returns do not compensate for the risks. SDC's unstable profits reported over time resulted in significant Drawdowns within these last five years. A stable profit reduces stock drawdown and volatility. The average Profit vs. Risk Rating rating for the industry is 88, placing this stock worse than average.
Notable companies
The most notable companies in this group are Abbott Laboratories (NYSE:ABT), Medtronic plc (NYSE:MDT), Intuitive Surgical (NASDAQ:ISRG), Boston Scientific Corp (NYSE:BSX), Edwards Lifesciences Corp (NYSE:EW), IQVIA Holdings (NYSE:IQV), Align Technology (NASDAQ:ALGN), Illumina (NASDAQ:ILMN), Exact Sciences Corp (NASDAQ:EXAS), Guardant Health (NASDAQ:GH).
Industry description
Medical specialties are companies that make equipment used by the health care industry. Equipment manufactured and distributed by these companies include dialysis machines, blood analysis equipment, surgical equipment, dental instruments, and diagnostic tools, among other items. Large companies typically aim to produce and distribute high-quality products across a broad market spectrum. Smaller firms are more likely to specialize in a particular market segment. Due to the industry's close association with medical treatments, they typically have low sensitivity to macroeconomic fluctuations. Within this industry, Abbott Laboratories, Medtronic Plc and Thermo Fisher Scientific Inc. are some of the companies with multi-billion market capitalizations in the U.S. stock markets.
Market Cap
The average market capitalization across the Medical Specialties Industry is 6.4B. The market cap for tickers in the group ranges from 27 to 3.82T. MKYSF holds the highest valuation in this group at 3.82T. The lowest valued company is FOGCF at 27.
High and low price notable news
The average weekly price growth across all stocks in the Medical Specialties Industry was -3%. For the same Industry, the average monthly price growth was -6%, and the average quarterly price growth was -7%. AVGR experienced the highest price growth at 198%, while HSCS experienced the biggest fall at -54%.
Volume
The average weekly volume growth across all stocks in the Medical Specialties Industry was 40%. For the same stocks of the Industry, the average monthly volume growth was -1% and the average quarterly volume growth was 85%
Fundamental Analysis Ratings
The average fundamental analysis ratings, where 1 is best and 100 is worst, are as follows
Valuation Rating: 50
P/E Growth Rating: 71
Price Growth Rating: 59
SMR Rating: 83
Profit Risk Rating: 88
Seasonality Score: -22 (-100 ... +100)