Google parent Alphabet (Nasdaq: GOOGL) is set to report earnings Thursday after the closing bell and the stock has hit a technical support level ahead of the report.
Like the rest of the tech sector, Google has been trending lower over the last few months and it is testing its 52-week moving average. In this case though, Google has another support level in addition to the moving average.
Over the last two years, all of the major dips in the stock can be connected with one trendline. The stock has touched that trendline in each of the last three weeks, but has remained above the trendline.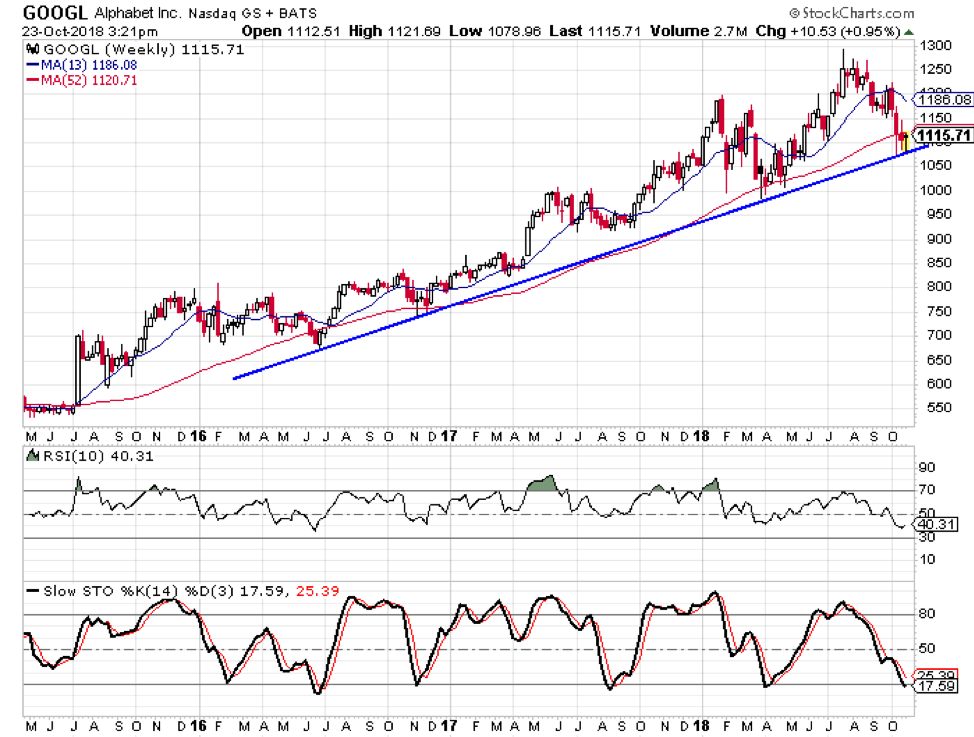 You can see that the stock's overbought/oversold indicators are as low as they have been in the last few years which is another good sign that the stock could be due to rally. The 10-week RSI hit its lowest level since the summer of 2016 while the weekly stochastic readings are hitting oversold levels for only the fifth time in the last three and a half years.
The sentiment indicators on Alphabet are pretty optimistic, but they have been that way for as long as I can remember. The short interest ratio is a paltry 0.97, but the ratio has been below 2.0 for most of the past year. It was hovering right around 1.0 back at the end of March when the stock bounced off the trendline.

There are 43 analysts following the stock and 38 of them have the stock rated as a "buy" and the other five have it rated as a "hold". These figures are exactly the same as they were back in July when the company last reported earnings.
Analysts expect the company to report earnings of $10.42 on revenue of $34.04 billion for the third quarter. The EPS estimate has been ratcheted down from $10.46 over the last 30 days. This suggests that the bar is being lowered slightly heading in to the earnings report.
Regardless of what Alphabet's earnings report says, it will take quite a bit of selling pressure to move the stock below the trendline and with the stock as oversold as it is, that doesn't look likely in my view.