An Interesting Development on Broadcom's (AVGO) Chart
Semiconductor companies have been getting hit pretty hard over the last few months and the iShares PHLX Semiconductor ETF (Nasdaq: SOXX) is down almost 17% since the beginning of September. One of the few chip stocks that has managed to gain ground in the last few months is Broadcom (Nasdaq: AVGO). Since the beginning of September, the stock is up +16.9%.
Over the last few days, the daily bars have been very interesting. The action last Wednesday saw the stock gap higher, move sharply higher throughout the day and then slip back down a little. This is called a long tail pattern.
On Thursday the stock moved higher again, but it was both down from its open price and above its open price at different points during the day. On Friday and Monday, the stock opened down, moved significantly higher during the day, but slipped back down to close near the open price.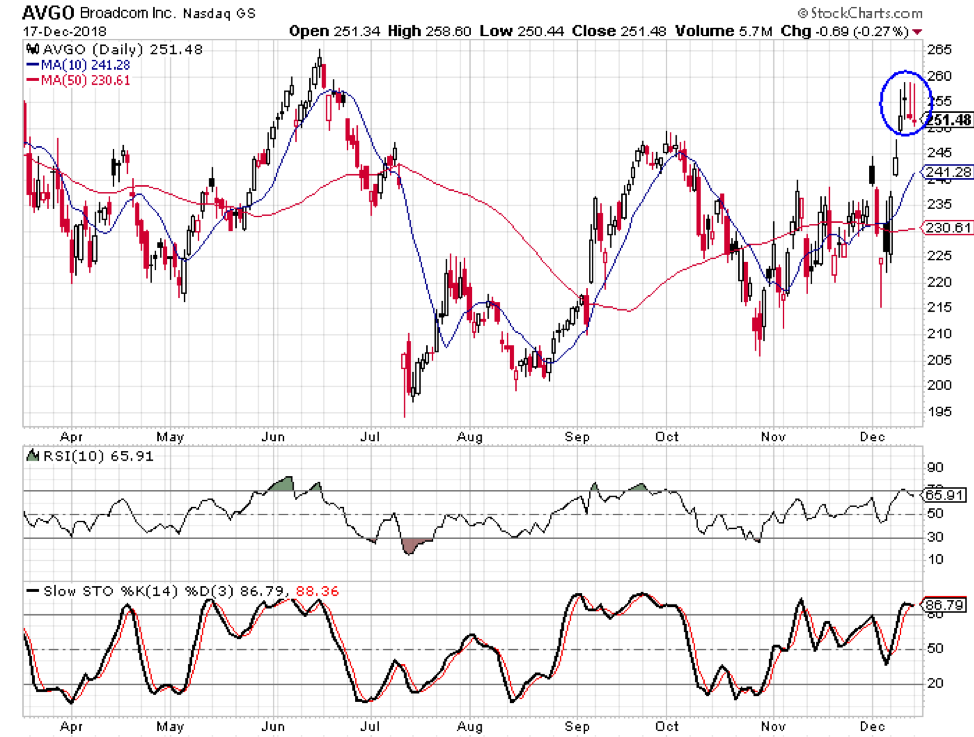 It really catches your attention to see such an odd formation, and I would normally say this was a bearish sign for the stock. However, in this case, I think it could be a bullish sign for the stock because I think the reason for the long tails in three of the last four days is that the stock has been dragged down due to weakness in the overall market. Even with the odd looking daily bars, the stock is up 0.33% while the SOXX is down 2.9% and the S&P is down 3.97%.
To me, this suggests that if we get a day where the market jumps higher, Broadcom is set to move even more dramatically than the market. The company's fundamentals are pretty solid and that will only help the stock.