An Interesting Time for UPS to Develop a Possible Bearish Formation
Parcel delivery company United Parcel Service (NYSE: UPS) is currently in one of its busiest times of the year. During the holiday season, the company sees a big boost to package traffic due to the increase in sales from retailers and individuals shipping packages to their loved ones. To give you an idea of how much business increases, I looked back at 2017's quarterly results. The company's revenue jumped by 17.8% in the fourth quarter of 2017 compared to the third quarter.
While the revenue boost is interesting, that isn't what caught my eye. Looking at the daily chart of UPS, we could be seeing a head and shoulders pattern forming and that would be a bearish sign for the stock.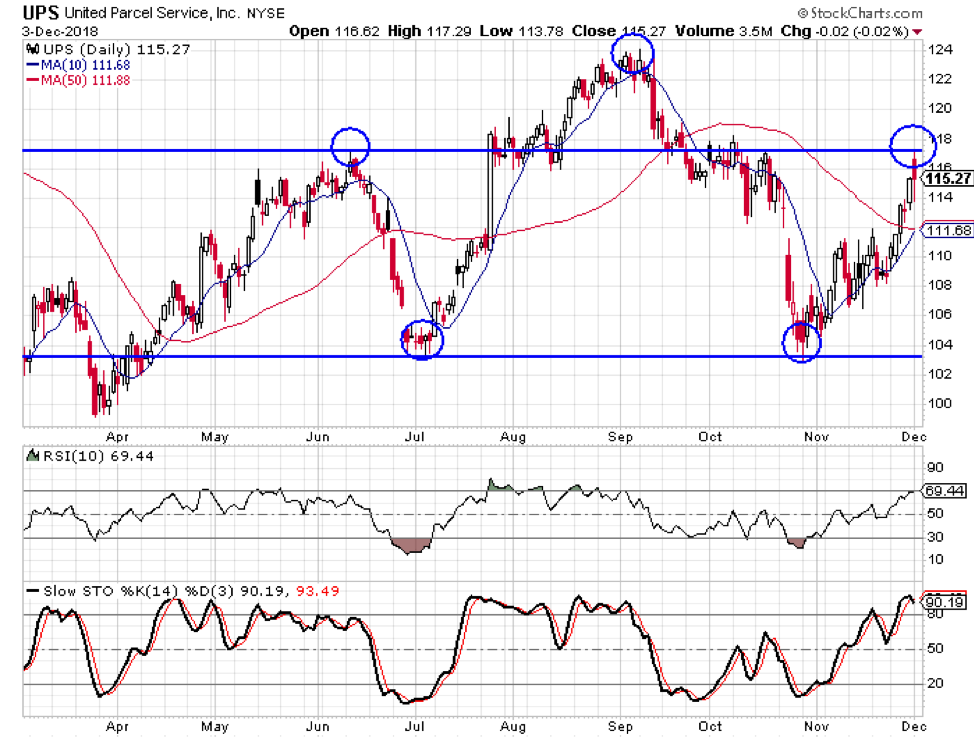 We see that the stock topped out around the $117.50 area in June and then dipped down to the $103.50 level in July. This could be the left shoulder and the left side of the neck. The stock then rallied up to the $124 area in September before dipping back down to the $103.50 area in late October. Over the past month the stock has rallied back up to the $117.50 area.
The stock could still break through this area, but is interesting that it stalled there yesterday when the market was making such a strong move. The stock gapped up 1.15% on the open, but then fell throughout the day and ended up taking a small loss on the day.

The next day or two will give us a better idea of whether the stock is more likely to drop back down to complete the head and shoulders pattern or break above the resistance at the $117.50 area.