One of the hardest hit industries in the past year has been retail apparel. Many of the companies that base their stores in the traditional enclosed shopping malls were already struggling even before the global health crisis hit. With malls closed or operating with limited hours, many of the apparel retailers were hit particularly hard.
Over the last four months the stocks of these companies have pretty strong bounces as investors believed the selling was overdone. Three companies in particular that have seen huge rallies in recent months will also be reporting earnings next week. Abercrombie & Fitch (ANF), American Eagle Outfitters (AEO), and Gap (GPS) are all set to report earnings on November 24.
If we look at the stocks of these companies over the last four months, we see some incredible gains. From July 20 through November 19, Abercrombie & Fitch gained 118.2%, Gap rallied 96.6%, and American Eagle jumped 70.6%. During that same time period the S&P 500 only gained 10.2%.
While Abercrombie was the leading performer of the three, the daily chart of Gap really caught my eye because of how organized and consistent the rally has been. We see a very well formed trend channel that defines the cycles within the overall upward trend.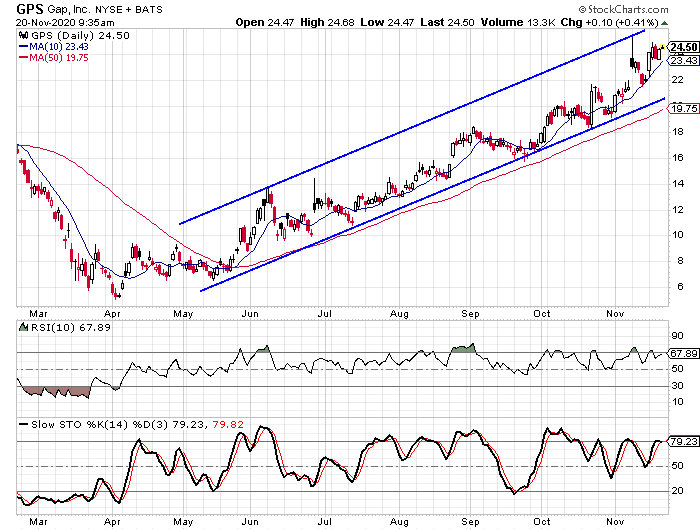 As impressive as the rallies have been, I have my concerns about whether these companies can warrant such huge moves in their stock. In the last round of quarterly earnings reports we saw all three post revenue declines with Abercrombie seeing its revenue drop 17%, American Eagle's dropped 15%, and Gap saw its sales drop 18%.
That isn't exactly the recipe for success and all three companies have rather small profit margins. This means that the companies need to sell more and more product in order to bring their earnings up.
If we look at Tickeron's fundamental analysis screener, all three companies rank poorly in the Profit vs. Risk rating—that rating is not based on the profits of the company, but rather the potential profit for investors versus the risk associated with buying it. The SMR ratings for Gap and American Eagle are both very poor and that rating includes the sales growth and profit margin figures mentioned above. One area where the stocks seem to do well was in the Valuation Rating. Both Gap and Abercrombie are rated above average in this category while American Eagle is average.
All three companies are expected to see big declines in their third quarter earnings results compared to Q3 2019. Abercrombie is expected to lose money in the quarter while Gap and American Eagle are expected to remain profitable, but see earnings decline by over 30% each. All three companies are expected to post huge declines in earnings for 2020 with big rebounds expected in 2021.
The overall comparison from Tickeron lays out how the companies compare to one another and how they measure up against other companies in general.