Baker Hughes (BHGE) trending lower within the confines of a trend channel
Oil & gas equipment manufacturer Baker Hughes (NYSE: BHGE) has been trending lower in recent months, like many in the oil services industry. One thing that is different though is that a downward sloping trend channel has formed that seems to be defining the highs and lows within the overall trend.
If you connect the highs from March and April you get the upper rail of a downward sloping channel. The lower rail connects the lows from March and May. The stock just hit the upper rail of the channel in the last few days before it turned lower.
The upper rail is just below the downward trending 50-day moving average and the trend line could act as a secondary layer of resistance. It is also worth noting that the daily stochastic readings had reached overbought levels before turning lower and making a bearish crossover on June 12.
The Tickeron Trend Prediction Engine generated a bearish signal for Baker Hughes on June 10. The signal showed a confidence level of 89% and it calls for a decline of at least 4% over the coming month. Past predictions on the stock have been successful 61% of the time.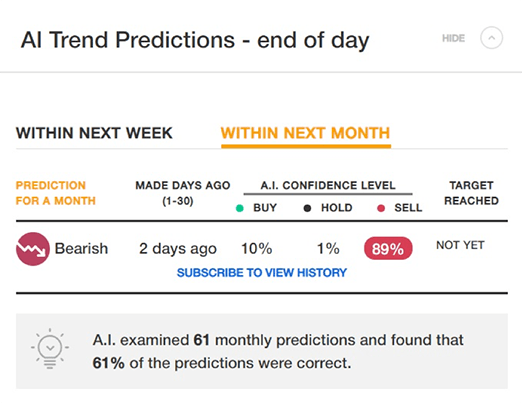 Looking at some of the fundamental indicators for Baker Hughes, the company is below average in terms of its management efficiency measurements. The return on equity is only 0.8% and the profit margin is at 5.5%. Both of those readings are well below average.