Bearish signal for metals and mining ETF
When the Federal Reserve hinted at becoming more dovish at the end of May, gold started rallying rather sharply and the price per ounce jumped from $1,280 to over $1,440. The sentiment toward the commodity also jumped as the price rose. This rally had a positive impact on a number of ETFs, but one that caught my eye recently was the SPDR S&P Metals and Mining ETF (NYSE: XME). The XME rallied from the $24 area to a recent high of $28.55.
Unfortunately, the rally simply brought the XME up to a downward sloped trend line that connects the highs from February and April. We also see that the daily overbought/oversold indicators were both in overbought territory until turning lower in the last few days. The daily stochastic readings made a bearish crossover on July 2.
The Tickeron Trend Prediction Engine generated a bearish signal on the XME on June 28 and it showed a confidence level of 87%. The signal calls for a decline of at least 4% over the next month. Previous predictions on the fund have been successful 93% of the time.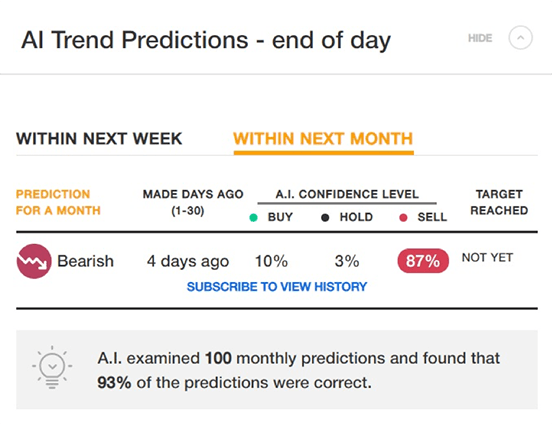 With the recent announcement that China and the U.S. have agreed to a tariff truce, this could lead to a less dovish Fed and that could cause the rally in gold to stall. That is one fundamental factor to keep an eye on.