Bearish Signal Generated on HUYA With 88% Confidence Level
Bearish Signal Generated on HUYA With 88% Confidence Level
The packaged software industry has performed extremely well in recent weeks and that has caused a number of the stocks to hit overbought territory on their daily charts. A number of the stocks have gained 15% or more in the past month while the S&P 500 is only up 3.7%.
One software company that has lagged the others and lagged the market is HUYA Inc. (HUYA). The stock has risen in the last few weeks and the daily stochastic indicators reached overbought territory in the last few days. HUYA dropped on December 22 and that caused a bearish crossover in the stochastic indicators.
Tickeron's A.I.dvisor generated a bearish signal on December 22 as well. That signal shows a confidence level of 88% that the stock will move lower by at least 4% within the next month.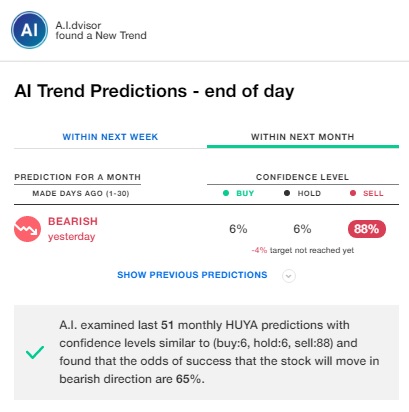 When we look at the daily chart we see that the stock hit resistance at its 50-day moving average. We also see that a downwardly sloped trend channel has formed on the chart over the last three months. The upper rail of the channel is just below the 50-day at this time.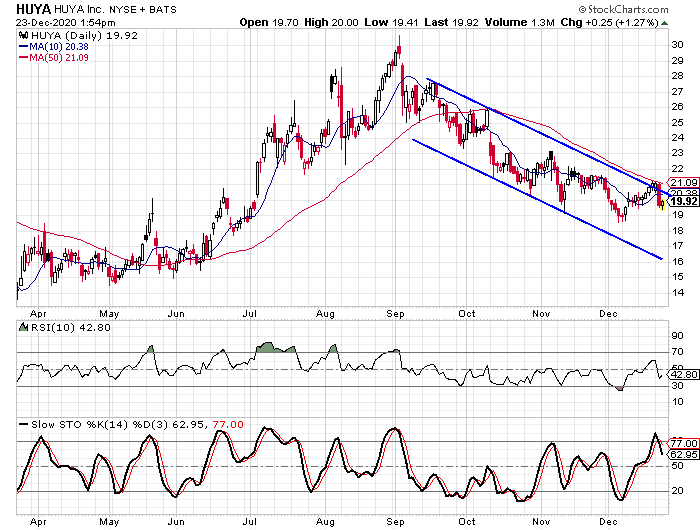 If we look at the Tickeron screener, the Chinese gaming platform has one bullish indicator, three bearish indicators, and two neutral indicators. The Outlook Rating is a 7 and that is the one bullish signal. The Profit vs. Risk Rating is a 100 and that is the worst possible rating a company can get. The P/E Growth Rating is a 92 and the SMR Rating is an 83 and those are the other two bearish indicators.
Looking at the SMR Rating in particular, the sales growth has been above average, but the profit margin and return on equity are below average and that drags the overall rating down.
The full breakdown of how HUYA stacks up against other stocks and which indicators have generated signals from Tickeron's AI platform follows.