Bearish signal on 8x8 Inc. (EGHT) as the stock hits resistance
I don't know whether to classify 8x8 Inc. (Nasdaq: EGHT) as a software company or a communication services company. Investor's Business Daily classifies it as a software company while Yahoo! Finance lists it as a communication services company. Regardless of the classification, the stock is hitting a key resistance point and a bearish signal was generated.

We see on the daily chart that the stock fell below the $20.50 level back in October. It would eventually drop all the way down to $15.13 before rebounding. It rallied throughout November and hit a high of $20.41 in early December. The stock fell again, only this time it only dropped to $16.34. The stock rallied again in January, but failed to close above the $20.50 level before turning lower again. Now the stock is making a third attempt to move above the $20.50 mark.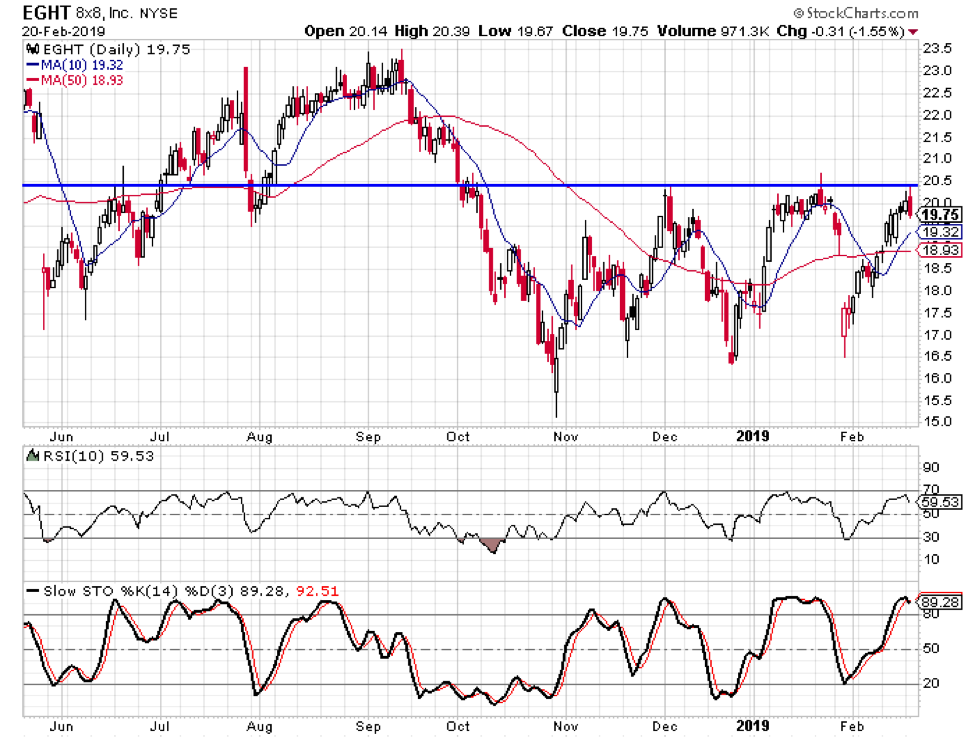 We see that the daily stochastics readings are in overbought territory and they just made a bearish crossover. The indicators did the same thing in early December. In January, the indicators remained in overbought territory for an extended period.
The Tickeron AI Trend Prediction tool generated a bearish signal on 8x8 on February 19 and the signal came with a 71% confidence level. The signal calls for a 4% decline over the next month and 84% of previous predictions have been successful.