Berry Global Group (BERY) Could be Forming an Inverse Head and Shoulders
Packaging and container company Berry Global Group (NYSE: BERY) has had a rough 2018. The stock is down -19% on a year to date basis and that is far worse than the loss for the overall market. Despite that bit of news, there could be a positive development for the stock, and it is coming from the daily chart.

The stock looks like it could be forming an inverse head and shoulders pattern. The stock dipped down below the $46 level in August and then bounced back up to the $51 area. The stock found resistance there and dropped all the way below the $41 level in late October. It rallied sharply in November and made it all the way back up to $51 and remained there for a number of days. It has now dropped back to down to the $46 area.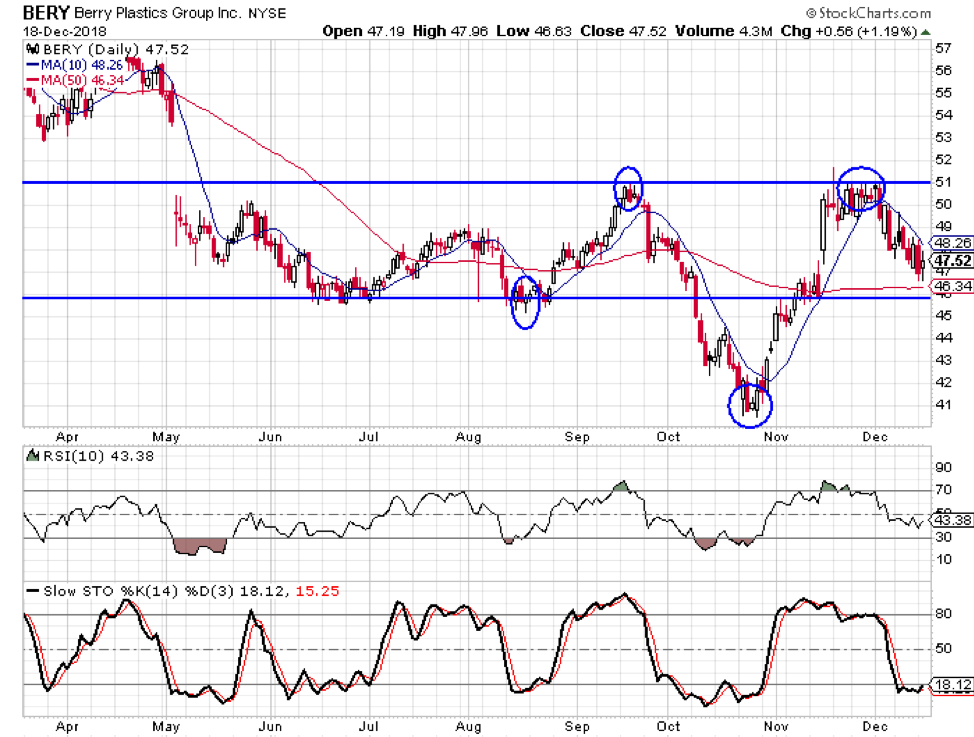 I highlighted what could be the left shoulder, left neckline, head, and right neckline. If the stock does drop down a little further and then bounces, that would complete the pattern.
One thing that concerns me and could hold Berry back is the sentiment toward the stock. The short interest ratio is under 1.0 and analysts are pretty bullish on the stock. There are currently 14 analysts following the company and 12 of them have the stock rated as a "buy" while the other two have it rated as a "hold." From a contrarian perspective, this means short sellers and analysts are both extremely bullish and that could keep the stock from rallying as sharply as I think it could.