Boost Your Portfolio: 8.98% Gain with POR's Swing Trading Strategy
Unraveling the Potential of Sector Rotation Strategy: Swing Trading's Success in POR's Growth
In the dynamic world of investing, the sector rotation strategy stands as a testament to successful swing trading. The case study of POR exemplifies the efficiency and accuracy of technical and fundamental analysis, generating an impressive return of 8.98%.
Swing trading essentially operates on the basis of capturing short to medium-term gains in a stock or financial instrument over a period of a few days to several weeks. For this, the approach relies heavily on both technical and fundamental analysis (TA&FA). POR's recent performance provides a perfect illustration of this process.
POR recently observed a promising shift in its RSI (Relative Strength Index) Oscillator, ascending from what was previously classified as oversold territory. This rebound, which indicates that the stock has been trading too low but is now recovering, is a crucial signal in technical analysis. The RSI is a momentum oscillator that measures the speed and change of price movements on a scale of zero to 100. When it ascends from an oversold state (typically under 30), this generally signals an upturn in the stock's fortunes.
The implementation of the sector rotation strategy has further galvanized POR's positive trajectory. This strategy is built on the idea that different types of businesses perform better at various stages of an economic cycle. Therefore, by 'rotating' investments between sectors, traders can capitalize on these changes to optimize returns.
In the case of POR, applying this strategy in combination with the upturn indicated by the RSI Oscillator has led to an impressive 8.98% return. This is a powerful testament to the benefits of a well-executed sector rotation strategy in swing trading.
POR's Indicator enters downward trend
The Aroon Indicator for POR entered a downward trend on September 14, 2023. Tickeron's A.I.dvisor identified a pattern where the AroonDown red line was above 70 while the AroonUp green line was below 30 for three straight days. This could indicate a strong downward move is ahead for the stock. Traders may want to consider selling the stock or buying put options. A.I.dvisor looked at 144 similar instances where the Aroon Indicator formed such a pattern. In of the 144 cases the stock moved lower. This puts the odds of a downward move at .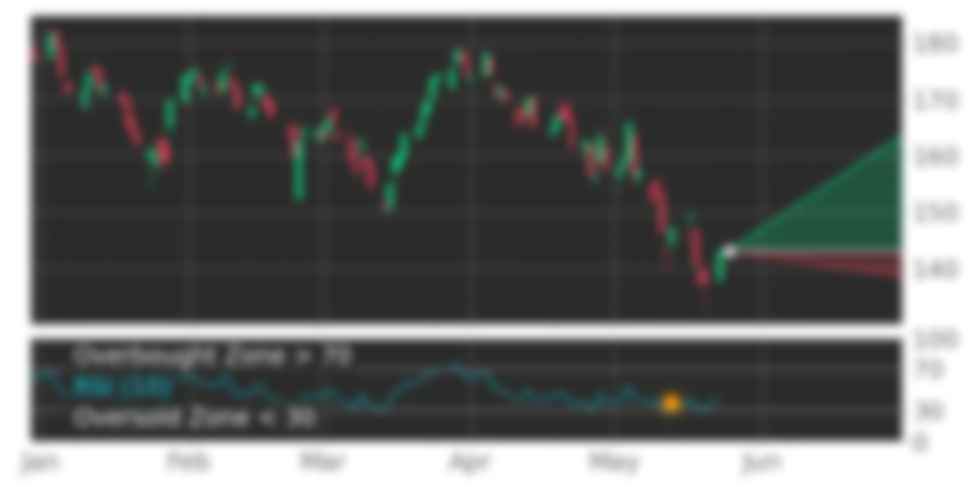 Technical Analysis (Indicators)
Bearish Trend Analysis
The Momentum Indicator moved below the 0 level on September 25, 2023. You may want to consider selling the stock, shorting the stock, or exploring put options on POR as a result. In of 91 cases where the Momentum Indicator fell below 0, the stock fell further within the subsequent month. The odds of a continued downward trend are .
Following a 3-day decline, the stock is projected to fall further. Considering past instances where POR declined for three days, the price rose further in of 62 cases within the following month. The odds of a continued downward trend are .
Bullish Trend Analysis
The RSI Indicator points to a transition from a downward trend to an upward trend -- in cases where POR's RSI Oscillator exited the oversold zone, of 22 resulted in an increase in price. Tickeron's analysis proposes that the odds of a continued upward trend are .
The Stochastic Oscillator demonstrated that the ticker has stayed in the oversold zone for 2 days, which means it's wise to expect a price bounce in the near future.
The Moving Average Convergence Divergence (MACD) for POR just turned positive on September 07, 2023. Looking at past instances where POR's MACD turned positive, the stock continued to rise in of 45 cases over the following month. The odds of a continued upward trend are .
Following a 3-day Advance, the price is estimated to grow further. Considering data from situations where POR advanced for three days, in of 346 cases, the price rose further within the following month. The odds of a continued upward trend are .
POR may jump back above the lower band and head toward the middle band. Traders may consider buying the stock or exploring call options.
Fundamental Analysis (Ratings)
The Tickeron Valuation Rating of (best 1 - 100 worst) indicates that the company is fair valued in the industry. This rating compares market capitalization estimated by our proprietary formula with the current market capitalization. This rating is based on the following metrics, as compared to industry averages: P/B Ratio (1.362) is normal, around the industry mean (1.597). P/E Ratio (17.953) is within average values for comparable stocks, (21.505). Projected Growth (PEG Ratio) (2.546) is also within normal values, averaging (2.539). Dividend Yield (0.043) settles around the average of (0.051) among similar stocks. P/S Ratio (1.410) is also within normal values, averaging (3.205).
The Tickeron PE Growth Rating for this company is (best 1 - 100 worst), pointing to consistent earnings growth. The PE Growth rating is based on a comparative analysis of stock PE ratio increase over the last 12 months compared against S&P 500 index constituents.
The Tickeron Price Growth Rating for this company is (best 1 - 100 worst), indicating slightly worse than average price growth. POR's price grows at a lower rate over the last 12 months as compared to S&P 500 index constituents.
The Tickeron Profit vs. Risk Rating rating for this company is (best 1 - 100 worst), indicating that the returns do not compensate for the risks. POR's unstable profits reported over time resulted in significant Drawdowns within these last five years. A stable profit reduces stock drawdown and volatility. The average Profit vs. Risk Rating rating for the industry is 73, placing this stock worse than average.
The Tickeron SMR rating for this company is (best 1 - 100 worst), indicating slightly better than average sales and a considerably profitable business model. SMR (Sales, Margin, Return on Equity) rating is based on comparative analysis of weighted Sales, Income Margin and Return on Equity values compared against S&P 500 index constituents. The weighted SMR value is a proprietary formula developed by Tickeron and represents an overall profitability measure for a stock.
Notable companies
The most notable companies in this group are Nextera Energy Inc (NYSE:NEE), Southern Company (The) (NYSE:SO), PG&E Corp (NYSE:PCG), Dominion Energy (NYSE:D), NRG Energy (NYSE:NRG).
Industry description
Electric utilities companies generate, transmit and distribute electricity to businesses/offices and residences. Companies may be owned by the government or investors or public shareholders, or a combination thereof. The industry also includes firms that buy and sell electricity. Companies in this industry typically require significant investments in infrastructure. Many firms in this industry pay substantial and regular dividends to shareholders. However, changes in interest rates (and their impact on debt burdens), natural disasters and changing commodity prices could be factors affecting energy utilities' profit margins. NextEra Energy, Inc., Duke Energy Corporation, Dominion Energy Inc. and Southern Company are among U.S. electric utilities companies with the largest market capitalizations.
Market Cap
The average market capitalization across the Electric Utilities Industry is 16.8B. The market cap for tickers in the group ranges from 500 to 136.54B. NEE holds the highest valuation in this group at 136.54B. The lowest valued company is SLTZ at 500.
High and low price notable news
The average weekly price growth across all stocks in the Electric Utilities Industry was -2%. For the same Industry, the average monthly price growth was -3%, and the average quarterly price growth was -4%. PPWLO experienced the highest price growth at 6%, while EUSP experienced the biggest fall at -31%.
Volume
The average weekly volume growth across all stocks in the Electric Utilities Industry was -6%. For the same stocks of the Industry, the average monthly volume growth was -12% and the average quarterly volume growth was -4%
Fundamental Analysis Ratings
The average fundamental analysis ratings, where 1 is best and 100 is worst, are as follows
Valuation Rating: 40
P/E Growth Rating: 73
Price Growth Rating: 60
SMR Rating: 79
Profit Risk Rating: 73
Seasonality Score: -17 (-100 ... +100)