Brexit Issues Hurting HSBC, Stock Trending Lower
From the middle of 2016 through the beginning of 2018, HSBC Holdings (NYSE: HSBC) saw its stock price double, moving from $26 a share to over $52. The London-based bank holding company has seen its fortunes reverse since the end of January and the stock has lost 19%. At the low in October, the stock was down 26.6% from its high.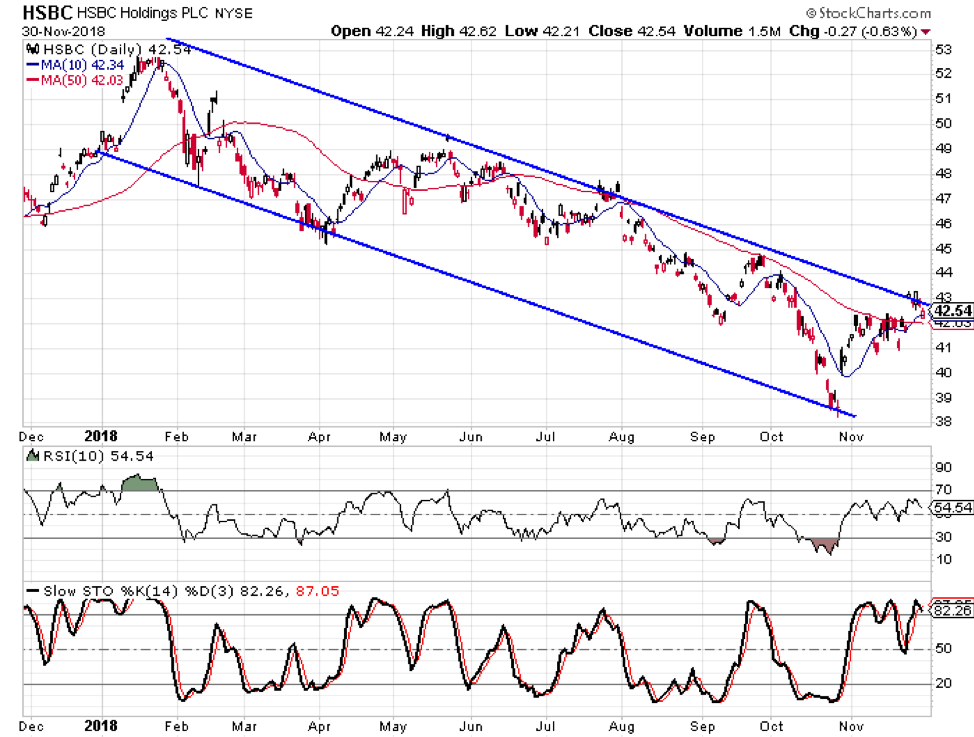 The stock has seen a downwardly sloped trend channel form over the last 10 months and it just hit the upper rail of the channel this past week. We see that the daily stochastic readings are in overbought territory and just made a bearish crossover on Friday which could signal that the trend channel will continue to define the cycles within the downtrend.
One thing that seems to be hounding HSBC is the status of Britain's exit from the European Union—Brexit. Because there is so much uncertainty about how the separation will occur, British banks seem to be investment pariahs. The recent Bank of England stress tests showed the banks have adequate reserves, but there are concerns that they will be at a disadvantage on the global market once the exit is complete.
Brexit issues aren't the only thing that is hurting HSBC. Over the last three years, the earnings have been flat while sales have declined at a rate of 7% per year. These are not the kind of numbers you want to see from a company while there has been global economic expansion.