Bullish Signal for China ETF Shows 90% Confidence Level
Tuesday saw a bullish signal generated on the X-Trackers Harvest CSI 300 China A-Shares ETF (ASHR). The fund will normally invest at least 80% of its total assets in securities of issuers that comprise the underlying index. The underlying index is designed to reflect the price fluctuation and performance of the China A-Share market and is composed of the 300 largest and most liquid stocks in the China A-Share market. The underlying index includes small-cap, mid-cap, and large-cap stocks.
The signal came just after the fund hit a short-term trend line on Friday. It also came as the fund was flirting with oversold territory based on the daily stochastic indicators. The indicators made a bullish crossover on Tuesday.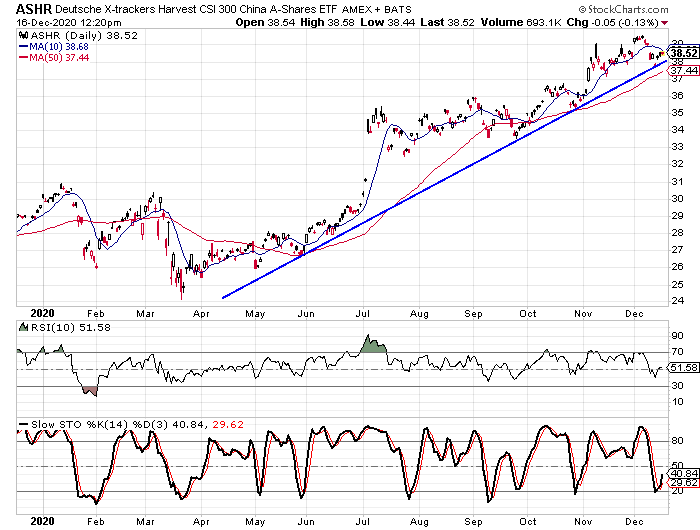 Since hitting a low of $24.13, the ASHR has gained approximately 60% as China's economy and market have rebounded. The virus hit China earlier as it originated there and that led to a contraction in the country's GDP in Q1. That was the first ever contraction in the GDP since the country opened up its economy and tracking of the indicator started in 1992.
China's GDP dropped 10% in the first quarter and that was a far more modest contraction than what we saw in most countries. The GDP grew by 11.7% in the second quarter and by 2.7% in Q3. By comparison the U.S. saw its GDP contract by 5% in the first quarter and by 31.4% in the second quarter. The U.S. saw a huge comeback in Q3 with growth of 33.1%.
Because China's economy wasn't hit as hard, neither was its stock market. The ASHR fell 16.8% from the beginning of the year through its low in March. The S&P dropped 30.8% over the same period. On a year-to-date basis, through December 15, the ASHR is up 30.1% while the S&P 500 is only up 14.4%.
Tickeron's Scorecard rates ASHR as a "buy" at this time. Part of the reason for the "buy" rating is the positioning of the moving averages. The 10-day Moving Average for the fund crossed bullishly above the 50-day moving average on October 08, 2020. The 50-day is currently above the 200-day and has been since early July.
For the full rundown on the X-Trackers Harvest CSI 300 China A-Shares ETF click on the ticker below.