China ETF has a steep upwardly-sloped trend line and a bullish signal
Since the global selloff ended in late December/early January, China's market has moved sharply higher. The Shanghai Composite is up just shy of 25% since January 2 while the S&P 500 is up 17.4% during that same time period. One particular ETF that tracks China's overall market has performed even better. The Deutsche X-Trackers Harvest CSI 300 China A-shares ETF (Amex: ASHR) is up 33.3% from the close on January 2.
At the post selloff high earlier in April, the ASHR was up over 40% from that January low. The ETF has pulled back a little in recent weeks, but that could be providing investors with an opportunity. The pullback brought ASHR down to the 50-day moving average and to a trend line that connects the lows from January and February. The trend line and the moving average are right on top of one another right now.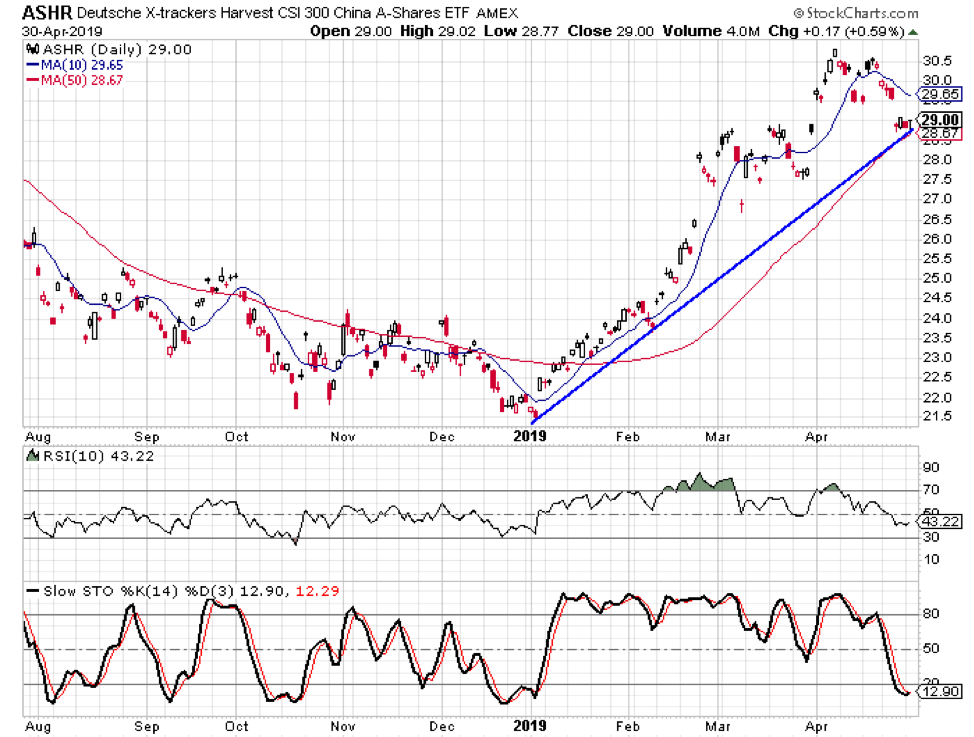 Another thing that happened with the recent pullback is that the daily stochastic readings moved in to oversold territory for the first time since January and the indicators just made a bullish crossover on April 30. 
The Tickeron AI Trend Prediction tool generated a bullish signal on ASHR on April 29 and the prediction showed a confidence level of 86%. The signal calls for a gain of at least 4% over the next month and 69% of previous predictions on the ETF have been successful.