Chinese gaming platform operator HUYA gets a bullish signal
HUYA Inc. (NYSE: HUYA) operates an internet gaming platform in China. The firm offers over 3,300 games and it is a subsidiary of YY Inc. The company has been doing well in recent years and the stock has been trending higher.
We see on the daily chart that the stock hit a low in early December and then jumped sharply higher before pulling back again. The interesting thing is that the lows from December and May connect nicely with the recent low. As the stock hit this trend line, the overbought/oversold indicators were hitting oversold territory and now the stock looks poised to bounce higher.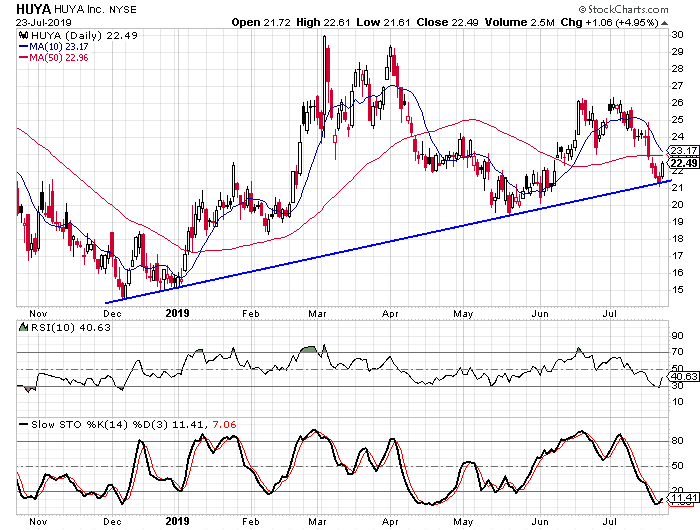 The 10-day RSI hit the 30 level and moved higher on July 23 while the stochastic readings are in oversold territory, but made a bullish crossover on the same day.

The Tickeron Trend Prediction Engine generated a bullish signal for HUYA on July 22. The signal showed a confidence level of 68% and it calls for a gain of at least 4% within the next month. Past predictions on the stock have been successful 85% of the time.
Looking at the company's fundamentals we see that it has been able to grow sales by an average of 134% per year over the last three years. Earnings jumped by 80% in the most recent quarter and are expected to increase by 22% for 2019 as a whole.