Chinese hotel operator Huazhu Group reports earnings, gets a bullish signal
Huazhu Group (Nasdaq: HTHT) is one of the largest hotel operators in mainland China. The stock rose astronomically from early 2016 through the high in mid-2018. The stock moved from under $7 a share back in the first quarter of '16 to a high over $49 in June '18.
After reaching the all-time high in June, the stock fell to the $25 level in October. The stock did bottom in October and started rising again and gained over 80% from the low. The stock has fallen again in recent weeks, and it just reported earnings on May 22.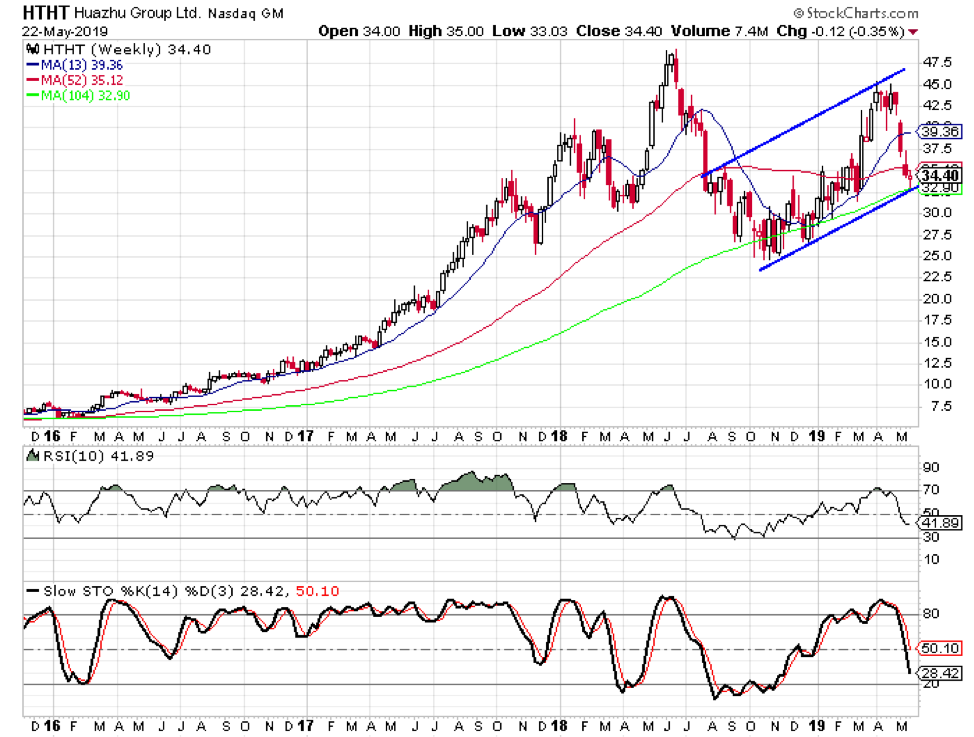 The earnings showed a slight miss on the EPS side, but a slight beat on the revenue side. The initial indication was for a small dip in the stock price. How big of a decline could be critical for the stock as it has the support of its 104-week moving average and the lower rail of a trend channel just below the current price?

The Tickeron AI Trend Prediction Engine generated a bullish signal for Huazhu Group on May 21. The signal calls for a gain of at least 4% in the next month and it showed a confidence level of 61%. Past predictions on the stock have been successful 79% of the time.
Huazhu Group has shown solid earnings and revenue growth in recent years. The EPS have grown at a rate of 40% per year for the last three years while revenue grew at a rate of 20%. Revenue grew by 14% in the most recent quarter while the EPS declined on a year over year basis.
The company does have solid management efficiency ratings with a return on equity of 27.7% and a profit margin of 23.8%.