Commercial Metals (CMC) hitting upper rail of downward sloped channel
Steel manufacturing company Commercial Metals (NYSE: CMC) has been trending lower for almost a year since hitting a ten-year high last February. The stock peaked at $26.06 last year and fell as low as $15.11 in December. Like most stocks, Commercial Metals has rallied in the past month. But it is now facing possible resistance at the upper rail of a downward sloped trend channel.
The upper rail is connected by the closing highs from November and December while the lower rail connects the lows from June, October and December. It is also worth noting that the upper rail is just above the 50-day moving average. The stock has struggled to break out after moving above the trend line several times in recent months.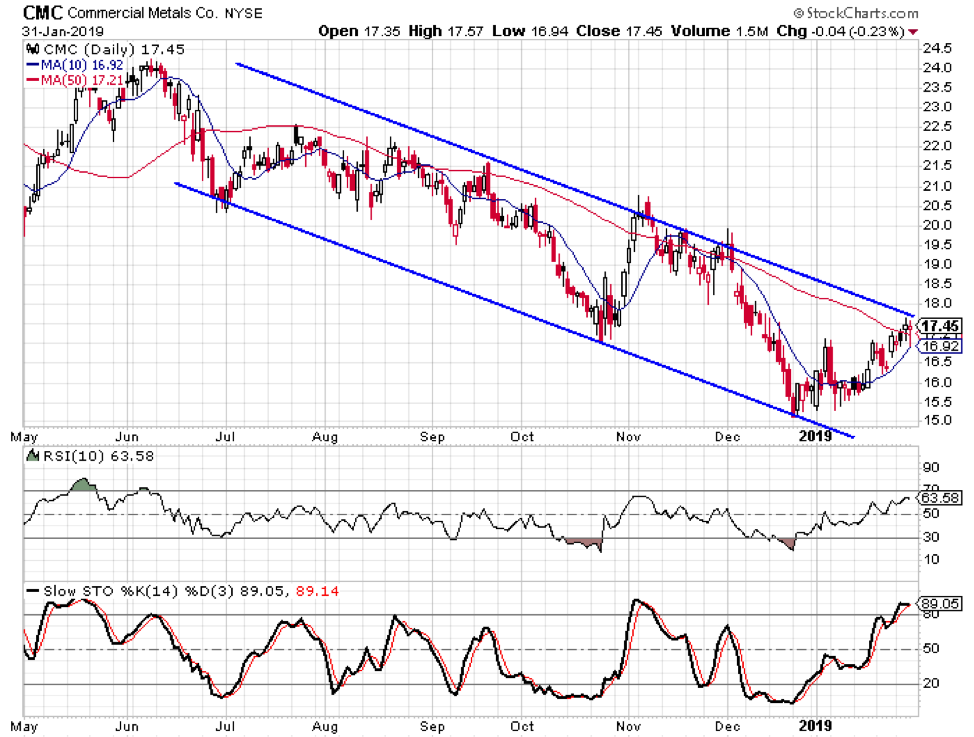 The daily stochastic readings are in overbought territory like they were in November, just before the stock turned lower.
The company's fundamentals are mixed with earnings growing by 23% per year over the last three years. Sales have declined by 2% per year over the same time period. The management efficiency and profitability measurements are somewhat low as well with an ROE of 12.2% and a profit margin of 4.7%.
The Tickeron AI Prediction tool did generate a bearish signal on January 30. The signal had a confidence level of 74% for a decline of 4% over the next month. The past signals generated on Commercial Metals have been accurate 79% of the time.