Consumer Discretionary ETF Hitting Downward Sloped Trend Line as Earnings Season Kicks Off
Stocks have bounce back nicely since the selloff on Christmas Eve. All 10 of the main sectors have gained ground during this period, and the S&P is up 10.43% from the close on December 24 through the close on January 11. The energy sector has led the way during this rally, but the consumer discretionary sector has the second biggest gain at 13.7% over the 13 trading days in question.
While the rally has likely made investors more comfortable, they might not want to get too comfortable as some of the sector ETFs and index ETFs are starting to hit potential resistance points. One sector ETF that is hitting a possible resistance point is the Consumer Discretionary Select Sector SPDR (NYSE: XLY).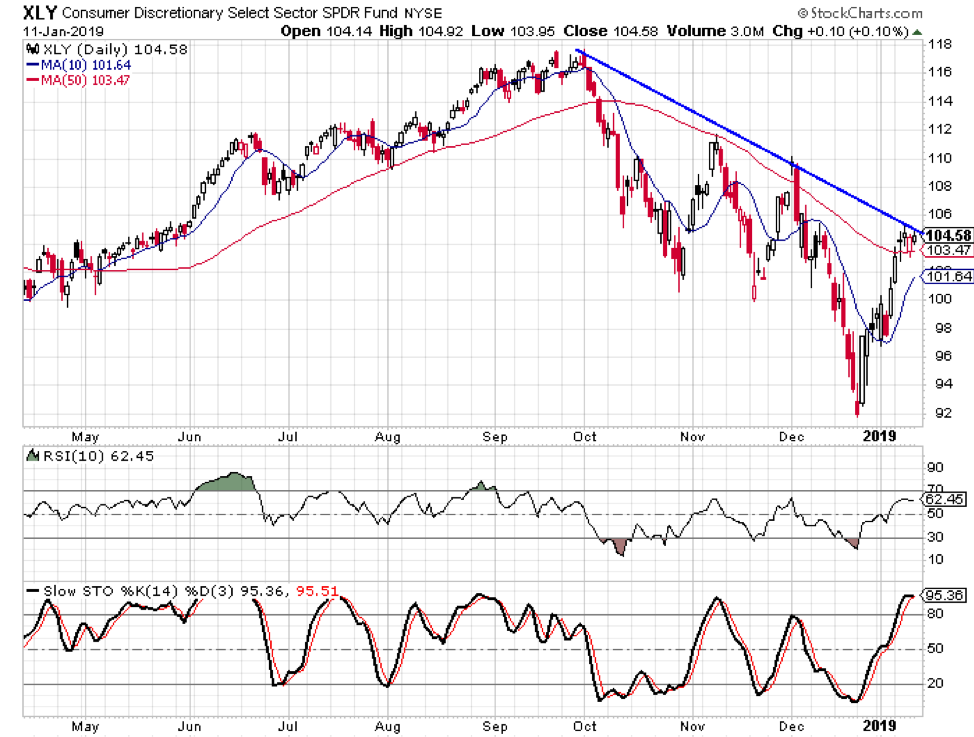 The ETF has jumped from down around the $92 level to close at $104.58 on Friday. This puts the XLY in contact with a downward sloped trend line that connects the highs from October and December.

It should also be noted that the XLY is overbought based on the daily stochastic readings and the indicators just made a bearish crossover.
The ETF hitting the trend line at this time is notable as earnings season kicks off this week and three of the top six holdings in the XLY will be reporting quarterly results between now and the end of January. These earnings reports could serve to help the XLY break out of the downward trend or they could be the catalyst that causes it to resume the downward trend.