Discovery (DISCA) struggling to move past its 50-day moving average
Media firm Discovery (Nasdaq: DISCA) has seen its post-Christmas rally stall earlier than most other stocks. Now, the stock could be hitting a key resistance point as it tries to return to November levels.

The stock had rallied nicely from November 2017 through this past November, with the stock price doubling from $17 to $34. Like many stocks, Discovery slipped in the fourth quarter and has rallied back from its December lows. Unfortunately, however, it looks as though the stock is having a problem with its 50-day moving average.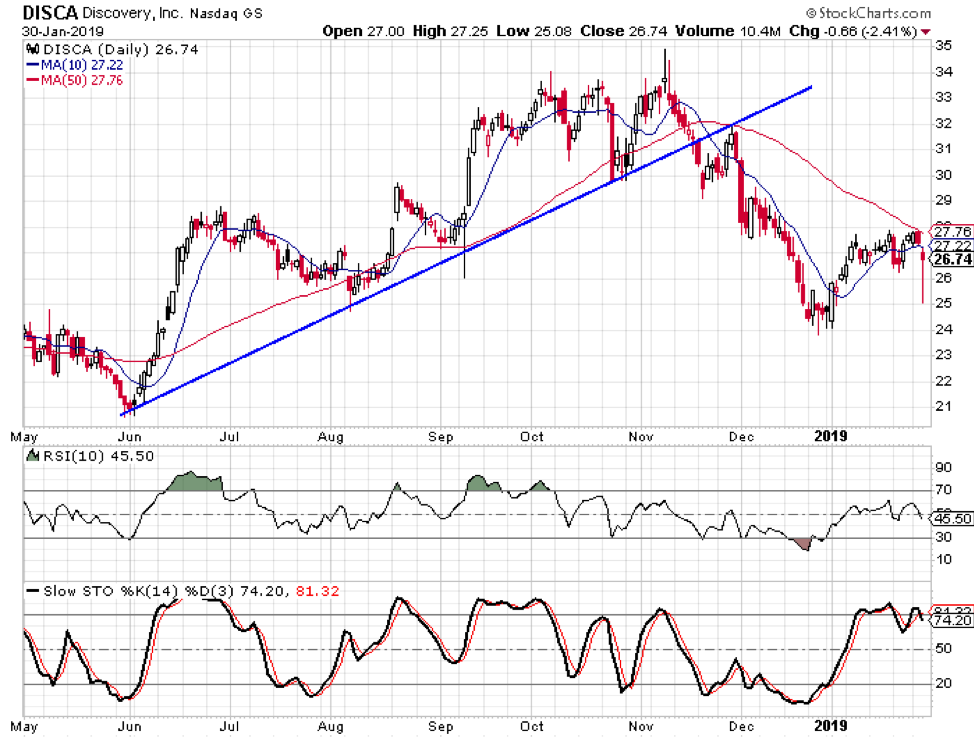 We see the trend line that connects the low closes from June through October and then the stock broke below that trend line in November. The stock tried to move back up in late November, but it was halted at the intersection of the former trend line and the 50-day moving average. The stock then proceeded to fall from the $32 area down to $24—a 25% drop.
The stock rallied from the $24 area over the past month and hit its 50-day moving average on Tuesday before pulling back. The stock proceeded to drop on Wednesday as the market was rallying sharply.

The Tickeron AI Prediction tool generated a bearish signal on Discovery on Monday and that signal had a confidence level of 88% for a decline of at least 4% over the next month. Past predictions on Discovery have been accurate 73% of the time.