Downtrend in Tesla comes in to play again
Back on April 23, I posted a blog entry about Tesla (Nasdaq: TSLA) and how the stock was in a clear downward trend ahead of the company's earnings report. The stock did drop after its earnings report, falling from the $260 range all the way down to the $180 level. The stock has since bounced back up to the $235 area, but turned lower again in the last few days.
The stock is hitting resistance at the upper rail of a trend channel and at its 50-day moving average. Since the stock moved below the trend line in January, it has had trouble getting back above it.
We see that the 10-day RSI reached its highest level since December earlier this week and has now turned lower. The stochastic readings have been hovering in overbought territory for the past few weeks and made a bearish crossover on June 20.

The Tickeron Trend Prediction Engine generated a bearish signal on Tesla back in April and it did so again on June 19. The signal showed a confidence level of 88% and past signals on Tesla have been successful 63% of the time. The signal calls for a decline of at least 4% within the next month.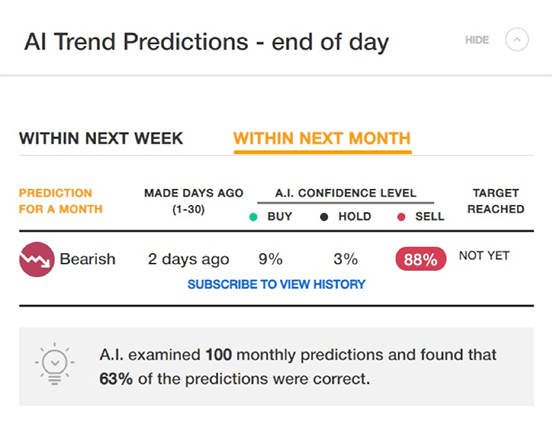 There is a lot of hype surrounding Tesla, but the company hasn't been able to live up to the hype so far. The company has had trouble being profitable and has only had three quarters where it made money. Sales have grown at an impressive rate, but the company has struggled with production issues far too often.