Downward sloped trend line comes in to play again for Holly Frontier
Holly Frontier (NYSE: HFC) is an oil refiner based in Dallas, Texas. The company's stock has been trending lower for the past year, losing over half of its value since last June. There's a downward sloped trend line that connects the highs over the past year and that trend line is coming in to play again. The line came in to play in September, November, and February and each time the stock has retreated after hitting it.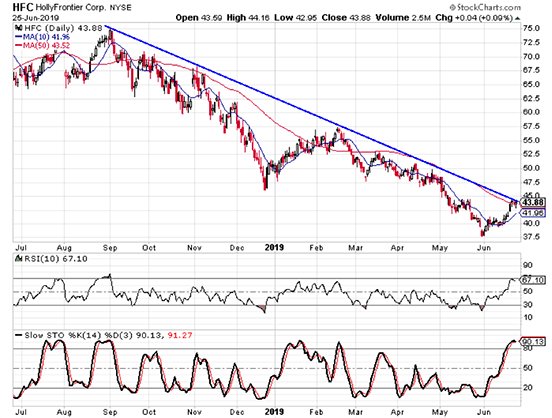 The trend line is just above the 50-day moving average and that gives the area two layers of resistance for the stock to fight through. We also see that the stock if overbought based on the 10-day RSI and the daily stochastic readings. The stochastic readings just made a bearish crossover on June 25.
The Tickeron Trend Prediction Engine generated a bearish signal for Holly Frontier on June 24. The signal showed a confidence level of 89% and it calls for a decline in the stock of at least 4% over the coming month. Past predictions on the stock have been successful 73% of the time.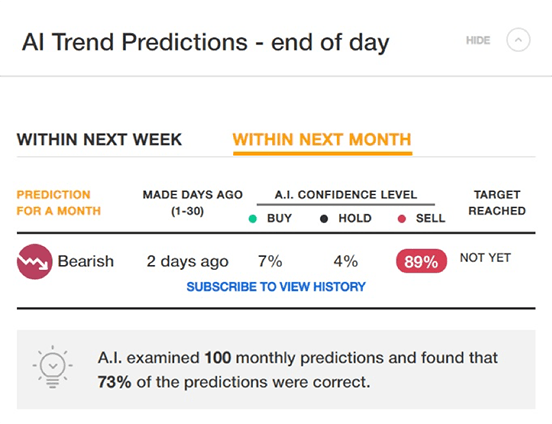 Holly Frontier's fundamentals aren't helping its bullish case at all. The company saw earnings decline by 30% in the most recent quarterly report and sales dropped by 6%. The company's profit margin is below average at 8.9%.