DR Horton (DHI) Soars 15.64% as Dividend of $0.47 per Share Declared
AI robots have revolutionized trading by offering a diverse range of styles and strategies to maximize returns for investors. Whether it's high-frequency trading, algorithmic models, or sentiment analysis, these advanced machines, represented by DHI, provide an unparalleled level of precision and efficiency in the financial markets, transforming the way we approach investment opportunities

DR Horton (DHI, $106.44) experienced a significant surge in its stock price during the last quarter, emerging as one of the top gainers in the market. The company's stock rose by an impressive 15.64%, reflecting positive investor sentiment and a strong performance by the company.
DR Horton is one of the leading homebuilding companies in the United States, specializing in constructing and selling single-family homes, townhomes, and condominiums. With a solid reputation and a wide presence across various markets, the company has established itself as a key player in the housing industry.
The robust quarterly performance of DR Horton can be attributed to several factors. Firstly, the housing market has been experiencing a period of strong demand, fueled by low mortgage rates and a growing population. This favorable market environment has provided a conducive backdrop for DR Horton to thrive.
Additionally, DR Horton has demonstrated its ability to capitalize on the current market dynamics by delivering strong financial results. The company has been successful in meeting the increasing demand for affordable housing, catering to a wide range of buyers. Its diverse product offerings, coupled with efficient operations, have contributed to its positive financial performance.
Furthermore, DR Horton's strategic initiatives and investments in technology have enhanced its competitive edge. The company has embraced digital transformation to improve its operational efficiency, streamline processes, and enhance the homebuying experience for its customers. These efforts have not only boosted the company's productivity but also strengthened its brand value.
Looking ahead, DR Horton appears well-positioned to sustain its growth momentum. The housing market fundamentals remain favorable, with expectations of continued demand in the coming quarters. The company's focus on innovation and its ability to adapt to changing market conditions should further support its long-term success.
DHI's RSI Oscillator peaks and leaves overbought zone
The 10-day RSI Oscillator for DHI moved out of overbought territory on June 07, 2023. This could be a sign that the stock is shifting from an upward trend to a downward trend. Traders may want to look at selling the stock or buying put options. Tickeron's A.I.dvisor looked at 40 instances where the indicator moved out of the overbought zone. In of the 40 cases the stock moved lower in the days that followed. This puts the odds of a move down at .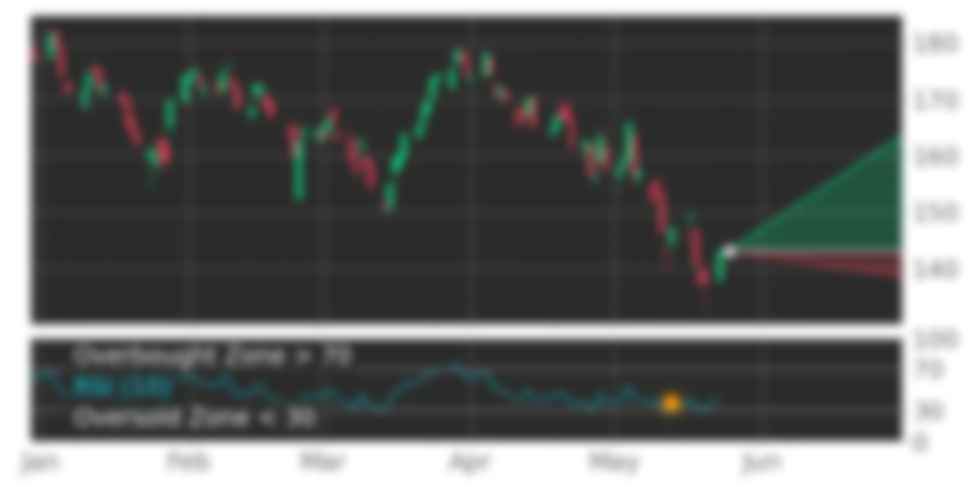 Technical Analysis (Indicators)
Bearish Trend Analysis
The Stochastic Oscillator demonstrated that the ticker has stayed in the overbought zone for 4 days. The longer the ticker stays in the overbought zone, the sooner a price pull-back is expected.
Following a 3-day decline, the stock is projected to fall further. Considering past instances where DHI declined for three days, the price rose further in of 62 cases within the following month. The odds of a continued downward trend are .
DHI broke above its upper Bollinger Band on June 06, 2023. This could be a sign that the stock is set to drop as the stock moves back below the upper band and toward the middle band. You may want to consider selling the stock or exploring put options.
Bullish Trend Analysis
The Momentum Indicator moved above the 0 level on June 05, 2023. You may want to consider a long position or call options on DHI as a result. In of 82 past instances where the momentum indicator moved above 0, the stock continued to climb. The odds of a continued upward trend are .
The Moving Average Convergence Divergence (MACD) for DHI just turned positive on June 06, 2023. Looking at past instances where DHI's MACD turned positive, the stock continued to rise in of 49 cases over the following month. The odds of a continued upward trend are .
Following a 3-day Advance, the price is estimated to grow further. Considering data from situations where DHI advanced for three days, in of 316 cases, the price rose further within the following month. The odds of a continued upward trend are .
The Aroon Indicator entered an Uptrend today. In of 334 cases where DHI Aroon's Indicator entered an Uptrend, the price rose further within the following month. The odds of a continued Uptrend are .
Fundamental Analysis (Ratings)
The Tickeron Profit vs. Risk Rating rating for this company is (best 1 - 100 worst), indicating low risk on high returns. The average Profit vs. Risk Rating rating for the industry is 64, placing this stock better than average.
The Tickeron PE Growth Rating for this company is (best 1 - 100 worst), pointing to outstanding earnings growth. The PE Growth rating is based on a comparative analysis of stock PE ratio increase over the last 12 months compared against S&P 500 index constituents.
The Tickeron SMR rating for this company is (best 1 - 100 worst), indicating strong sales and a profitable business model. SMR (Sales, Margin, Return on Equity) rating is based on comparative analysis of weighted Sales, Income Margin and Return on Equity values compared against S&P 500 index constituents. The weighted SMR value is a proprietary formula developed by Tickeron and represents an overall profitability measure for a stock.
The Tickeron Price Growth Rating for this company is (best 1 - 100 worst), indicating fairly steady price growth. DHI's price grows at a lower rate over the last 12 months as compared to S&P 500 index constituents.
The Tickeron Valuation Rating of (best 1 - 100 worst) indicates that the company is fair valued in the industry. This rating compares market capitalization estimated by our proprietary formula with the current market capitalization. This rating is based on the following metrics, as compared to industry averages: P/B Ratio (1.865) is normal, around the industry mean (6.798). P/E Ratio (7.651) is within average values for comparable stocks, (120.948). Projected Growth (PEG Ratio) (1.078) is also within normal values, averaging (2.374). DHI has a moderately low Dividend Yield (0.009) as compared to the industry average of (0.048). P/S Ratio (1.173) is also within normal values, averaging (71.832).
Notable companies
The most notable companies in this group are DR Horton (NYSE:DHI), Lennar Corp (NYSE:LEN), Pultegroup (NYSE:PHM), KB Home (NYSE:KBH).
Industry description
Homebuilding includes companies residential home construction companies, renovators and repair firms. The companies may be building single-family or multifamily homes, condominiums or mobile homes. Over the five years to 2019, the Home Builders industry is estimated to have grown at an annualized rate of 2.5% to reach $89.4 billion, (including expected growth of 2.6% in 2019), according to a study by IbisWorld. After having suffered one of its worst crises a decade ago during the last macroeconomic recession–which had much of its origins in U.S. real estate – the homebuilding industry has been recovering steadily so far. Higher disposable incomes and improving economic activity have bolstered consumers' purchases of homes. While revenue of the Home Builders industry remains well below its prerecession high, demand growth estimates show promise.
Market Cap
The average market capitalization across the Homebuilding Industry is 5.16B. The market cap for tickers in the group ranges from 166.69K to 38.87B. DHI holds the highest valuation in this group at 38.87B. The lowest valued company is ASCK at 166.69K.
High and low price notable news
The average weekly price growth across all stocks in the Homebuilding Industry was 2%. For the same Industry, the average monthly price growth was 3%, and the average quarterly price growth was 30%. STHI experienced the highest price growth at 14%, while DREM experienced the biggest fall at -5%.
Volume
The average weekly volume growth across all stocks in the Homebuilding Industry was -78%. For the same stocks of the Industry, the average monthly volume growth was -72% and the average quarterly volume growth was -59%
Fundamental Analysis Ratings
The average fundamental analysis ratings, where 1 is best and 100 is worst, are as follows
Valuation Rating: 38
P/E Growth Rating: 45
Price Growth Rating: 50
SMR Rating: 51
Profit Risk Rating: 63
Seasonality Score: 6 (-100 ... +100)