Entergy Just Bounced Off of the Lower Rail of an Upward Sloped Trend Channel
Entergy Corp. (NYSE: ETR) is an electric utility company that provides electricity to customers in Arkansas, Louisiana, Mississippi, and Texas. The company serves 2.9 million customers in the region.
Entergy has been trending higher essentially since the beginning of 2014. It has gradually moved from the $50 range to a recent high of $90.79 with dividends included. The stock has outperformed the utilities sector as a whole and the overall market over the past five years.
In the more recent past, the stock has been trending higher within the confines of an upwardly sloped trend channel and it just hit the lower rail of that channel in the last few trading sessions.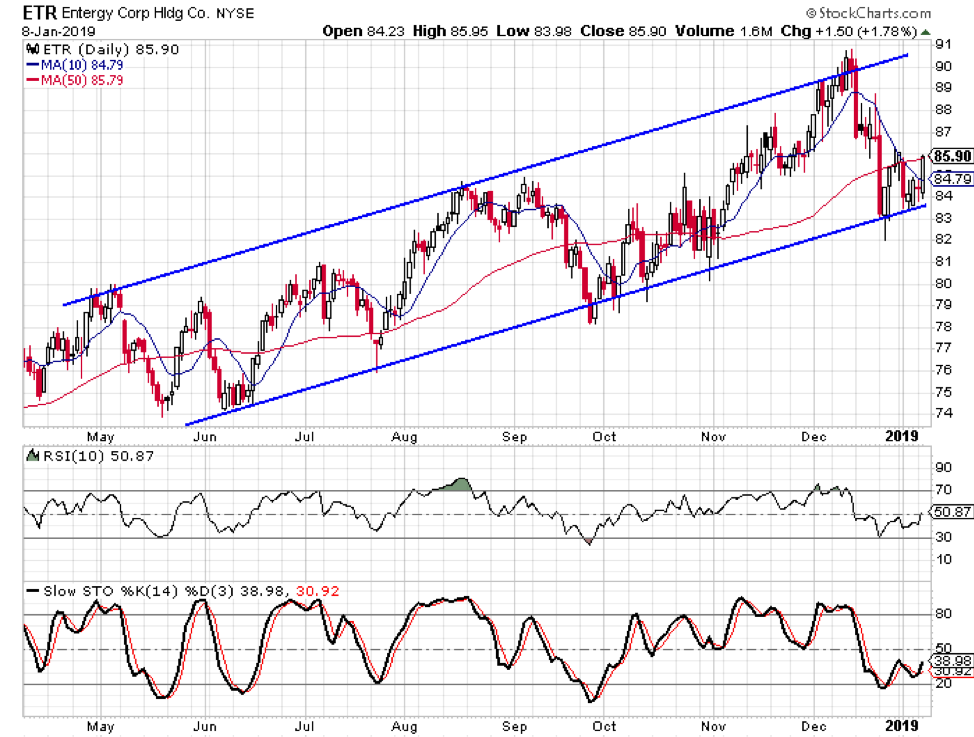 We see on the chart how the stock has reacted after hitting the lower rail of the channel in the past. You can also see how the stock was in oversold territory toward the end of December. When these two events have occurred together, the stock has performed very well in the weeks to follow.

Entergy is a bit of a mixed picture when it comes to the fundamentals—the management efficiency ratings are good, but the sales and earnings growth aren't so great. The company has a return on equity of 16.4% and a profit margin of 14.4%. Earnings have only grown by 6% per year over the last three years and sales have actually declined at a rate of 1% per year during that span.
The company does yield 4.2% currently and that is an obvious attraction for income investors.