Ethereum Co-Creator Says Focus Should be on Adoption, Not Price
December 2017 was an exciting time for cryptocurrencies. Values were soaring to the stratosphere; mainstream coverage had increased substantially; overall interest had never been higher. But after reaching an all-time peak in January 2018, the market has since corrected itself. According to crypto news site CCN, Ethereum has lost 92 percent of its value since its January 13th zenith – a drop almost as extreme as its climb.
While some investors have understandably cooled on crypto in the wake of such wild price swings, key figures have cautioned that a price-centric focus paints an incomplete picture of Ethereum's health. In fact, Joseph Lubin, Ethereum co-creator and founder of decentralized-software studio ConsenSys, believes that in many ways, things have never been better.
Lubin views blockchain as "a movement," not a market – and a growing one at that. "Market cap doesn't reflect activity…10 billion daily API requests served by Infura. 1 million Truffle downloads. 1 million MetaMask downloads. 12,000 live Ethereum nodes. 48 million unique Ethereum addresses. 3 times LinkedIn blockchain job openings," he said.
By those metrics, he's right. 2018 has seen exponential growth throughout Ethereum's infrastructure. Truffle, the "most popular development framework for Ethereum" according to its website, has been downloaded over 1 million times. Infura, an API and set of developer tools providing "secure, reliable, and scalable access to Ethereum and IPFS," exceeded 10 billion requests. And MetaMask, a tool that allows users "to run Ethereum dApps right in your browser without running a full Ethereum node," launched their first mobile client this year.

Other reports of Ethereum's demise were found to be exaggerated. HASH CIB, a crypto- and digital-asset focused investment firm, issued a recent report indicating that ICOs had not sold off as large an amount of ether holdings as initially thought. Marat Garafutdinov, analyst and author of the report, said data indicated that "…ICO projects reacted to the market conditions, rather than dictated them." "The treasuries currently still hold a minimum of 3.4% of the total ethereum supply," elaborated Garafutdinov. "Our findings have been confirmed by separate researchers. And contradicted by some – most probably, due to reporters equaling all of the ETH moved to ETH directly sold."
Ethereum's expanding user base and improving infrastructure stands in stark contrast to its price performance. To Lubin, that means the seeds have been planted for continued long-term growth. Market bubbles are nothing new in crypto. Independent of value fluctuations, the robust, growing ecosystem around Ethereum's foundational pieces has never been stronger.
Unsure of What Cryptocurrencies to Buy and Sell, and When to Buy and Sell Them? Ask A.I.
Tickeron has developed Artificial Intelligence capable of spotting patterns and trends in the cryptocurrency markets, and the A.I. can deliver trade ideas straight to your inbox. When the AI confirms a bullish or bearish pattern, it will alert users to the pattern and provide a target price for where it thinks the cryptocurrency is headed. Users can use the AI to track just about any cryptocurrency of your choice.
You can learn more and even start a 45-day free trial today. Get started on tickeron.com.  
Momentum Indicator for ETH.X turns positive, indicating new upward trend
ETH.X saw its Momentum Indicator move above the 0 level on May 26, 2023. This is an indication that the stock could be shifting in to a new upward move. Traders may want to consider buying the stock or buying call options. Tickeron's A.I.dvisor looked at 120 similar instances where the indicator turned positive. In of the 120 cases, the stock moved higher in the following days. The odds of a move higher are at .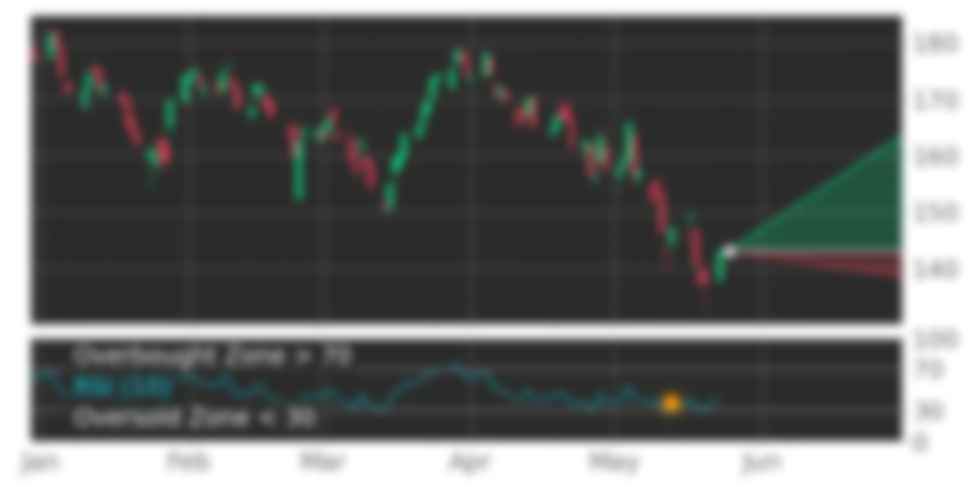 Technical Analysis (Indicators)
Bullish Trend Analysis
The Moving Average Convergence Divergence (MACD) for ETH.X just turned positive on May 23, 2023. Looking at past instances where ETH.X's MACD turned positive, the stock continued to rise in of 62 cases over the following month. The odds of a continued upward trend are .
ETH.X moved above its 50-day moving average on June 02, 2023 date and that indicates a change from a downward trend to an upward trend.
Following a 3-day Advance, the price is estimated to grow further. Considering data from situations where ETH.X advanced for three days, in of 429 cases, the price rose further within the following month. The odds of a continued upward trend are .
Bearish Trend Analysis
The Stochastic Oscillator demonstrated that the ticker has stayed in the overbought zone for 6 days. The longer the ticker stays in the overbought zone, the sooner a price pull-back is expected.
The 10-day moving average for ETH.X crossed bearishly below the 50-day moving average on May 10, 2023. This indicates that the trend has shifted lower and could be considered a sell signal. In of 20 past instances when the 10-day crossed below the 50-day, the stock continued to move higher over the following month. The odds of a continued downward trend are .
Following a 3-day decline, the stock is projected to fall further. Considering past instances where ETH.X declined for three days, the price rose further in of 62 cases within the following month. The odds of a continued downward trend are .
ETH.X broke above its upper Bollinger Band on May 28, 2023. This could be a sign that the stock is set to drop as the stock moves back below the upper band and toward the middle band. You may want to consider selling the stock or exploring put options.
The Aroon Indicator for ETH.X entered a downward trend on May 14, 2023. This could indicate a strong downward move is ahead for the stock. Traders may want to consider selling the stock or buying put options.
Fundamental Analysis (Ratings)
Market Cap
The average market capitalization across the group is 227.54B. The market cap for tickers in the group ranges from 227.54B to 227.54B. ETH.X holds the highest valuation in this group at 227.54B. The lowest valued company is ETH.X at 227.54B.
High and low price notable news
The average weekly price growth across all stocks in the group was 4%. For the same group, the average monthly price growth was 0%, and the average quarterly price growth was 49%. ETH.X experienced the highest price growth at 4%, while ETH.X experienced the biggest fall at 4%.
Volume
The average weekly volume growth across all stocks in the group was 12%. For the same stocks of the group, the average monthly volume growth was -27% and the average quarterly volume growth was 18%
Fundamental Analysis Ratings
The average fundamental analysis ratings, where 1 is best and 100 is worst, are as follows
Valuation Rating:
P/E Growth Rating:
Price Growth Rating:
SMR Rating:
Profit Risk Rating:
Seasonality Score: (-100 ... +100)