Gap Trending Lower While Fundamentals are Average
Clothing retailer Gap, Inc. (NYSE: GPS) has been trending lower since peaking in January. The stock has gone through a series of lower highs over the course of the year and in the last six months a trend channel has formed. The channel is pretty clearly defined with a few down cycles mixed with one upward cycle and then a consolidation.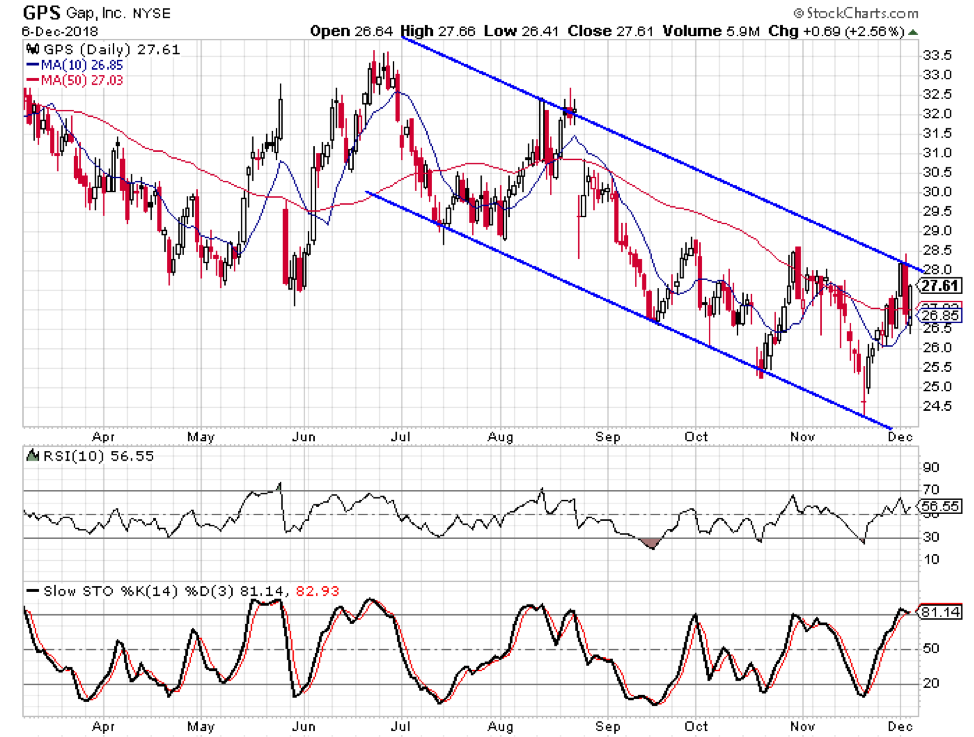 We see that the stock just hit the upper rail of the channel earlier this week. This channel is a little different in that it is more clearly defined by the lows. Most downward sloped trend channels I point out are more clearly defined by the highs.
The daily stochastics just hit overbought territory this week and have since made a bearish crossover. This has been a decent bearish signal for the stock in recent months.
When you look at Gap's fundamentals, they are average, but they aren't great. Earnings have been stagnant over the last three years, but the most recent quarterly report showed earnings growth of 19%. Analysts expect earnings growth of 20% for the year.
Sales have only grown at a rate of 1% per year over the last three years and only grew by 7% in the most recent quarter.
One measurement where the company does rather well is with the return on equity. Gap's ROE is at 27.8% at this time. The profit margin is only 8.6% while the operating margin is at 8.4%.
Given these fundamentals, the stock may have a tougher time breaking out of the downward trend.